I know there are tons of fabulous Anthro blogs that have this same topic, but hey, I'm going to give my take anyway!
You should know I absolutely am in love in dresses, so my main focus will probably be on them 🙂
First, the Tiny Windows Dress. While I love the vintage feel of this one, I'm afraid my first reaction is that it looks a bit tired. This pains me to not be in love with an Anthro item, but it's the truth. Perhaps it's a bit fresher in person?!?
The Time Gone By Dress definitely has the vintage factor working for it in my opinion. It looks fresh, current, and frankly, just plain adorable!
This one (Grand Island Dress) is refreshing to see at Anthropologie because I feel like it has a fresher silhouette. On the body, I'm thinking it could be either hit or miss, so I'm excited to get hear some reviews of it.
The Echoing Dress is extremely intriguing. Again, I am dying to hear reviews about it. I think it has the possibility to be gorgeous.
I am loving this one (not the price!!). It's the Choreographed Dress. While the silhouette isn't anything extremely new or original, there is something just beautiful about it. I'd like to see it up close in person, because if you go on Anthro's site and look at it with the "magnifier", it looks quite interesting.
The Chromatic Canvas Shirtdress is definitely not exactly my style, but it's still cute and I can appreciate it. I definitely like it better on the model than just on the mannequin.
The Dagmar Shirtdress seems to be a tried and true repeat of a familiar Anthro silhouette. I like the summer-y print, but I wish Anthro would retire this silhouette for a bit.
This one has got to be my favorite from the pictures (Count The Waves Dress). It may not be extremely original, but I can't help but fall in love with its charm.
Moving on from the dresses: The Lingering Rays Skirt is just gorgeous in this picture (the picture itself is kind of gorgeous too, right?!).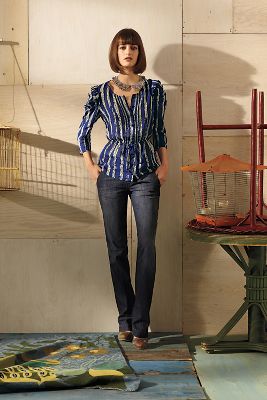 The Rochelle Blouse is down right fabulous to me. It has that kind of trendy 80s vibe, but to me it's done it a more wearable, timeless way.
These next three dresses aren't in the June catalog, but they're rather new online, so I'll give my thoughts, although I don't have pictures (forgive me!).
Phew! I seem to have gotten through my first posting! So readers, what are your thoughts? What are you absolutely loving? What are you worried about making its way into the closets of fellow Americans?