Okay, I admit it. I don't have a single pair of shoes from Anthropologie. Yes, it's true. Nevertheless, I still am the Anthropologie Connoisseur, even with this big crime. It's not that I don't fall in love with their shoes, it's just they're pricey. Well, aren't all things pricey at Anthro?! I guess I just would rather spend my Anthro money on clothes. But jeez, there are some cu-ute shoes on the market at Anthro presently. Let's take a look.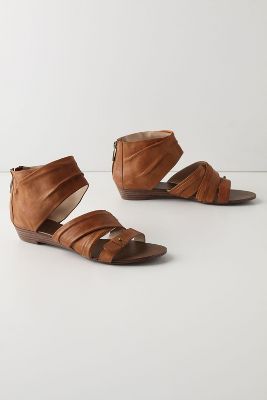 The Great Crossing Sandals are actually a lot more reasonably priced than most Anthro shoes, at $98. However, they still are expensive, considering they're pretty much a one season type of shoe. But, they are so cute. I imagine they'd be versatile and a great addition to any wardrobe.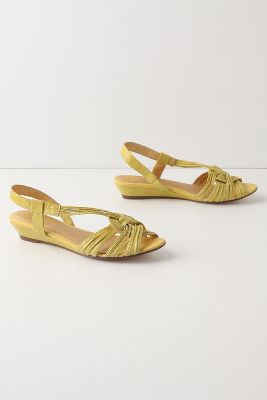 There's something so carefree and gorgeous about the Tangled Twists Slingbacks. As their name suggests, they have a "tangled" element to them, but it's done in such an easy-going, free flowing kind of way. They seem like the kind of shoes that would add a lot to an outfit. At $80, once again they're not bad in terms of price. Hey, I'm kind of feeling like a fool complaining about price at this point, with my first two picks not being budget breakers. But don't worry, I'm sure we'll get some of those in here!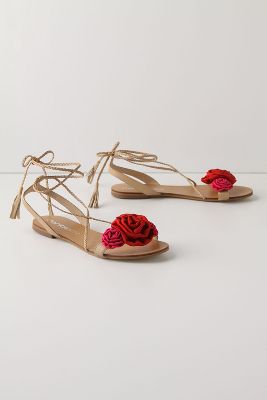 The Rosalita Sandals are definitely creeping into that budget terrorizing territory, at $148 (I mean, they're sandals…nothing against sandals, but I feel when I only get maybe 3-5 months wear out of the year of them, they should be lower priced). They are cute, however. Lucky for the budget minded part of me, they're probably not at the top of my list.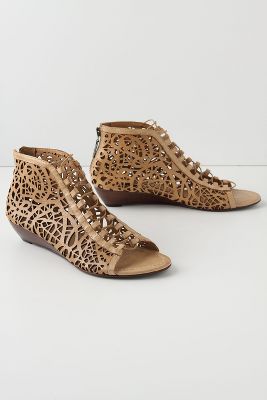 These, my friends, are a pair of  beautiful budget breaking booties. The Terra Incognita Booties ($258) are just…wow. Gorgeous. They would be a show stopper, something many have never seen. I can only imagine wearing these beauties. I guess I can dream.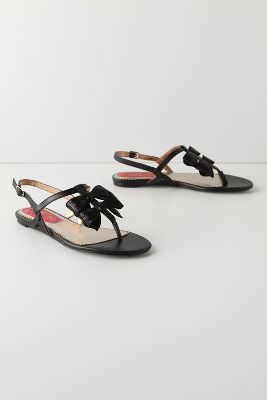 The Fancy Dress Sandals are cute as a button and act as a breather from the last price. They're only $69. Yep, only that much at Anthro. While I would snatch up a different pair of Anthro shoes at this price in a heartbeat, these just still seem overpriced for budget-minded me. I would definitely consider them at sale time. Speaking of sale time, I do look at the shoes on sale at Anthro, but why does it seem like the cute shoes I adore never make it to sale (or at least not at a price I could swallow)?! Not fair!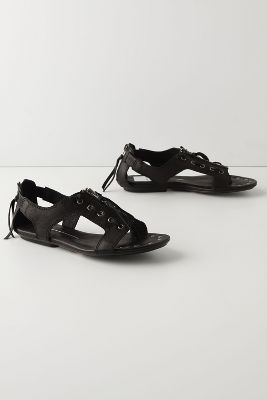 The Rarin' To Go Sandals intrigue me. At first glance I wasn't totally in love, but with a second look I was smitten. They're the perfect dose of "different". And not only do they have one zipper, but two! I'm kind of a sucker for zippers…maybe you can tell from some of the other shoe picks here! No way I could do the $138 price tag for them. Oh, please make it to sale!
The Sweet-Wrap Sandals are well, sweet. I have to chuckle myself, because as I was looking at the name of these, I was thinking how sweet the shoes look….and they're name says it all! Not so sweet? The price, at $178. They do have an adorable zipper and appear to be selling out in the yellow color I like. Not looking good for sale, unfortunately.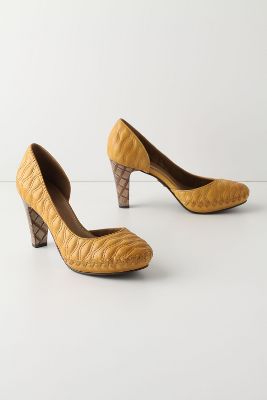 The Waving Grains Pumps just feel luxurious. Pure luxury. I'm entranced by the heels themselves…I'd love to see them in person. At $148, I consider them a bit more reasonable considering they're heels (somehow that makes me up the budget-ness acceptability). Still though, too expensive.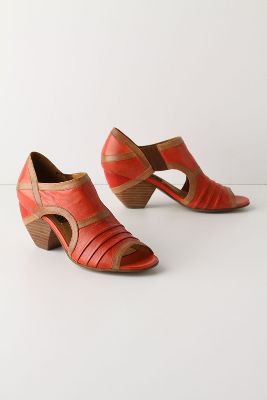 The Robin's Song Peep-Toes are divine. I might prefer them to be a higher heel, considering my short statue, but once again, they're just so different and lovely. At $188, they're not happening for me any time soon.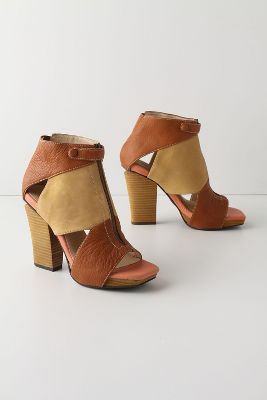 Again, the Cake Maker's Heels are just different and so gorgeous. The name doesn't hurt either, considering I'm an avid baker. I worry they might look a bit chunky on me, but I probably won't get the chance to wear these, considering the hefty price of $199.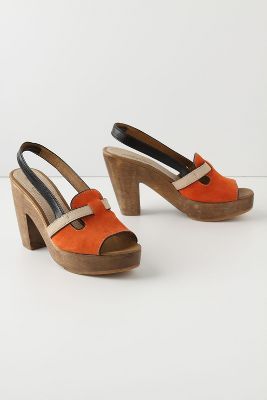 Tangerine Rind Clogs–besides having an appetizing name, they are gorgeous. It might seem like I overuse the word gorgeous, and I apologize, but so much of Anthro's merchandise can be described using this adjective. At $395, I have to look away. Gulp.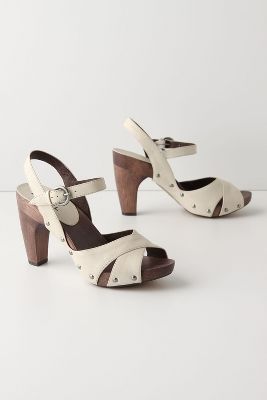 The Come Together Heels are–no, I won't use that adjective again–edgy and modern, yet just purely delightful. I can hope that they'll go on sale and they're $190 price tag will drastically drop, right?!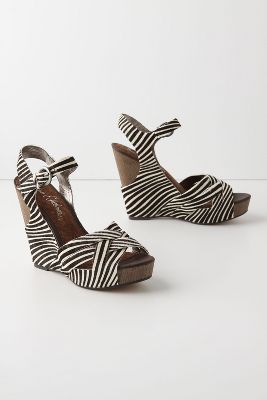 I've had a crush on these babies for a while (Grevy's Wedges, $158). They're so chic, and the 5-inch wedge would be great to give me some height. Because they have been out there for a while now and are starting to sell out, I'm afraid they won't make it to sale. Darn.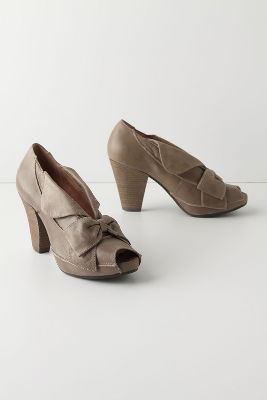 The Anticipation Heels are drop dead perfect (see, I didn't use that word again!), minus their price of $168. I have a feeling they will be selling out fast and won't make it to sale soon or ever (or with a reasonable price). I love them so much. Maria over at Infinite Whimsy tried these on and they're just fabulous.
I realize that if I keep on going here, I could pretty much take hours. As much as I'd like to do that, my eyes might start to hurt from staring at the computer screen, so please bear with me. I am in love with even more than I thought starting out with this post. So, I think I will link to the rest of the shoes I'm lusting after, without the love talk about each (I don't love them any less though). Here we go: Felted Chrysanthemum Heels, Fine-Cut Oxfords, Hemmed Paisley Heels (name fits in with my love for sewing), Sea Flower Heels (wow!), Ringsend Heels (okay, I admit I've loved these for months), Three-Piece Heels, Don't Let Go Sandals (they seem to channel the Sweet-Wrap Sandals), Sudden Spark Sandals (not sure how they'd look on, but they'd add some nice pizzazz), Hidden Glen Heels, Swash Buckle Heels, That's-A-Stretch Wedges, Purple Unfolding Booties, Untrodden Trails Booties, Cut Paper Portraits Booties, Emerson Wrap Sandals, Off-The-Lot Oxfords, Tee-Shirt Skimmers (how cute are these puppies!?!), Pinpointed Skimmers, and finally, Escapology Wedges.
Whew, that was a long post, if I do say so myself. I guess it only confirms my knowledge that I have a shoe fettish (well, honestly, I'm just obsessed with fashion, period). What are you, readers, currently dreaming about in Anthro's shoe section?