A quick note: Sorry that my posting has been slow…I promise it will get back up to speed soon!
Readers, I am totally in love with this outfit.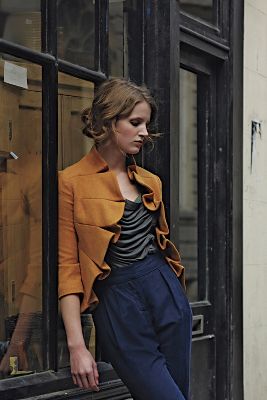 I know the pants are the Crisply Pleated Trousers and that the jacket is the Terrace House Jacket, but do any of you know what top that is? Anyway, I just really love this look. There is something so classic about it, but really it's just gorgeous. I have no clue how the pants would look on me though, being pretty darn short. Readers, honest opinions here. Do you think these pants could work for me or should they be saved for taller girls (I'm about 5 foot and a size 00 to 0)? If I'm being perfectly truthful though, I don't know whether I could afford these pants at the moment, but perhaps if they did in fact work on me I could reconsider. Actually, I know I would reconsider.
Part of the reason I think I love this look so much is because it's bringing me to fall…pumpkin pies, leaves falling, hot chocolate…getting the picture? However, if you can't wait for fall to get some of the elegance this look provides, I've put together a summer version using only sale section Anthro pieces. That's right. You can get the essence of this look immediately with all sale pieces!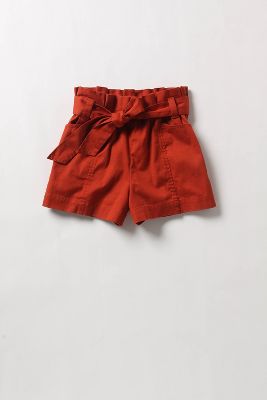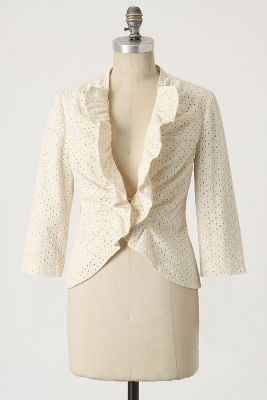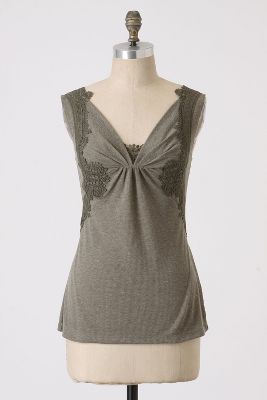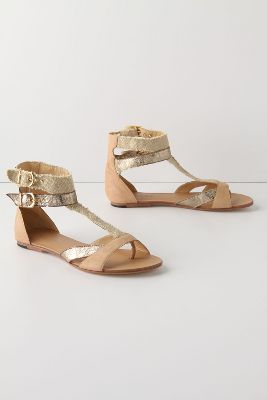 Heat Seeker Shorts, Puckered Eyelet Jacket, Camelot Tank, and Hessian Shimmer Sandals
There you have it! Are you as in love with this catalog look as I am? Do you know by chance what top that is? And honestly, do you think I could pull those pants off? Thanks for the help!