I'm so sorry I haven't posted in a few days. I do have an excuse (and apology) though…well sort of. You see, I had another little two day vacation. I apologize for forgetting to tell you about this! Some good news does come out of this though…I have a bunch of Anthro reviews! Ready to get started? Here we go!
Well, actually, I should quickly tell you a bit about me for reference…I'm short (just under 5 foot) and a size 00-0. Anthro (and all clothing in general for that matter) can often run much too large on me.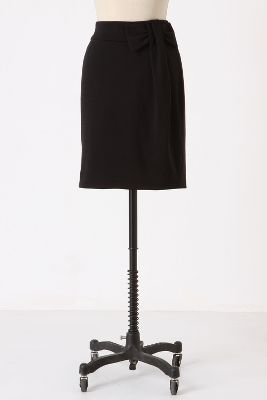 Askew Skirt – $78 – This is a great little basic pencil skirt. It's hard to see in the pictures, but on one side there is a bow. Because of this, it pretty much calls for a top to be tucked in (the skirt sits at natural waist). For me, this wouldn't be a problem, considering I'm a fan of this look and do it often. It's something to keep in mind though. The length was fine (not too long) and it was pretty true to size (if you're going to have issues, from my experience, it will be that you have to size down). In the end, I didn't buy because it just wasn't wowing. At a much lower price point on sale, I might pick it up though.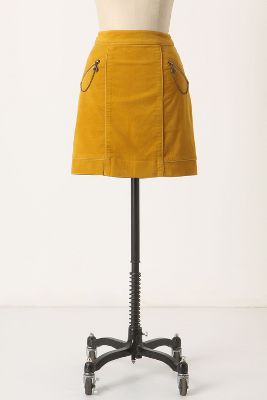 Spitalfields Skirt – $78 – This is a great, quality skirt! In the dressing room, I was able to pair it with quite a few tops…so despite its color, I actually found it incredibly versatile. The fabric has a great feel to it. In terms of sizing, I would say it runs large, so if you can, size down. Being a 0, I can't size down, but I can still make the 0 work. I could pull at least a good extra 2 inches of fabric when I was wearing it at my natural waist, but somehow, in ways I can't quite figure out, it still worked on me. I'll be able to wear it a little lower than my natural waist if I want, but I personally prefer skirts at my natural waist for the most part. The length was good on me, just above my knee. It could have been a smidge shorter, but it was still fine. I snatched this skirt up and urge you to try it out! It's a great value!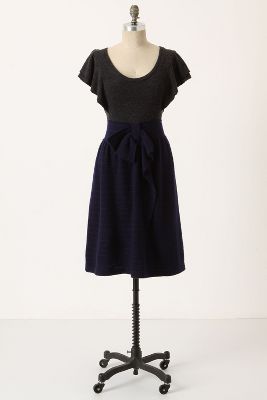 Curtain Call Dress – $128 – I personally skimmed right over this online…I think it's because its colors don't really stand out on the Anthro website. In person though, I was smitten. Unfortunately, on me, it was much too big. I think most of this was due to my height. I'm going to go ahead and say that it's true to size with the possibility of running large, but it's definitely one for the taller girls.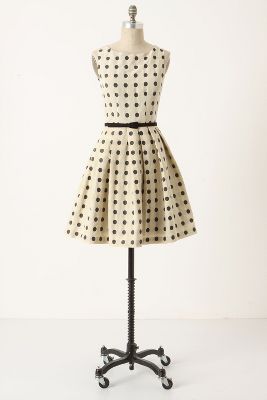 Mullany Dress – $258 – It's no secret I think this dress is absolutely adorable. I knew this dress wasn't in my budget today, but I decided to try it on strictly for fun. Looking back, it was kind of a dangerous thing to do. What if I fell head over heals in love with it?! Luckily for my wallet, I didn't. First, it was much too long for me. It needs a taller girl, like the last dress. It was also big in the bust (I'm a 32A). In addition, I wasn't thrilled with the belt it came with…it felt a little cheap. Of course, adding my own belt would have been a great alternative though. It certainly didn't work on me, but I still do like it (looking for nice way to style it? Have a look here!)!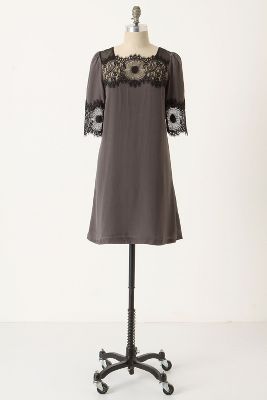 Discovered Lace Dress – $158 – This is a dress I've been loving. I mean, look at it! It's darling. Unfortunately, on me, it was just huge. Huge. I also was very unimpressed with the fabric. It was much too thin for my taste. Actually, I'm fine with thin fabrics, but this one just felt cheap to me. Totally not worth $158. However, the newly engaged (congrats!) Kim at Anthroholic tried this on and it looked absolutely great on her.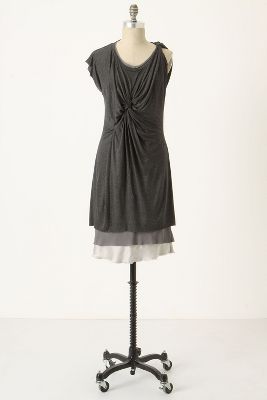 Echoing Dress – price? I'm thinking it was either $59.95 or $69.95? – This was a dress I was eager to try on. I was curious…would it look like a mess or utterly fabulous? Unfortunately, it was a huge, long potato sack on me, and not in a good way at all (just clarifying!). Needless to say, I slipped it on and off rather quickly!
Precious Materials Cardi – price? Was it $59.95 perhaps? – This is no longer online, but in store (State St. Chicago store), there were quite a lot (I can't remember for sure, but I think in a variety of sizes). I was so excited to be able to try this on. Once I did, I liked it, but didn't love it. Maybe it was because I had high expectations…I don't know. I definitely wouldn't have paid full price for this, and at this sales price I still am not dying to get it. Maybe if it makes it to more sales cuts (I kind of doubt that though) I'll consider it, but for now it was just an okay piece. I know many other bloggers are totally into it, so again, perhaps it was just me. The fit though was true to size.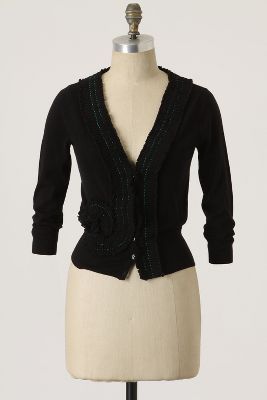 Whirl & Wind Cardigan – $88 – This is another piece I really hadn't paid much attention to online. In person though, it's darling! The turquoise stitching pops a lot more than it appears to online. On me, it fit perfectly and looked just as cute. I took it home with me!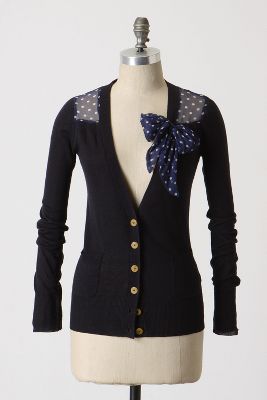 Breezy Polkas Cardigan – $98 – I've loved this one for a long time, so finally getting to try it on was exciting! It did not disappoint! Perhaps it was a tad big, but nothing I couldn't handle. The buttons happened to be the perfect shade of yellow to go with the Spitalfields Skirt! My goodness did the pair make an adorable outfit! This sweater will look equally great with jeans though. While a bit expensive, I'm sure I'll get tons of wears out of it, so it came home too!
I also tried on two other tops, both of which I cannot find online and have no clue as to what their names were (and me being silly me, I didn't remember to look at the tags). One of them was a sale piece going for $19.95, but it was a bit low cut, and wearing a cami underneath it would not have looked the best. The other top was just much, much too large on me.
I was looking forward to trying the D'armee Dress, as I've been loving it online. Unfortunately, there were none to be found at the store. I did see the Midnight Safari Dress, which I was highly skeptical about. Let's just say I still remain skeptical. Quite skeptical. I was also going to go ahead and try on the Crisply Pleated Trousers, which I talked about my uncertainty as to whether I could pull off here. Jacquelyn, of Musings by Jacquelyn, urged me to try them on (thanks for the advice!…and Jacquelyn, I totally think you should go for the Chopsticks Cardigan, which is on sale!!!…Readers, doesn't she look fabulous in it?). Just like the trousers though, they were MIA.
That wraps up the post tonight! Hope everyone had a great weekend!