As you know, I'm always taking styling requests at theanthropologieconnoisseur@gmail.com! I was thrilled when Debbie emailed me requesting some styling ideas for the Berry-Stitched Boots ($258)! She said they caught her eye in the catalog, but she wasn't sure how versatile they would in fact be. I'm going to go ahead, before even styling them, in saying I think they would be versatile and a great investment. They are a nice twist on the basic brown boot. We'll see who agrees with this after I do the styling of course! Let's start by taking a look at the boot.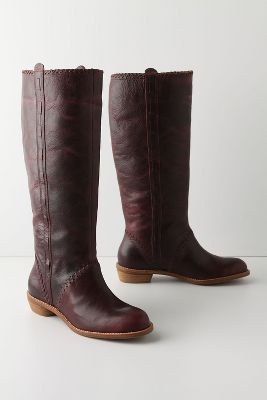 The product information reads: "Tonal whipstitching outlines every seam of this deep, dark raspberry pair." Again, I must admit I haven't seen these in person, and there are no reviews up yet on the Anthro website, so I can't say for sure what the true color of these boots are in person. I will say, though, that the catalog shot makes them appear a lot more raspberry (pink/purple) in hue. Take a look.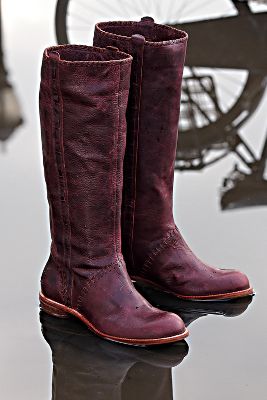 In terms of the colors they'd go with, I'd say you could make them work with most colors. They are pretty much a neutral, with a colored wash over. You just have to keep in mind that they do have this wash…you can let this stand out and play off of it or let them act more as a neutral.
I was looking at Debbie's blog, Dark Horse, and because she posts OOTDs (outfits of the day), I was able to gauge what pieces she had in her closet already that would work. Let's take a look at some of those items first.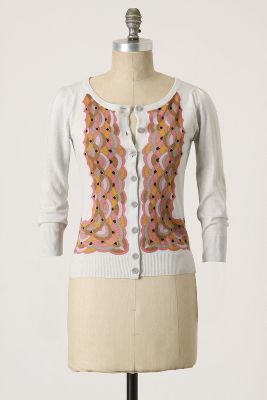 Deco Page Cardigan – $98 – Pair this cardi with a neutral skirt or jeans and then put on the boots…you're ready to go! This look will bring out the raspberry color because the cardigan has the pink hues, and by pairing it with a neutral bottom, you'll let this color stand out. It won't be a BAM in your face color standout, but a nice, sophisticated, subtle standout. You get what I'm saying?!
In The Trees Skirt – $158 – Okay, I admit…she doesn't have this one yet, but if it flatters her and she happens to get it, I think this would pair very nicely with the boots. Can't you picture it…this skirt, tights, and the boots (don't forget a top!)? Gorgeous! In Debbie's email, she mentioned she thought this skirt might look nice with the boots…could she have been any more right?!
Using the boot's ability to act as a total neutral, for fall, Debbie could put on the outfit seen here with a pair of tights and the boots. Another cute look!
I can't tell for sure whether the dress she has on here is blue or green, but I'm thinking it might be a possible turquoise? Anyway, to make the boots pop, she could again put on a pair of tights (gray or brown) with this dress and the boots. She could even slip on a rust colored cardi and pull the look together even more, or just go with a gray blazer, possibly. That would look nice.
A jean skirt, such as the one she has on here would be a great pairing with the boots. Again, throw on some tights and a nice cardi and you're good to go! I'm thinking this skirt, the Deco Page cardi (above), and some nice tights (gray, brown, or a more daring but darling navy) with the boots would be great!
The skirt here would also work beautifully. I can't tell what color is in the blouse she's wearing there, but perhaps if she switched up the belt to something a bit more subdued, this look would work great with the boots (and hello? tights!).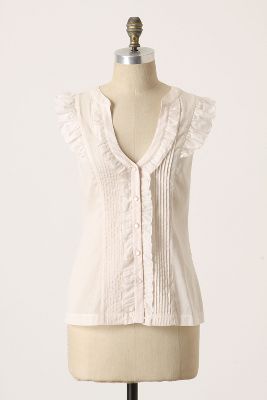 Bits-Of-Pearl Blouse – $29.95 – She has this in the gray-blue color (not pictured above) and I think it would be gorgeous with the boots!
With some added tights, the last outfit pictured here would be an absolutely adorable casual outfit.
I'm going to go ahead now and give a couple basic ground rules. Obviously, some exceptions may apply, but for the most part they'll help create a cute outfit incorporating these boots.
If wearing a skirt or dress, make sure the hem is not grazing the top of the boots. You want some space between the two, because otherwise you're going to visually shorten yourself quite a bit. Having the break of leg showing (with tights for fall/winter of course!) does wonders!
The boots have a very slight western undertone, so don't go crazy with this theme. Choose pieces that are classic yet modern to pair with the boots.
Now, here are some looks. Remember that if there's a cardigan you just don't like the style of, don't worry. Pick something out in a similar shade perhaps. Or maybe you have a cardigan so similar to the one I show you…save your money and just use what you have! Feel free to put your own spin on what I show you…I'm trying to spark ideas and help out. That said, if you like a look exactly the way it is (which is a great goal for me to aim for), don't change it!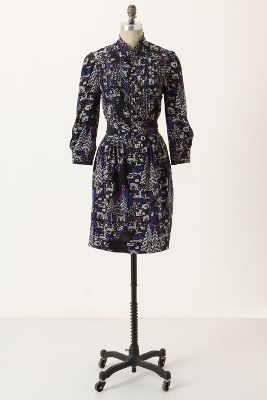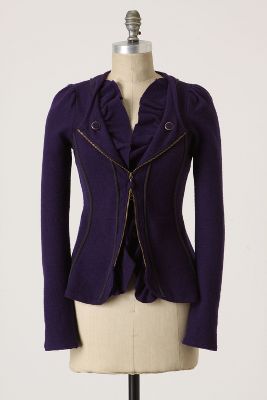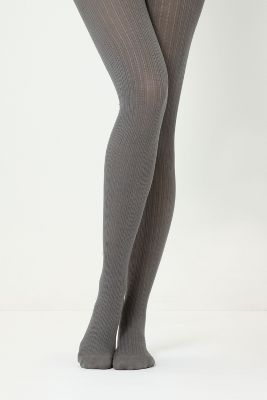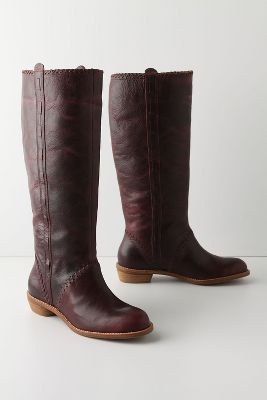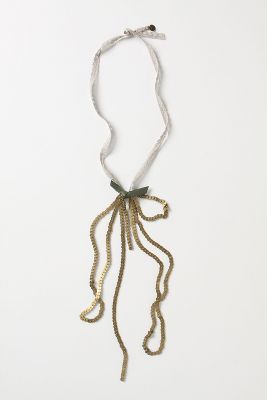 Myths & Legends Dress – $268
From-The-Poles Jacket – $128
Pointelle Tights – $18
Berry-Stitched Boots – $258
Glimmering Lengths Necklace – $88
This look could be altered quite a bit. As is, it's a gorgeous, slightly edgy look. Adjustments you could make are 1) jacket not your thing? ditch it and wear just the dress! 2) pair a different jacket/sweater with the dress to create a less edgy, more sweet look. As I said here, the dress isn't exactly my cup of tea on the mannequin, but I think everyone can agree it looks great on person…just take a look at it on Kate of Vurbanity.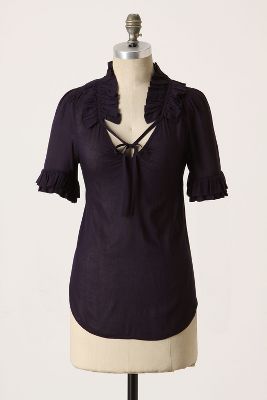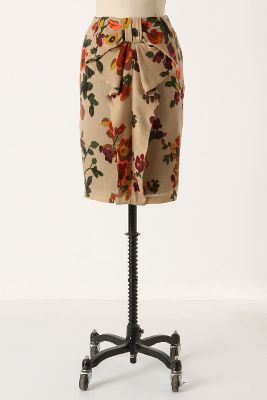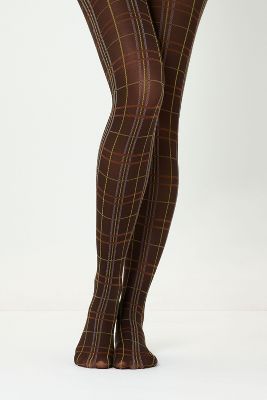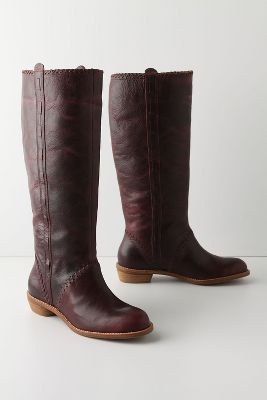 Bianka Blouse (purple) – $68
Lincolnshire Skirt – $168
Perfectly Plaid Tights – $18
Berry-Stitched Boots – $258
I love the pattern play in this look. With the shirt tucked in and the skirt sitting at your natural waist, hopefully it won't be too long that it deceives my rule listed above (skirt hem and boots shouldn't touch!!!). To add extra warmth, you could throw a blazer on. Either way, it's sure to be a chic look!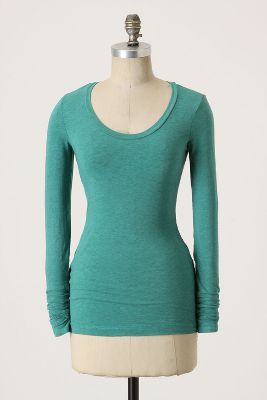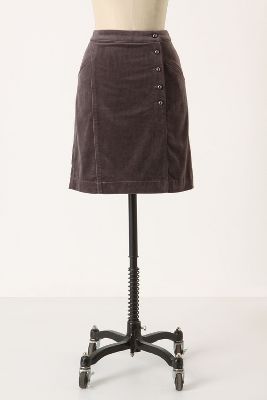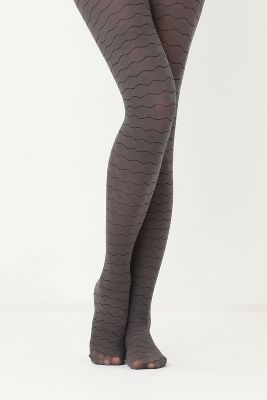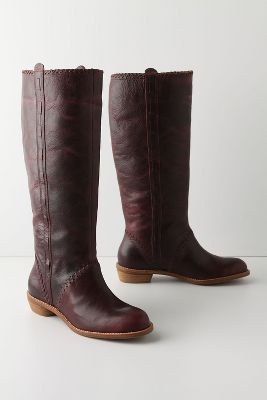 Stroll Worthy Tee – $52
Finishing School Skirt  (dark gray) – $78
Perfect Skippers Necklace (turquoise) – $68
Stormy Seas Tights – $16
Berry-Stitched Boots – $258
Because the turquoise and raspberry are opposite on the color wheel, this look will really allow the boots to pop. Throw on a cream sweater to tone down the turquoise if you like…or wear it as is!
So what else am I loving with these downright versatile boots?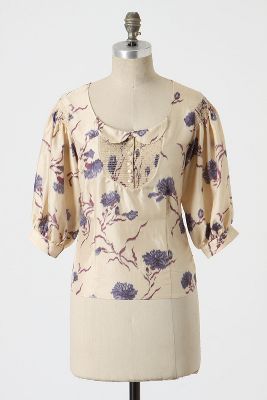 Mum Season Blouse – $98 – This could be gorgeous with a pair of jeans or a pencil skirt. The coloring would coordinate perfectly with the boots, but not in a too matchy-matchy kind of way.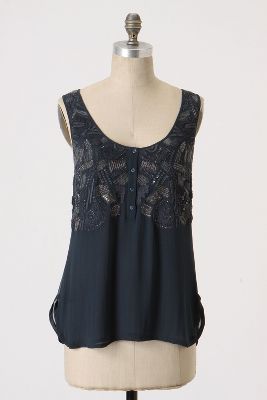 Stucco Sequin Tank – $128 – This could really allow the rich raspberry color to pop (they're complimentary colors, so the shirt will make the shoes pop, but the color combo will rest easy on the eyes)! Pair it with some jeans and cardi, or a nice skirt.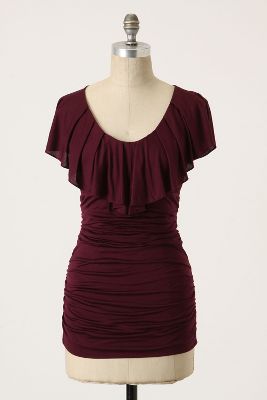 Draped V-Neck – $128 – By bringing the raspberry color of the boots to the top, it would make a strong color statement overall (the raspberry will be the feature color).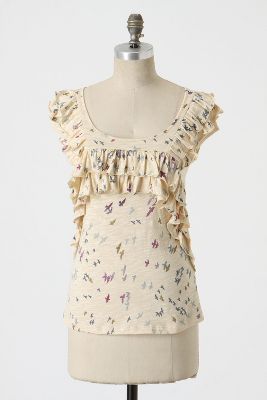 Flight of Fancy Top – $58 – This could also look great with jeans or a skirt, just subtly hinting to the pink and purple hues of the boots. At $58, it's also not a bad price for Anthro!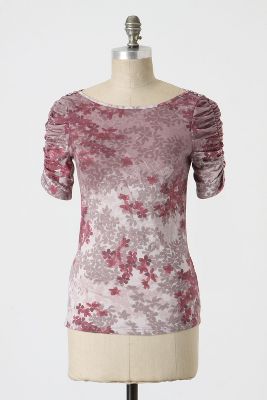 Muted Lavender Top – $58 – This has the nice price of the preceding top, but the same effect when styled as the Draped V-Neck…that is, it will make the outfit all about the raspberry tones. With some jeans, this look would be a perfect casual weekend look.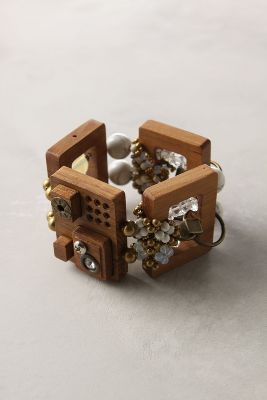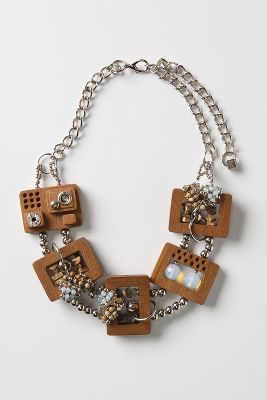 Goldberg Bangle (white) – $98
Ice Age Technology Necklace – $118
The heel of the boots is wooden, so I love the idea of incorporating this into the accessories. I don't think it would be matchy-matchy at all, but rather the perfect finishing touch. Either the bracelet or necklace would do the trick beautifully.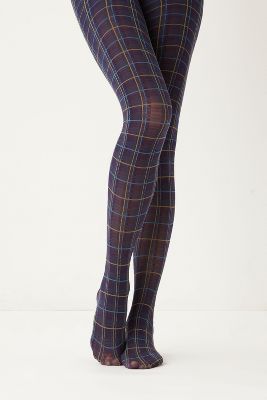 Stormy Plaid Tights – $18 – These could be so fun to use with the boots…they would definitely allow the boots to pop, and therefore shine in the outfit!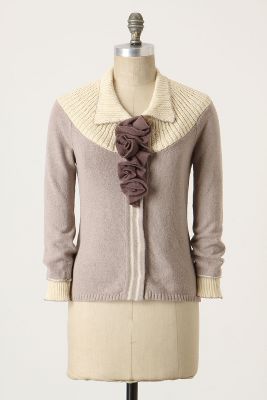 Blueberry Tuft Cardigan – $128 – The soft purple hues in this cardi would softly allude to the raspberry wash of the boots. Perfection!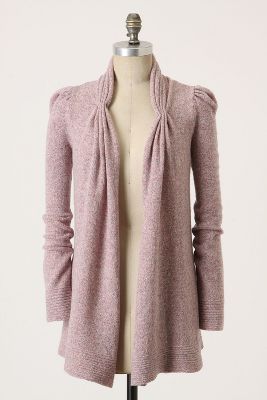 Lady's Choice Cardigan – $88 – Throw this on over a basic white tee and pair it with jeans and the boots…you're ready to go! What a chic casual outfit that would be!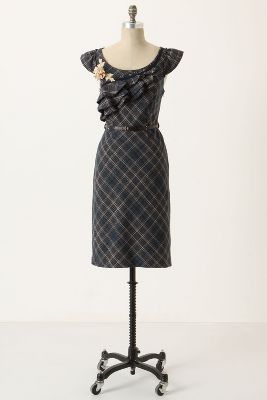 Ruffled Plaid Dress– $158 – Debbie also mentioned in her email she was thinking a plaid dress would work. I think this dress would work fabulously! Just add some tights and a cute cardi for those extra cold days and you've got a complete look! The blue hues in the dress would make the raspberry coloring of the boots really stand out!
Well, that wraps up this berry good styling request (aren't I funny?!)! Hope it was helpful to everyone considering these boots, and especially to Debbie! If you've got any questions, let me know! And don't forget to send your styling requests to theanthropologieconnoisseur@gmail.com! I'm looking forward to future requests! Thanks!