Tags
anthropologie, award season, celebrities, Celebrity Related, clothes, clothing, dianna argon, emmys, fashion, sophistication, style, styling
Hope everyone had a lovely Labor Day weekend!!!
A winner for what, you ask? Remember when I asked you to first vote here, and then vote here once we had our finalists? Know what I'm talking about? We have a winning Emmy look for me to create an Anthro recreation look after! (I did in fact already do some Anthro looks from Emmy gown inspiration, but I then let you, the readers, choose which other lady's gown I used). So who won? Have a look…
(image from here)
Yep, that's right…Dianna Argon won with a whopping 86% of votes in the finalists round! Her Carolina Herrera gown will make for a great Anthro look!
Where to start? Let's first analyze the look a bit. The bodice is very structured…it almost reminds me of a corset. Then, of course, there's the two layers to the bottom of the dress. And how can we not mention the print? It's a gorgeous lace over a striped fabric. The total look is sweet and feminine while being a little edgy.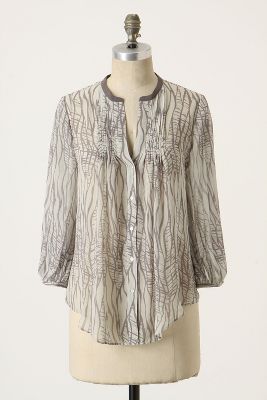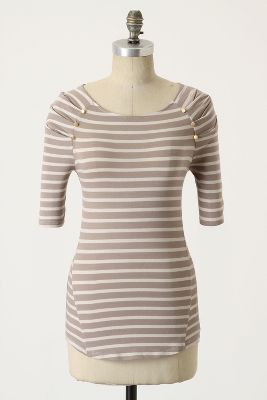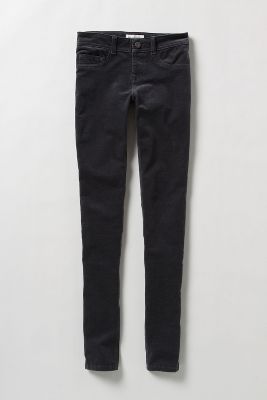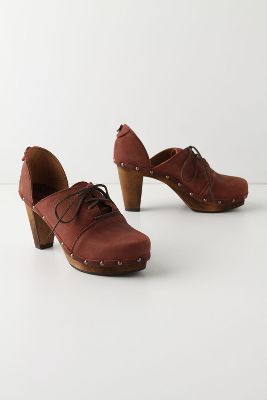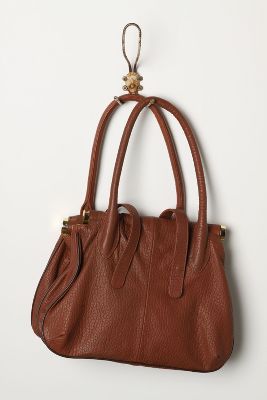 Cavorting Flora Blouse  (cream) – $98
Eze Sur Mer Top (neutral motif) – $48
Pilcro Stretch Cord Leggings (gray) – $88
Levade Clogs (wine) – $148
Whiskey Barrel Bag – $178
Wear the striped shirt under the blouse (which is quite see-through…I've seen it in person). You'll be able to see the stripes, but they'll be subtle enough to not distract.  Pair with a clean pair of skinny pants and some gorgeous shoes. Finish off the look with a classic bag. The shoes and bag are not too matchy-matchy, but rather strike the perfect chord of harmony. The total look is elegant but totally unexpected.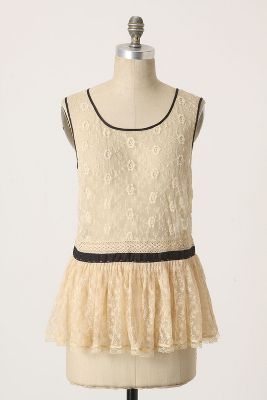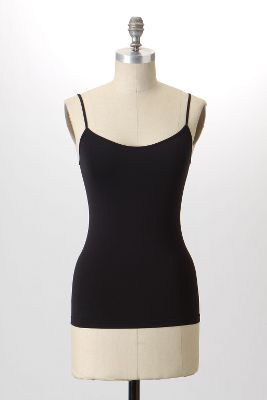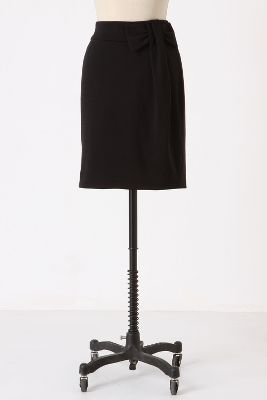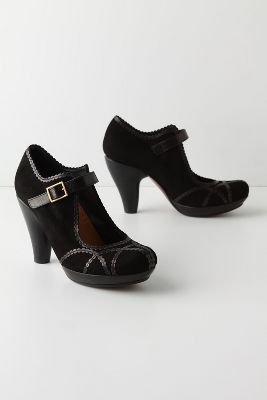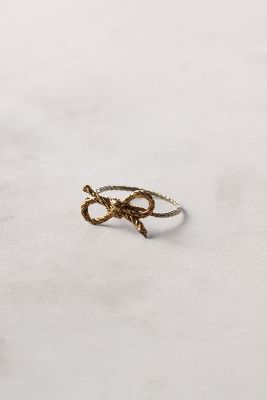 Calderbrook Blouse – $118
Plain-And-Simple Cami (black) – $24
Askew Skirt – $78
Smoke Signal Mary-Janes – $415
Held Dear Ring (gold) – $58
This look is pure elegance, luxury, and gorgeous-ness. Wear the black tank under the lace top to make the lace really pop. Wearing a simple black pencil skirt will give the same effect as Dianna's dress did with the two hems (in this case, the hem of the top and the hem of the skirt). The shoes and ring are the perfect finishing touches.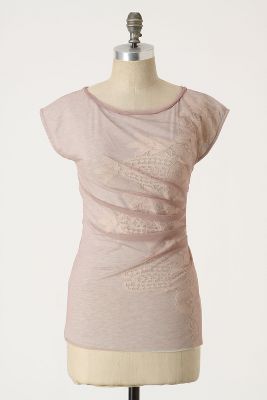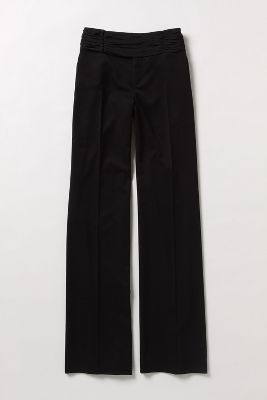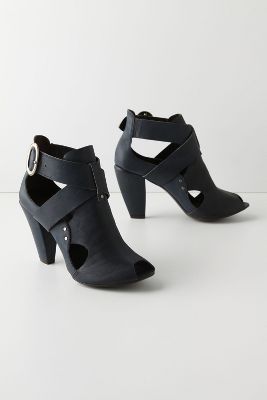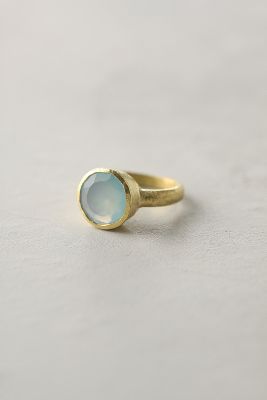 Daylight Aurora Top – $78
Ovation Trousers  – $148
Poseidon Rising Booties – $428
Samba Rings (sky) – $48
This is another effortless sophistication look. Top the slightly pink hued top into the sleek black pants (take a look at how long they make your legs look here, second picture!) The blue ring is the perfect complement to the blouse and adds a bit of interest, while the killer shoes add just the right amount of edge.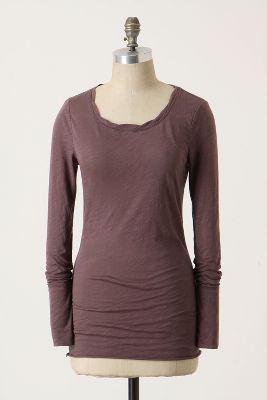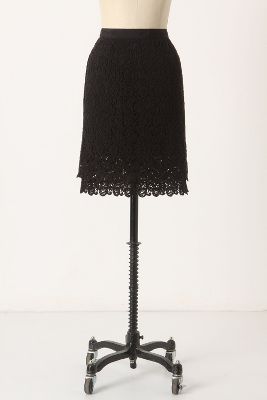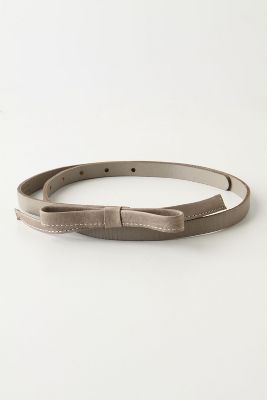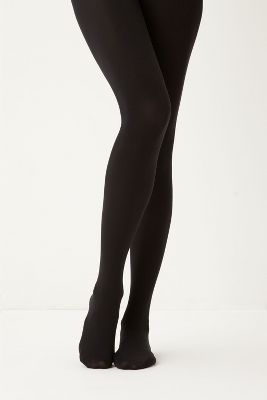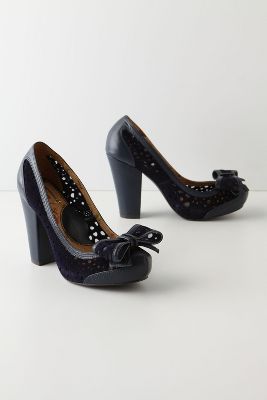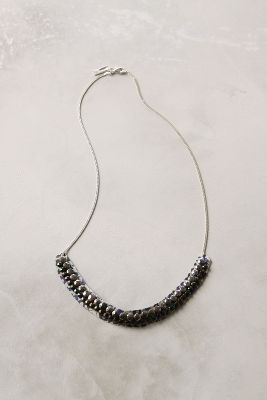 Pure & Good Basic Slub Long Sleeve Tee (cocoa) – $38
Mirabell Skirt – $118
Soft Bow Belt (gray) – $28
Opaque Tights (black) – $12.50
Eyelet Platforms – $158
Parson Necklace – $158
This exquisite lace skirt pairs wonderfully with the soft brown-purple top and gray belt (image the top tuced in and the belt right on the top of the skirt). The tights, shoes, and necklace give the aire of grace and sophistication.
That wraps up our looks based off of Dianna's dress! However, if you want Dianna's look in just one piece, I suggest this beauty: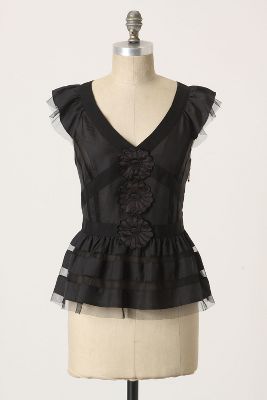 Soleares Silk Blouse – $198
It's edgy, chic, and feminine and encompasses the essence of Dianna's dress.
As a reminder, I'd like to encourage you to send any and all styling requests to theanthropologieconnoisseur@gmail.com (see here for more details)! Don't be shy!!!
And finally, if you don't mind, participate in this poll!  It's just for fun! And feel more than welcome to leave comments or even just a little note saying "hi" in the comments! Thanks!