This is the post I was talking about here! The technical glitches went away! Hurray!
If you've never watched Fashion Police on E! after award shows, you've got to! Basically, a small group of people (usually three to four) critique the fashions, bringing in a bit of humor, but really…the best part is that it's about FASHION!!! I must admit I miss some of the people who used to be on, like Debbie Matenopoulos, Peter Ishkhans, and Jay Manuel, but it's still a worthwhile show to watch. I was so beyond thrilled to learn a few weeks ago that they were going to come out with weekly episodes of fashion police, critiquing each week's celebrity fashions. They started these weekly shows two Fridays ago. Now why am I bringing all of this up? For one, you really should check out the show, but two, I was really inspired by something someone said on the first weekly show. Unfortunately, I cannot remember who said it or what the exact quote was, but it went something like this, "Fashion is non-verbal communication." Perhaps you've heard this before, maybe not. The more I thought about it though, I realized I couldn't agree more! What you wear reflects your self-image, whether you mean for it to or not. Shall we explore this a bit more, using Anthro (of course!)? We'll look at an Anthro picture and I'll give you my take on what the outfit says about the person (we'll pretend these aren't models doing their job, but rather individuals putting their own look together). This, of course, will be easier said than done. And it's okay if you and I disagree a little…maybe you, for example, are picking up on something I'm not. Finally, don't forget that it's not so much the individual pieces you wear, but the overall styling that gives off the biggest message.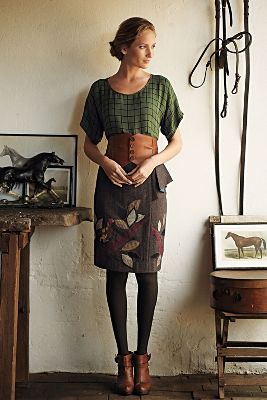 She's a confident, creative, quirky woman. She has grace and sensibility, and has her head on her shoulders. Some of her inner child is peeking out.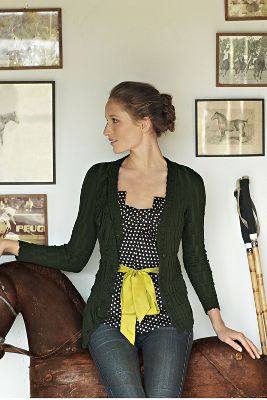 She's a fun-loving person, but very refined. She's someone you can feel comfortable approaching, and will be there for her friends.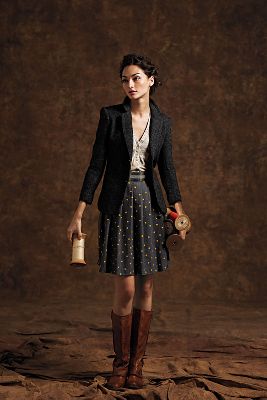 She is ambitious and sophisticated. She is on the path to success, but doesn't want to give up any of her personality along the way.
Obviously, I could have said a lot more about each, but I think you get the gist of what I'm saying.
What do your clothes (and styling choices) say about you? What do you wish/hope they say? Do tell! Here…I'll go first: I, personally, hope my wardrobe says: I'm approachable, mature, sophisticated and responsible, but I still can have fun (and love to have fun!). I have a sense of humor and am unique. I'm happy to be me.
In the future, when emailing styling requests to me at theanthropologieconnoisseur@gmail.com, feel free to include some adjectives describing the look you're after. It's not mandatory in any way, but if you feel like it, why not?! And please don't hesitate to send your requests! I'm currently working on one that I should have up soon!
On a final side note, Debbie, of possess and obsess let me know she actually checked out the Cream Confectionary Jacket look-alike at Macy's (check out the post on this here, if you missed it!). She said the fabric was actually a faux-suede. I never would have thought! She did say that there was another version though, that is cotton. For more on her findings, go here.