Tags
anthropologie, Chemise, clothing, fall, fashion, fun, seasons, Shopping, Socks and Hosiery, style, styling, styling request, Textile, Tights, Undergarment
Yesterday I told you about two fantastic styling requests I got from Sawan, and I completed the first part of her request. To see how I styled the Southward Stop Shirtdress, go here! I left you hanging though about which dress I would be styling today. Got any guesses? Hint…look at yesterday's (and today's) post titles. Second hint…it has a connection to this post. Think you know? Totally stumped? It's the Distant Chirping Chemise (no longer available at Anthro)!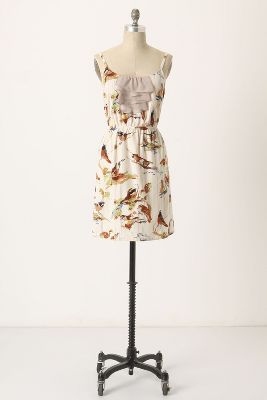 Yes, this is
technically
 a loungewear piece. But as I directed you above,
my post on loungewear transitioning to outside of the house
proves that if done well, loungewear
can
be successfully worn outside. This doesn't mean I suggest wearing that oversized ratty t-shirt; in fact, I am
so
against pajamas being worn in public. The thing is, you have to trick people into thinking what you're wearing was
meant
 to be worn in public. Make sense? I'm going to start out by just giving a few pointers when debating whether a loungewear piece has potential to be transformed into everyday wear.
Use a critical eye:
Is it too short?
Is it too sheer?
Does the fabric look to shiny?
Does the material look cheap?
When analyzing a piece, if you answer yes to any of these questions, you should probably stick with wearing the piece in the comfort of your own home. The bottom line: use caution!
Back from the slight side track and onto styling the Distant Chirping Chemise!…
For fall, it's pretty much imperative to pair a sweater or cardi with this look, unless you live in an unusually warm climate. Deep rust colors are going to look great, as would navy. The right gray or burnt orange could also work nicely. Like with Southward Stop Shirtdress, pairing the dress with a belt, tights, and a cardi would work wonderfully. Adding a belt would actually help it look even less like loungewear, because it adds chunkiness and makes the eye think it's more expensive looking. If I had to sum it up, the real key here is accessorizing. Shall we get to some looks?
Distant Chirping Chemise (no longer at Anthro)
Wear this gray toned sweater with the belt around it (not underneath it) and you'll get a nice, clean, cinched in look. Add a pair of navy tights, a charming necklace, and some adorable shoes and you've got yourself a complete look!
Distant Chirping Chemise (no longer available at Anthro)
This look is effortless fun. The belt adds just enough to cinch the waist, but not distract from the navy cardigan and eye catching tights. The boots and ring add the perfect dose of girly.
Distant Chirping Chemise (no longer available at Anthro)
Wear this cardigan unbuttoned with the rust/orange-y colored belt underneath it. Add the necklace to even further emphasize the coloring of the dress, and then finish off with some tights and boots.
Distant Chirping Chemise (no longer available at Anthro)
This styling is a little different than the rest…instead of a cardigan/sweater, this beautiful turquoise blazer will work wonderfully. Because the blazer has some structure, there is no need for a belt. The tights compliment the wine colored shoes perfectly and the necklace is that perfect finishing touch. The turquoise and wine will work so nicely together in this outfit and will really make the colors in the dress stand out.
.
We're done with complete looks, but let's take a look at some other pieces that would pair nicely with the dress.
All of these boots would add the right luxurious touch when paired with the dress.
Any of these tights would add an extra dose of fun and sophistication to the dress.
.