Tags
anthropologie, clothes, clothing, Color, Dress, Footwear, jackets, legwear, Navy blue, New York, New York City, Shopping, style, styling, styling requests, Tights
It's time for another styling request! This time, Isaacsgirl110 requested I style the New York, New York Dress (no longer available at Anthro)! It was once named the Amsterdam Dress, so don't be confused if you are!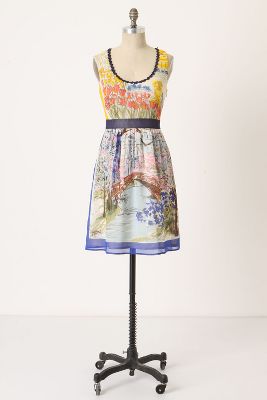 This is truly one unique dress, that I'm sure is a standout in any closet it resides in. Isaacsgirl110's specific concern was that she didn't want the dress to look too "prissy." I think this is a very valid concern, and will make for the styling of this quite interesting!
.
My simplest advice is to juxtapose the sweetness of the dress with edgier pieces. However, don't get carried away! If you contrast too much with the dress's inherent style, you will end up looking silly and confused. Hopefully my pointers in this post will lead you to styling the dress in a pleasing manner!
.
Next piece of advice: Shoes matter! Yes, shoes always matter. However, because we're trying to prevent the look from looking too girly, you must be very careful with your shoe choice. I'm going to go ahead and just say no Mary-Jane inspired shoes whatsoever. Yes, there might be an (uncommon) exception, but for the most part, these shoes just won't do. (Please note that for this entire styling request, I'm talking about styling the dress with the noted aesthetic…if you wanted to make the look super girly, what I say not to do might – might – work for you).
.
Jackets are going to be a great styling trick for this dress. Their structure will give an added edge, but it won't be too harsh. Remember to leave the jacket open though, so the dress can shine!
.
Color wise: This dress certainly has many colors of the rainbow, so your color choices are quite open. Pick richer, darker colors…pastels will end up looking old and dated, and will most definitely make the look prissy (and super bright colors will compete with the print of the dress). As for particular colors I suggest, I'd say navy blue and black are my top picks. They will look gorgeous with the dress, and won't distract from the print.
.
Ready for some head-to-toe looks?
New York, New York Dress (no longer available at Anthro)
.
Now at first glance, you might think the added pieces look a little dull…but trust me; in combination with the dress, they're not! The beautiful jewel toned turquoise jacket is the perfect pair. The shoes are just gorgeous…edgy enough, but still a bit feminine. The tights have a sort of t-shirt texture look, which helps make the look even less stuffy looking, and the casual, long-strapped purse adds a needed laid-back aspect to the look. You really don't need that many accessories with this look (or the dress in general)…the dress should do most of the talking!
.
New York, New York Dress (no longer available at Anthro)
.
I know, I know! You might be thinking I'm crazy with this one…but trust me! It works! This cardigan most definitely "edges" up the dress, and the added bonus? The buttons are a turquoise color that will really work with the dress! The navy tights keep the look from getting too harshly black-white (or harsh at all), while the flats act as a neutral, as to not take away from the dress or cardi. Yes, this is a lot of look, and I understand it won't be everyone's cup of tea. But if it is, you can rock it! (On a side note, I definitely caution using other bold prints with this dress…this is an instance where I believe it works!)
.
New York, New York Dress (no longer available at Anthro)
.
Put this classic brown belt over the cardigan to give it shape, and add these printed tights. Yes, they're printed, but it's subtle enough to not distract while still adding interest. The shoes nicely finish off the look!
.
Now, onto some individual pieces…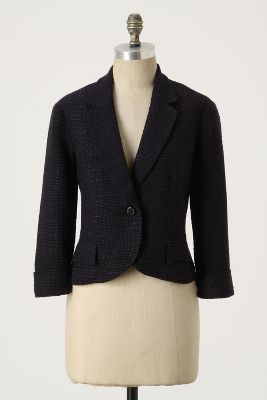 Chaperoned Blazer
 – $128 – This would be a perfect jacket to wear with the dress…simple, but it adds texture!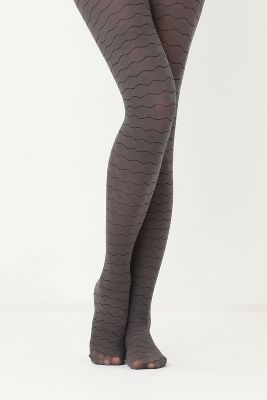 Stormy Seas Tights
– $16 – Again, this would be a subtle enough print to make them work, but they'd certainly add whimsy. To roughen up the look a bit, add edgier shoes.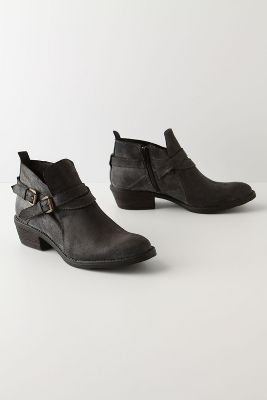 Moto Anklets
– $225 – These have the potential to be amazing. Please though, wear some more feminine pieces to balance out the look…if you wore these with other roughed up pieces, you would end up with an odd look!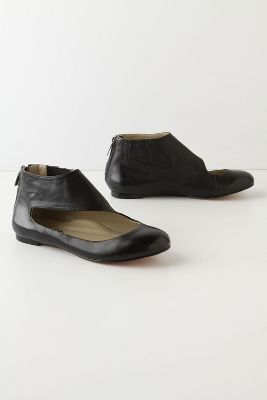 It's a Wrap Flats
– $180 – These could work nicely, adding an edge while remaining feminine.
Honor Guard Booties
 – $168 – These would be the perfect pair with the dress…not too sweet, but just right!
.
I certainly hope this post helps Isaacsgirl110 and inspires her to dig out this dress and wear it proudly! Which look is your favorite?
.
.