Tags
anthropologie, Arts, birthday, fashion, Gemstone, Holidays, Jewelry, necklace, People, Shopping, style, styling
As you know, last week Wednesday was my birthday! I gave you a rundown on some of the incredible presents I received…and tonight I get to tell you about another! It was on one of my wish lists recently. Any ideas as to what it is? It's the River Bow Necklace!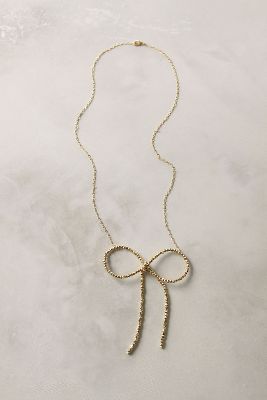 Let me just say that it does not disappoint in person! It really is too cute! It has such a sense of quirkiness too, which I adore. My advice? Add this piece to your jewelry collection! It's precious!
In case you were wondering, I decided to keep the Dressage Belt I received and told you I was debating whether to keep or not. I haven't made the extra hole yet, so I'm still crossing my fingers!
Sorry I haven't been posting a ton in the past few days. Although it's not an excuse, life has been pretty busy! But, I've been working on an extra special post I hope to have up by tomorrow (which technically I've actually been working on for weeks!)!
Hope everyone is having a great week…only three more days until the weekend! We can make it! Did anyone score anything from the sale today?