My search for the perfect items to purchase using my birthday discount continued…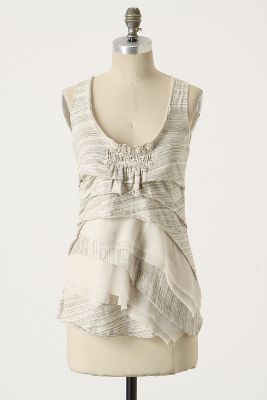 Comet's Trail Tank (gray) – $29.95 on sale – There were a ton of these on the sale rack, so I decided to go ahead and try one on. And guess what?! It was love! The racerback inspired back is the perfect touch. This top will look great with many things, including skinny jeans! Recommended, especially at this sale price!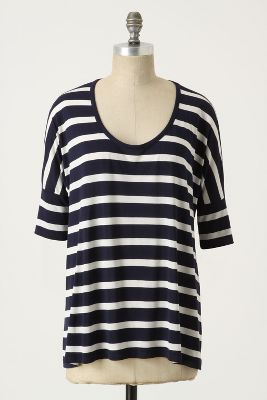 Every Saturday Tee (blue) – $68 – I told you a few weeks ago month ago (time is flying past me!) that this top was on my wish list. I did mention that I was concerned it could be too big on me, as it doesn't come in an XS (I'm a size 00-0 and just under 5 ft.), and, in the end, I should have followed my instinct. This was comical on me! It was like a dress (a super short one, mind you), but worse than that, it was so incredibly wide! When I stood with my arms out, it literally went nearly a foot away from the sides of my body on each side! My sister saw me in this and definitely got a good laugh out of it! Let me stress that I know it's supposed to be a bit oversized, but it was HUGE!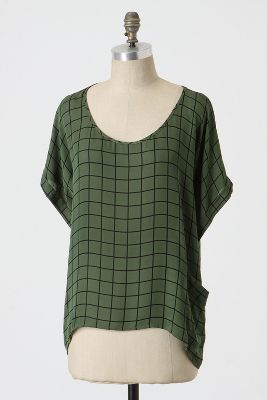 Look About Blouse – $98 – I've mentioned a few times my admiration of this top, so I was thrilled to be able to try it on! As opposed to the last top, this one actually worked! It looks completely way too big on its own, but with a belt, it's absolutely darling (or, I could tuck it into a high waisted skirt). The pocket on the lower left hand side is darling! I wore this for the first time yesterday (with a medium-wide width black belt and skinny black pants) and I can't even tell you how many compliments I got! I highly recommend it!
And that concluded my birthday quest! (I actually did try on some other pieces, but they were on sale and are no longer online).
To end, here are a few random thoughts: I'm sure all of you have seen the videos on Anthro's homepage…what do you think?! Are they not absolutely adorable? And I discovered that some of the new arrivals are on darker colored mannequins. On the one hand, the mannequins add a nice vintage feeling, but I don't think the coloring suits the pieces as well! Maybe I just need to get used to them?! What are your thoughts?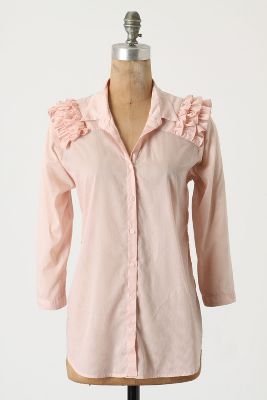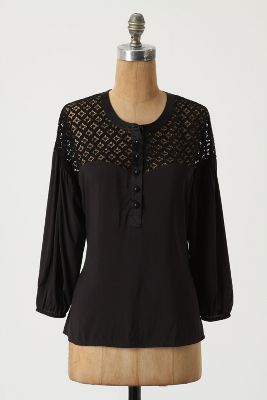 Distressed, yes, but do they show off the clothing as best as they could?