I think I've mentioned this before…I am completely and utterly in love with exposed zippers. I've had this love for quite a few years now, but it seems like recently I've been seeing them more and more. I should make this clear though – I don't just love any exposed zipper. It has to look expensive (they can often look cheap) and just have the right aesthetic to me (kind of hard to explain in words). Today, I'm actually wearing a top I picked up last weekend from Gap that has an exposed zipper neckline and exposed zipper down the back. Don't worry! It's not overloaded! Coincidentally, last weekend I also picked up a skinny exposed zipper belt from J. Crew (on sale too!). So I was thinking…what, if anything, does Anthro currently have to add to this idea (I hate to use the word "trend," because I'd like to believe they're done in a timeless fashion; however, this certainly is not always the case)? Let's take a look.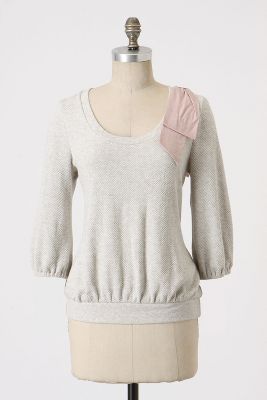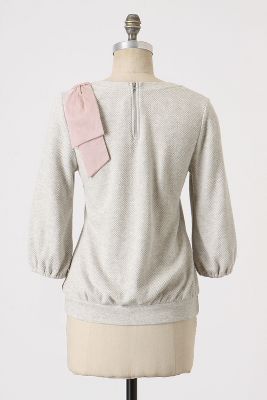 Blushing Bow Top – $68 – This isn't exactly my cup of tea, but for some it could be a nice look incorporating a small exposed zipper!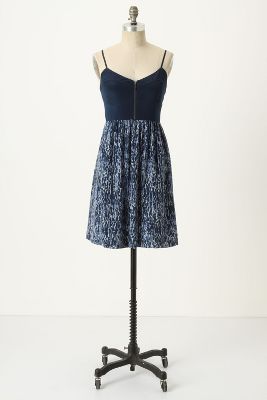 In The City Dress (shown in blue motif, also comes in black motif) -$128 – I'm not a huge fan of this print, but for many this would be a fabulous look. I like the concept of where the exposed zipper is in this one.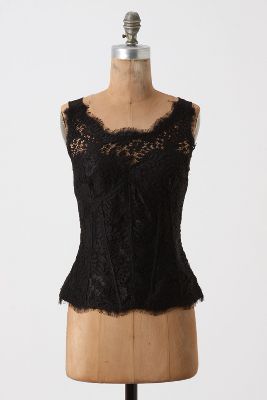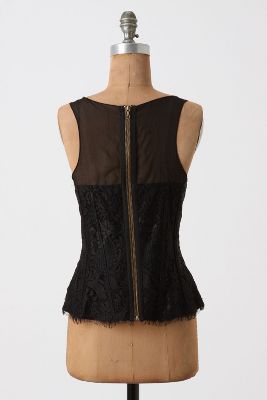 Eyelash Lace Corset – $258  – Now this is what I'm talking about! I adore everything about it…the lace, zipper, and sheer back! Only problem?! It's exxxpensvie!
Perhaps I missed an item or two, but what, of these three pieces, are you loving the most? Or, do you hate the exposed zipper look with a passion?!
I hope everyone has a great weekend! Any exciting plans? I'm going on a little trip, so I won't be able to post again until Monday, most likely. Sorry!