Tags
advice, anthro, Boot, clothes, clothing, Cowboy, Cowboy boot, fashion, Footwear, Frye Boots, style, styling, The Frye Company, wedding
It's time for another styling request! This time, a reader requested I style the gorgeous Stemmed Sweetbriar Dress (no longer available at Anthro), but this was no ordinary request! You see, the reader is going to be wearing this dress to her sister's wedding in a few months (she will be the maid of honor)!
This was the information I was presented with:
The bride requests that the bridesmaids all wear some form of a cowboy boot. The reader would like to be able to use these boots after the wedding in all different situations…with jeans, dresses, etc!
The wedding is outdoors, but the weather should only require some sort of shrug or wrap.
The colors of the wedding are: light turquoise, rust orange, gray, and a combination of rustic browns. Can I just say that this sounds absolutely lovely?!
The bride's decor theme is a birdcage, so accessories somehow whimsically incorporating this would be nice, but not absolutely mandatory.
The reader prefers a classic style, with touches of a bit of  the unexpected. She's not a huge fan of super frilly things. She also likes the idea of mixing rougher pieces with more feminine pieces.
My basic advice?
Pick boots that will be timeless. For the most part, boots with little embellishments (i.e. buckles, embroidery, etc.) will be best. This will also help the look feel more dressed up, as opposed to casual (this is a wedding!). If large areas of elastic are visible, they're probably not the boots for this occasion (for example, while cute, stay away from these). Also, in terms of color, brown, black, and gray are your best bets. It's all about getting the right shade to work with the dress!
A necklace or ring incorporating a bird/birdcage of some sort could be great (but then again, this isn't mandatory).
Pick a wrap with soft lines (but nothing too frilly, to keep it within the reader's style). Allow the juxtaposition of the rough boots and feminine dress to do the talking.
Keep it fairly simple overall. You don't want to look too accessorized, as this, for one, is just not good, but two, is a wedding we're talking about, and you want to look polished and sophisticated more so than usual.
It's important to note that the reader mentioned that she was looking at Frye Boots, and I think this is an excellent direction to go in. I will include some Frye Boots, but also some boots I found elsewhere.
First, a look at some individual pieces (some of which may later be incorporated into stylings!):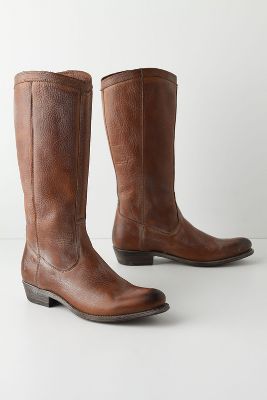 Southwest Sentiments Boots (Frye at Anthro) – $348 – I think these would be a great option. They definitely have the idea of a cowboy boot, but they're extremely simple and timeless. They would work for the wedding, but then look fabulous with skirts, dresses, and jeans for everyday wear.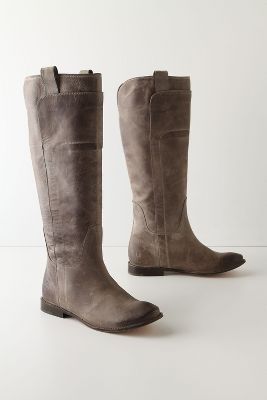 Show Jumping Boots (Frye at Anthro, gray color) – $348 – I certainly like the distressed, but not overtly so look to these. The color would be great, but the only thing I might be a bit hesitant about is the loops on top. They make these seem a bit more casual. The boots could definitely still work, but it would just have to be taken into consideration when picking the other pieces of the look.
Carson Shortie (Frye's site) – $318 – For the most part, I would suggest a medium height boot, but this shorter one could still possibly work. They definitely have a more "cowboy" look to them.
Carson Pull On (Frye's site) – $348 – These are decidely cowboy in style, but because they're otherwise quite simple, they have a much more timeless look to them. They could be a great choice!
Shirley Riding (Frye's site) – $398 – These might be a bit on the tall side (I would recommend that the boots are short enough that there is still a good few  inches of skin between the top of the boot and the bottom of the dress's hemline). However, the rich color is very appealing!
Belted Harness (Frye's site) – $238 – These, again, are a bit on the casual side, but I could definitely see them working.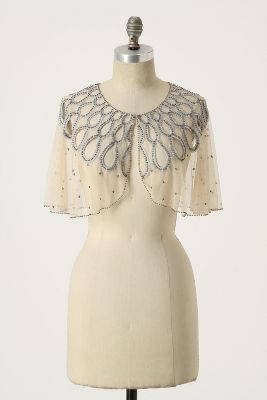 Seraphim Capelet – $128 – This is dainty covering that could work well!
And now, onto stylings!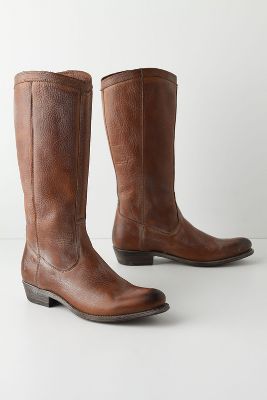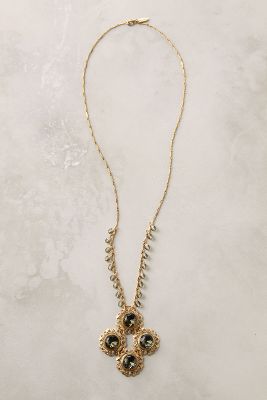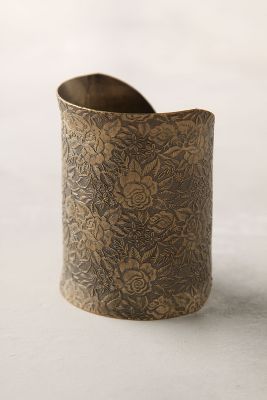 Stemmed Sweetbriar Dress (no longer available at Anthro)
Nordstrom Tissue Weight Cashmere Wrap (chestnut) – $98
Southwest Sentiments Boots – $348
Marchioness Necklace – $42
*Note: I would style the wrap differently, probably to look more like a shawl. But you could get creative!
While this look itself is gorgeous and could work, I want to point out that you could take elements of it and alter it slightly to create another outfit that would work equally as well. Shall I show you a bit of what I'm talking about?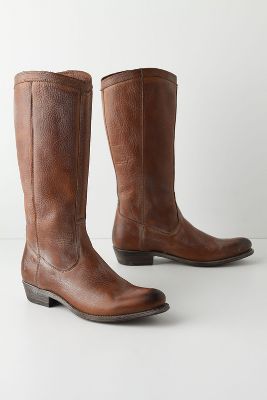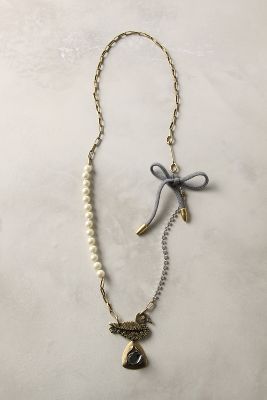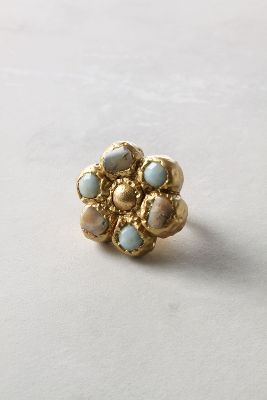 Stemmed Sweetbriar Dress (no longer available at Anthro)
Nordstrom Tissue Weight Cashmere Wrap (chestnut) – $98
Southwest Sentiments Boots – $348
Just Ducky Necklace – $298 
Garden Pearl Ring – $198
This version brings in the element of the birdcage! But still, shall I show another variation?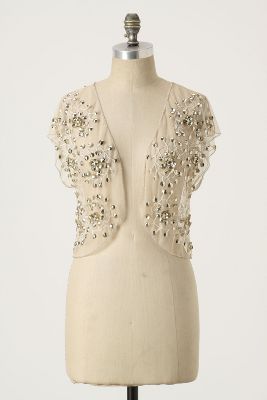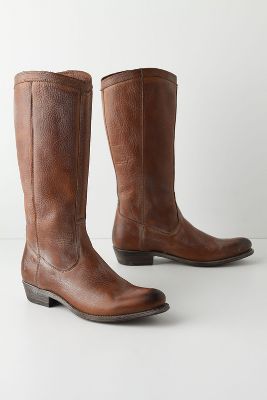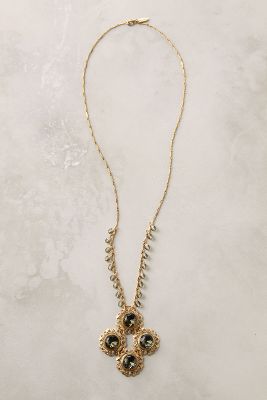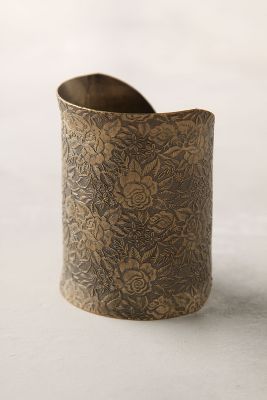 Stemmed Sweetbriar Dress (no longer available at Anthro)
Goldencup Bolero – $118
Southwest Sentiments Boots – $348
Marchioness Necklace – $42
This is definitely more feminine. For even further variations, you could use this bolero with the jewelry from the second look. You could also switch out the boots in any of the three looks. Really, there a numerous possibilities. It's all about playing around and seeing what you like best. Having said that, if you do like one of the stylings just as I have it, even better! Great! But again, don't be afraid to play around with ideas in any of the stylings!
Another great possibility for any of the previous stylings would be to use this wrap:
Refined Silk-Cashmere Wrap
 (J. Crew, vintage rosewood color) – $75 – This would tie in the burndt orange color in the wedding's color scheme!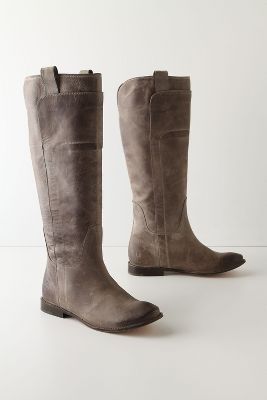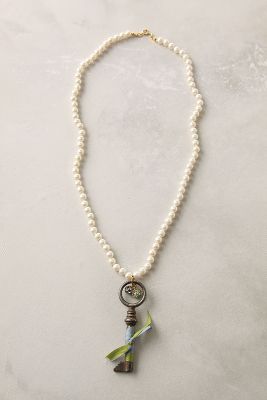 Stemmed Sweetbriar Dress (no longer available at Anthro)
The necklace here reminds me of a birdcage for some reason! Is it just me (hopefully not!)?! Anyway, I love the gray brought in throughout the look here!
Stemmed Sweetbriar Dress (no longer available at Anthro)
I love the color of these boots with the dress! For a more minimal take on this look, consider switching out the necklace for something less attention-grabbing, or eliminate it together. Another option would be to switch up the wrap to something in a little more neutral of a color…this way, the necklace calls attention, but the whole look is still pretty simple. Then again, this look works as is!
That wraps up this styling request…boy, I had a fun time with this one! I hope our reader has gotten some great ideas from this, and I wish her the best at her sister's wedding (congrats!)!
And do tell me…what is your favorite look here?!
(If you have another variation that is your favorite, let me know in the comments…and feel free to weigh in in the comments anyway!)