Tags
anthro, anthropologie, clothes, clothing, Dress, dresses, fashion, reviews, shirts, skirts, tops
I'm sure you are all so familiar with the feeling of wanting so many pieces from Anthro, but knowing you really can't afford everything. Even worse? – when you actually try on pieces and end up with a multitude of pieces you love, but know you can't get them all! This, my friends, is what happened to me yesterday. Would you like the story?
Once upon a time (yesterday, that is), I walked into Anthro with a mission…walk past all of the gorgeous current pieces, and march straight to the sale room. I managed to do this successfully! Next on the agenda was to try to find pieces on sale that I loved, so I wouldn't feel so guilty about purchasing. Well, I ended up with about seven pieces to try on from sale, which made me quite proud. I scoured those racks, I tell ya! I then allowed myself to browse the rest of the store, and I, of course, collected a few more pieces to try on. It was off to the dressing room!
For reference, I'm a size 00-0 and just under 5 feet tall.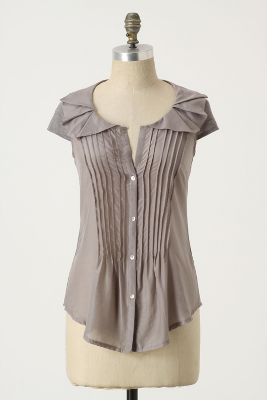 Bluffing Buttondown (size XS) – on sale for $39.95 – I tried this on in a green jewel tone version, which was gorgeous color. It was sheer, but oh so lovely. It was placed in my "to consider" pile.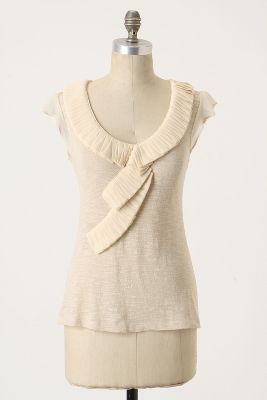 Trickle Down Top (size XS, beige color) – on sale for $39.95 – This, again, was quite sheer. I wasn't a fan of the material…it didn't feel very luxurious. It was placed in my "pass" pile.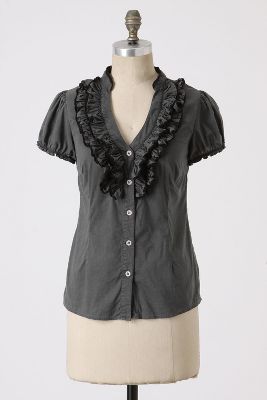 Whitecaps Blouse (size 0, oxford color) – on sale for $39.95 – Man did this need a good ironing/steaming! Anyway, it was still quite cute on. The elastic in the back really cinched in the look and made it extremely flattering. It was placed in my "to consider" pile.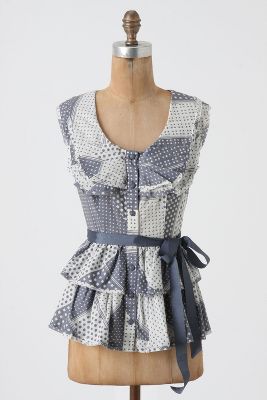 Pioneer's Plaid Blouse (size 0) – on sale for $39.95 – I will start out by saying this is a lot cuter in person. While it didn't look bad on me, it wasn't extremely flattering either. If anything, it made my hips look a bit wide. This is probably due to where the ruffles hit me on the bottom. The plastic buttons also weren't my favorite, but I could have dealt with them. Nonetheless, it was put in my "pass" pile.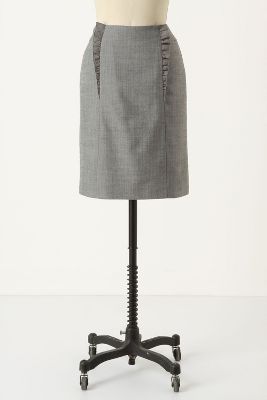 Just Right Skirt (size 0) – on sale for $59.95 – Unfortunately, this skirt was far from just right on me.  I love wearing skirts at my natural waist…actually, I only do this. However, this one just didn't look right like this. Somehow, it actually didn't seem to accentuate my waist at all, but rather made it look wider. The length was also too long proportionately on me, but if I had liked the skirt otherwise, I easily could have hemmed it myself. It was placed in my "pass" pile.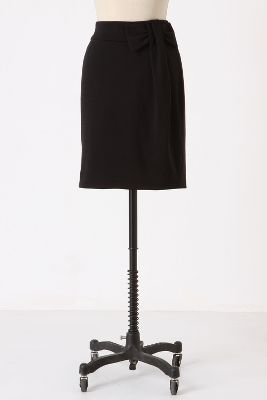 Askew Skirt (size 0) – on sale for $39.95 – I actually tried this on here and said there that if it went on sale, I might consider it. Well consider it I did, and it was placed in my "to consider" pile.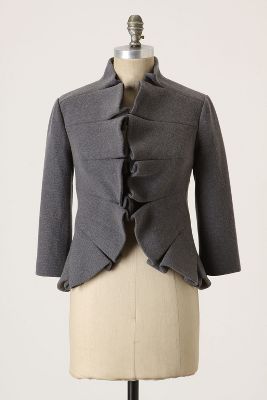 Terrace House Jacket (size 0, gray color) – on sale for $69.95 – I originally drooled over this jacket's catalog shot here. This fit me perfectly…which doesn't always happen at Anthro due to my short frame. It was a no brainer to place it in my "to consider" pile.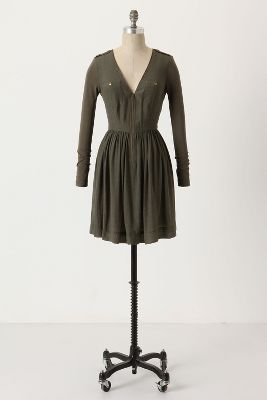 D'armee Dress (size 0) – $138 – When I was looking for my size in this, I came across the zero, and guess what?! It was marked down to $99.99 for a few tiny holes in the sleeve! Knowing I could fix them if the dressed worked, I was super proud to have found it! However, upon trying it on, I realized it just wasn't cut for shorter women. The sleeves were too long, the waist hit me too low, and it was just too long! I should point out that the skirt was actually a lot more puffy than one might think. The dress was placed in my "to pass" pile.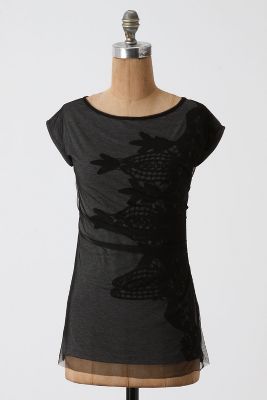 Daylight Aurora Top (size XS) – $78 – I told you here how much I loved this top online. And here, when it was still in its original pink-ish color, I used it in a styling based off of Dianna Argon's Emmy dress. So naturally, I was glad to be able to try this on. It did not disappoint! It was extremely flattering, and just gorgeous. It left me wondering why it hasn't been a huge hit (hint, hint…try it on!). It was obviously put in my "to consider" pile.
…And then my trying on was complete.
I reviewed my piles:
To consider: Bluffing Buttondown, Whitecaps Blouse, Askew Skirt, Terrace House Jacket, Daylight Aurora Top
Pass: Trickle Down Top, Pioneer's Plaid Blouse, Just Right Skirt, D'Armee Dress
It was time to debate which pieces to take home with me. I knew for sure I had to keep the Daylight Aurora Top and Terrace House Jacket. I wanted to keep all the other "to consider" pieces, but I knew I really needed to pare down. In the end, I ended up getting the Askew Skirt, sadly leaving behind the Bluffing Buttondown and Whitecaps Blouse (both of which are sale pieces). My game plan is to "wish list" each of these two items on Anthro, and if they get down to a super low sale, I'll snatch 'em.
I walked out of the store extremely happy with my purchases, but I still wished there were no need for a budget!
The End.
So now I ask you, readers, how do you use restraint when it comes to Anthro? I'm sure it's something all of you have had to deal with!