Tags
anthro, anthropologie, Arts, cape, clothes, clothing, coat, coats, Design, europe, fashion, french, love, Paris, Shopping, style
Love is Irrational, is it not?! Case in point:
I told you a bit back about my immense lust for some of Anthro's coats lately. Well, my friends, that lust was nothing compared to the lust for this beauty when I first laid eyes on it. Check it out!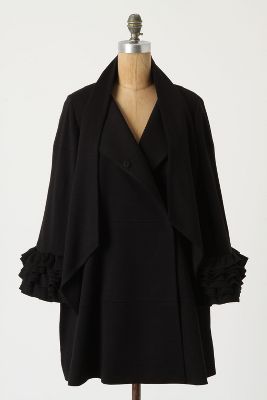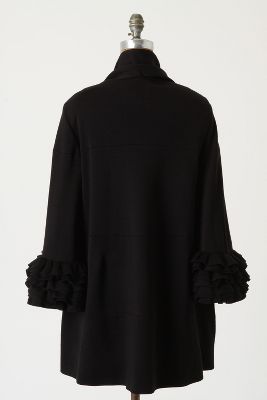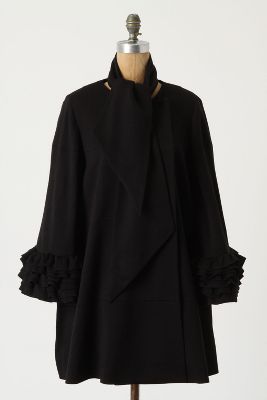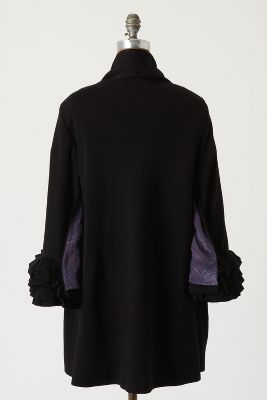 Le Soir Magnifique Coat – $298
Tell me it's not utterly fabulous. I dare you to (and if you truly don't think it is…what's wrong with you?! Just kidding…sort of!)!
But seriously. Look. At. It. It's bee-yoot-i-ful! And its name?! So Parisian chic!
And then my practical side kicked in.
Ahhh! The price!!! $298!!!!
The reviews all state it runs large…one review even said it runs two sizes too large! A little bit big is okay, but on my frame (size 00-0 and just under 5 ft), I have doubts it would work. Actually, it might look quite humorous.
The reviews say it is not very warm…and realistically, I need warmth. Yes, I suffer for fashion sometimes, but if it's too, too light, there's no way it could work.
But you know what they say, right? Love conquers all! So then, my lusting part of me kicked back in!
It's absolutely gorgeous!
Its name means "Wonderful Evening" Coat!!! So charming!
It's black. It has a vintage appeal. It could be timeless!
It's stunning!
Oh, did I mention it's gorgeous?!
And then, once again, my practical side kicked in:
Gahhh! The price!
It probably won't fit!
The lusting side replied:
Who cares! There's nothing wrong with trying it! Wait for a sale, if need be!
And then continued this lasting tug-of-war…..it's perfect….but it probably won't work for me….it's perfect….but the price….!
Moral of the story? Maybe love really is irrational.
At least at Anthro, that is.
What's a girl to do?!