Tags
1960, 1960s, anthro, anthropologie, Christmas, Christmas and holiday season, clothes, clothing, coats, fashion, Holidays, jackets, Le Soir, outerwear, style
I told you about it here. And yes, I did admit my love for it was irrational (a bit, at least).
But still.
I cannot get it out of mind!
What is it I'm talking about? The Le Soir Magnifique Coat!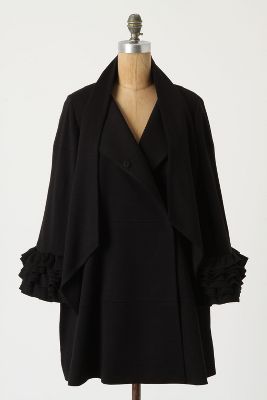 No, I have not caved in and bought it. My budget still doesn't allow for the $300 it costs, and I'm still afraid it would be much too large on me considering the reviews its gotten so far.
So, my readers, can I ask you a favor? A big favor? Can you keep your eyes peeled for similar coats with the same essence?! Basically, that means something sort of '60s inspired and cape-like. I'd prefer something black, but am open to other colors if the rest is near perfect. And I'd prefer a price point around $150, but no matter what, under $200 (considering I already have a perfectly cute winter coat, so this would be a second).
If you've ever seen anything reminiscent of this coat, please let me know! If you come across anything in the future, please also let me know!
Oh, dear readers, thank you!!!
And how's everyone's weekends going?! I got some Christmas shopping in yesterday, and today I'm going to bake this cheesecake. Does it not look divine?! Of course, I also have gotten in some work I needed to get done and still have a bit more to finish up today.
Thanks again for your help, everyone!