Tags
anthro, anthropologie, clothes, clothing, Color, Color scheme, Complementary color, Dress, fashion, Navy blue, Shoe, style, styling, styling request
Guess what?! It's time for yet another styling request! This time, an Anthro lover requested I style the Brassica Dress. The reader recently snatched it on sale for the incredible, near steal-worthy price of $29.95!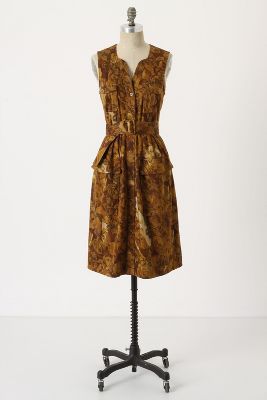 She mentioned that while she knows brown would pair well, she's not quite sure as to what else would. She perfectly described her style as "simple, interesting, and pretty." I definitely would say I can see this dress fitting into that description! Also, she's about average in height and is slender.
If the reader could only get one thing out of this post, I hope it would be about color ideas. Don't get me wrong…I hope she gets more than that, but I know that the color ideas are a forefront concern. So shall we start with color?
When I styled the Compeer Dress awhile back, I first talked about color using a color wheel. It seems like this would be a great idea for this dress too.
(image from here)
The color of the dress appears to be somewhere in the blended colors of yellow, orange, and red (primarily more in the orange tones). This means that one of the complementary colors to the dress is navy blue. I think this could make a fabulous pairing. After all, navy blue can be considered a neutral anyway.
I would say other colors that would work would largely be jewel tones, meaning darker, rich colors. The right dark shade of red or the right dark shade of green could really work. Bright colors really aren't going to pair very nicely, for the most part…but remember there are exceptions. Finally, remember that brown is a neutral, but keep in mind that this dress has a bit more orange in it.
How about we now go straight to some stylings?! Remember, the reader has a style mantra of "simple, interesting, pretty!"
Wrinkled Grandpa Cardigan (moss) – $78
Brassica Dress
Opaque Tights (brown) – $12.50
Time Span Cameo Necklace – $118
Open Space Wedges – $168
The relaxed, totally not fussy moss colored cardigan is the perfect addition. Add the simple (and green!) necklace and tights. The wedges bring out the lighter tones of the dress and make the total look more modern, while still be timeless.
This cardigan in some of its other colors would also look fabulous paired with the dress. Check it out: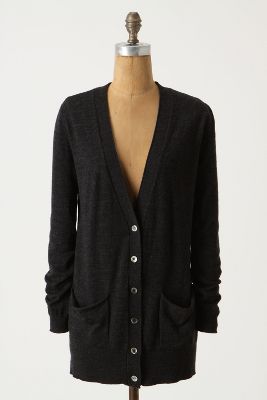 This dark gray version maintains the casual, relaxed feel. Gray is a neutral color, so that's why it would work. Perhaps pair this with some gray or navy tights?!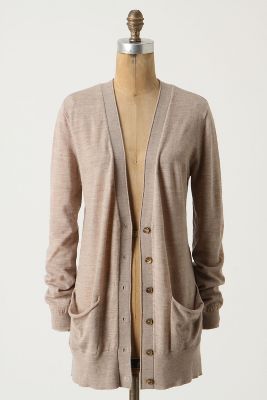 This neutral motif would work in that it is exactly that…neutral! To ground the look, perhaps pair this with a belt wrapped around the outside of it.
Hindsight Cardigan (brown) – $98
Brassica Dress
Scallops & Sparkles Belt – $32
Opaque Tights (navy) – $12.50
Stately Lace-Ups – $228
Joya & Vane Solid Perfume Lockets – Watch – $68
Wear this rich, dark brown sweater over the dress, but replace the belt it comes with with this different belt. The accessories finish off the look.
This sweater, too, would work in the moss color it comes in: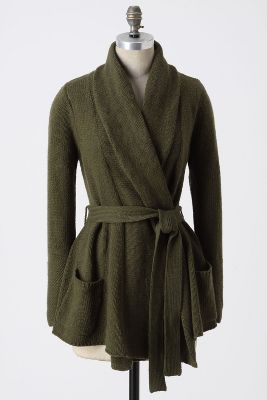 Perhaps consider taking the belt from the dress and using it to replace the belt the sweater comes with. Or, you could use the belt from the styling above (wear it over the sweater).
Hiking Ruffles Cardigan (purple) – $78
Brassica Dress
Speckled Sweater Tights (sand) – $20
Easy Rider Boots – $378
Brass Bangle Set – $58
First, I should clarfiy…yes, this cardigan is called "purple" on the Anthro website. However, I'm reading it more as a dark red, wine kind of color. If my eyes are deceiving me/it appears different in person, then I probably wouldn't pair the cardigan with the dress. Anyway, this is a simple, effortless look.
These tights also come in brown, which would work nicely for pairing with the dress.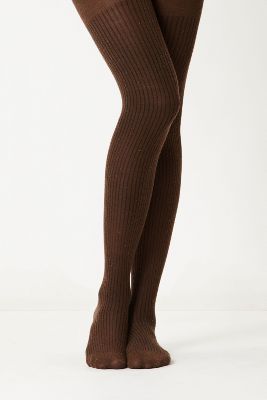 The cardigan could additionally work in its brown color.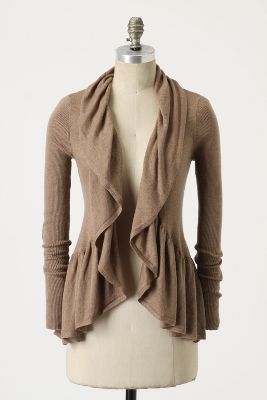 And now shall we have a look at some other pieces that could work fabulously?!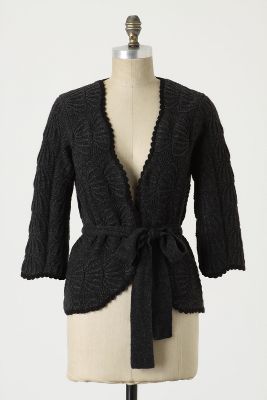 Geste Cardigan – $118 – This gray colored cardigan would pair wonderfully with the dress. Imagine all of the texture a look incorporating the two would have!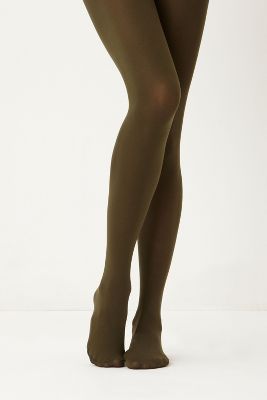 Opaque Tights (green) – $12.50 – Again, this mossy color would work!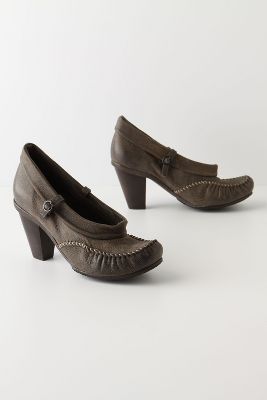 Cowlneck Heels – $348 – These slightly green shoes could be just adorable with the dress!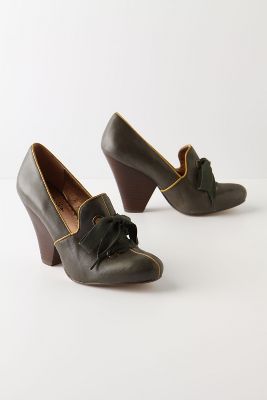 Ancient Woods Heels (green) – $128
So, in summation:
Jewel tones are your friend.
Make sure to keep the look modern and fresh…the dark colors could easily look drab! Avoid that!
Consider taking the belt from the dress and wearing it outside a sweater/cardigan. Or, consider wearing a different belt outside a sweater/cardigan.
I hope this reader will be pleased with these stylings, and hopefully get some good ideas! Which look is your favorite? Have you ever gotten a steal such as the reader got on this dress from Anthro ($29.95!!!)?!