Tags
anthro, anthropologie, cape, clothes, clothing, Design, Double-breasted, european, fashion, Look-alike, Price, style
Remember the other day I asked if you could keep an eye out for a look-alike to the Le Soir Magnifique Coat at Anthro? I've been smitten with it, but its price tag is not too inviting to me at $298, and I'm worried it would be too big on me (just under 5 foot and a size 00-0). Well, good fantastic news! Some super-duper, kind readers have already helped me out! Let's take a look at what they've come up with. But first, a reminder of the original.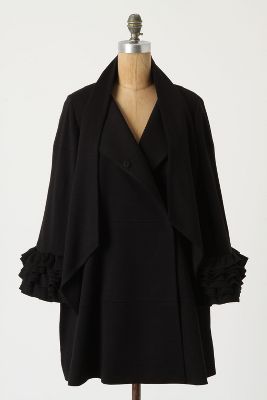 I'm going to give an evaluation to each of the look-alikes…but please keep in mind that I'm forever grateful to the readers who sent me these options, and if I'm not too fond of a coat, it's nothing against the reader.
Loraine and Jenn G both let me know about this coat from Ruche, called the bundled in black wool blend coat.
The evaluation:
Cute! Its price is totally awesome too, at only $75.99! The one issue (besides the fact that it doesn't have full length sleeves)? At the moment, the smallest size it appears to come in is small. According to Ruche's size chart, a small will fit size 2-4. Considering this is a loose fit anyway, there's a chance it could fit, but using past experience, it probably would be too big (although I've never ordered from Ruche before). However, I'm set up to receive an email if it ever comes in an extra-small.
Laura, of Anthro Closet Chaos, sent me a multitude of possibilities! I was blown away! Let's take a look at my favorites from the selection she presented me with!
Caped Tweed Coat with Double-Breasted Styling from Spiegel
The Evaluation:
This is definitely cute, and I think it's pretty timeless as well. The price is pretty good too, at $129 (down from $159!). It, too, only comes in a size 2 (not 0), which was alarming at first. However, I looked at the size chart, and it seems like it might run a bit small…but perhaps still too big for me.
Brandy & Meville Cape Jacket from revolveclothing.com
The Evaluation:
At $132, the price isn't too bad, but one size fits all?! I doubt this would work! I mean, really…one size fits all?! I'm also not a big fan of the buttons, but I could easily switch them up!
ASOS Ribbed Sleeve Cape Coat – $163.78
The Evaluation:
Love, love, love, LOVE!!! However, there are concerns. 1) Would my arms be cold?! 2) It's a tad on the expensive side of what I wanted to spend…but not too bad. 3) I would prefer a darker color, as my current coat is a light color – ivory though 4) The smallest it comes in is a 2, which considering it's a European brand, has the potential to fit. However, it's currently sold out/not available in this size! Darn!
Chilli Pepper Cape Coat from ASOS – $103.44
The Evaluation:
Cute! It's black, which is a plus, but, like the last one, doesn't have full sleeves. The price is pretty good though! However, yet again, there's a size issue. The smallest size available is a 4!
ASOS PETITE Casual Cape Jacket – $129.30
The Evaluation:
Hooray! It's a petite sized coat! It comes in a size 1…I've never ordered anything from ASOS before, so I have no clue as to how this would fit! Anyone have some insight? I also worry it could be a bit overwhelming on me, but then again, it is a petite. Oh, and the price is okay. Not fantastic, but not bad.
So, there you have it! Please, please, please do tell me your thoughts! And if you come across anything else, please do in fact still tell me (thanks in advance!)! Finally, thanks, once again, to Loraine, Jenn G, and Laura for their help!