Tags
anthro, clothes, clothing, fashion, flats, Footwear, Look-alike, Macys, shoes, Shopping, style, styling, Women's
"You know you're Anthro obsessed when ___________________."
Fill in the blank! Do it in the comments! It'll be fun!
I'll go first. And let me say I've known I've been Anthro obsessed for a long time, so I'm not going to give a long list of reasons. Rather, I'll give one example that pertains to my day yesterday. Here's mine:
You know you're Anthro obsessed when your instincts lead you to picking out look-alike pieces subconsciously.
It's a true story. Yesterday I was in Macys and saw a pair of shoes I immediately fell in love with. Their simplicity was alluring and I knew that if they were styled correctly, they could be perfection. Well, trying them on sealed the deal. Oh, and  they were on sale, nearly 50% off!
Then, last night, I was just doing my usual Anthro website musings. And that's when I realized that the shoes I had fallen in love with were very similar to a pair of Anthro shoes. No, they're no complete look-alikes in style or color, but very similar.
Anthro's version: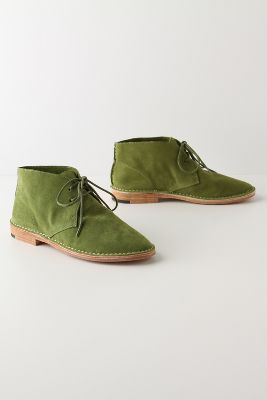 Rasmus Booties (green) – $148
(I used them in a styling here!)
My shoes are a bronze color with the tiniest bit of sparkle in them. It's a very subtle sparkle though, making the shoes sophisticated and unique. Ya, I'm in love. I can't wait to wear them! (And for the record, I scored my shoes for about $50 – on sale – and that's nearly 70% off Anthro's version!)
Now it's your turn. Fill in the blank. Again, you don't have to list all of your reasons (you may though!), but rather you can just give one example. I can't wait to read what you have to say!
Finally: psst….aren't you excited for the SAG Awards tonight?!?!!??!?! I'm talking about the fashion, you know!