Tags
anthro, anthropologie, Carrot Cake, clothes, clothing, Crumbs, fashion, Food, Meyer Lemon, New York City, polls, Screen Actors Guild Awards, travel, Upper West Side, vacation
Hey guys! I want to start off by thanking you again for dealing with my short absence due to my trip to NYC. Also, I hope it's okay, but I'm going to put off our SAG Award stylings another day in order to recap my trip…I'm guessing that's okay with you! Ready for the recap?
As you probably know – or perhaps don't know – this was not my first time in NYC. In fact, honestly, I've been countless times, but the city never gets old for me. Never. So, accordingly, it probably comes as no surprise that my trip was absolutely fabulous. Perfect. I wish I could have stayed longer.
I'll now go through my itinerary, with reviews mixed in (there are Anthro reviews!).
Arrived Friday night. Went out to dinner at Al Dente, a restaurant on the Upper West Side (on Amsterdam around 83rd St). I found this restaurant just by walking around, and it was pretty good. The bread was different from what most restaurants serve, and it was excellent. I started by splitting a salad, which was also divine. My main dish was pasta with tomato sauce, mozzarella, and basil. While it was good, it didn't quite live up to the beginning of my meal. After dinner, went to Crumbs (again, on Upper West Side, 77th St and Amsterdam; Crumbs has many locations though). I've been to Crumbs in the past, but tried a new flavor this time – Cookie Dough. It was a loose interpretation of the flavor, but with its fudge filling it was definitely good. (And I split a cupcake, considering the fact that their cupcakes are huge…I definitely suggest doing so – well, maybe not all the time!).
On Saturday, I went to Doughnut Plant on the Lower East Side. Again, I've been before, but man, I love this place. And I don't even like doughnuts! They had their daily specials including Crystalized Ginger and Meyer Lemon. I got their Carrot Cake special with walnut cream cheese filling which was absolutely decadent. I'm craving one now, and will be probably until I can return to Doughnut Plant. Seriously, it was amazing. I also split a Meyer Lemon doughnut ('cause why not?!), and while it was good, my Carrot Cake was definitely the better of the two. After the yummy breakfast, it was off to SoHo. First stop? Anthro! And onto my reviews (again, I'm just shy of 5 ft and a size 00-0):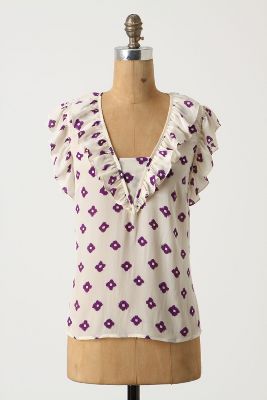 Wind-Tossed Top – on sale for $49.95 – tried on size 0
This was a tad big for sure (low and big in the top), and quite shear, which is no big deal – just wear something underneath it. However, it just wasn't love. If it was a mega-steal of a price, I might have considered it.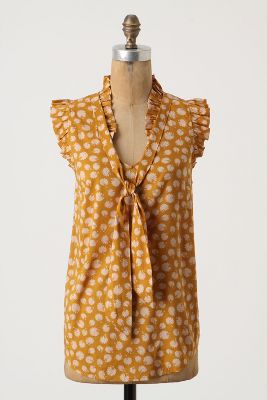 Eastpoint Garden Top (yellow) – $58 – tried on size 0
Yellow is usually not a color that looks good on my skin, but this looked nice! Of the tops I tried on, this was the closest to coming home with me, but alas, it just was too big (loose all around, but especially large in the armpits). I could have made it work if I absolutely adored it, but I didn't. I still recommend it though!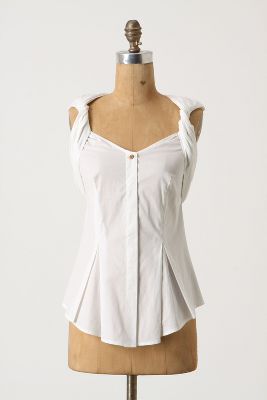 Sculpted Blouse (white) – $78 – tried on size 0
This just didn't work on my frame. The sleeves looked more like twisted towels, but I'm convinced this could work on someone much taller than me.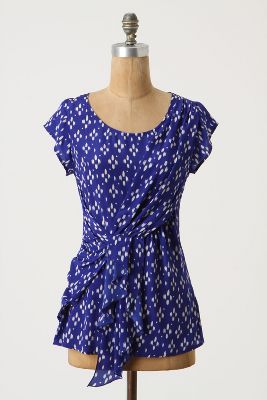 Gathering Blossoms Top (blue motif) – $118 – tried on size 0
First off, guess what?!! I'm nearly certain one of the ladies on the local news was wearing this top Saturday morning! When I saw the top in the store, I knew I had to try it! Unfortunately, it was just too big around the neckline (pulling away from me, it was so big). If it works for you, it could be a gorgeous top though!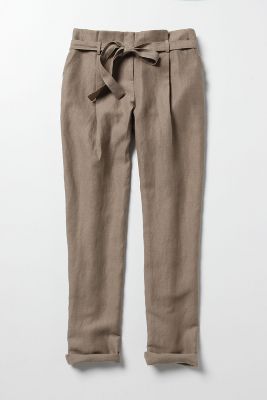 Go With The Flow Trousers – $128 – tried on size 0
Considering I am so short, these were my "try on 'cause they're so cute but will probably never work" piece. However, much to my surprise, they were nearly the perfect length!!! Perhaps I wore them a bit higher on the waist than some might, but still (meaning that they will probably still work for those taller than me – also, they definitely would be longer on me than on a taller person, which isn't necessarily a bad thing for either me,or a taller person!). I loved them, and they are oh, so comfy (an added bonus!). Obviously, I snatched these up and they will be making themselves at home in my wardrobe!
I also tried on a pair of shorts that were absolutely the perfect fit. Because it's not summer weather yet though, I decided to hold off on them for a sale. I can't find them on the website…so I'm hoping they'll pop up soon! Additionally, I tried on a jacket, also not on the website. If it hits sale at a pretty low price, I might consider it as well.
I spent quite some time at Anthro, so it was time for lunch! I returned to a place I had been before – The Cupping Room Cafe – and had an awesome veggie burger with pesto topping, as well as fries and avocado on the side (avocado is my favorite food). This is definitely a recommended SoHo eating place (great for brunch/lunch)!
After lunch, I started walking around SoHo. I went to Catherine Malandrino and just gawked at the beautiful pieces (by gawked, I mean I acted like I could afford the pieces so the sales associates didn't get annoyed by me, but secretly knew I could only dream of owning the pieces!). Then, I went to Anna Sui. You probably recognize her name, as Anthro carries some of her pieces. Well, let me tell you – it was a disappointment. Most of the stuff looked cheap and almost Hot Topic-esque. Perhaps I didn't scour the racks enough, but it just wasn't the Anthro vibe at all! I did see this dress that Anthro carries though.
From Anna Sui, it was off to Michael Kors. Readers, this was the highlight of my trip, believe it or not (I feel bad saying it wasn't Anthro…but I'm being honest!). Why was it so special? Well, I started perusing the racks and a friendly, genuine sales associate talked with me a bit. Then I looked at the racks some more, and decided I wanted to try on a gray sweater and a dress – both of which were very reasonably priced (it is Michael Kors, afterall!). The sales associate continued being very kind and took me to the store's dressing room. She asked me what shoe size I was, and I told her (6). I wasn't quite sure why she asked, but then she went on to tell me that she was going to put an outfit together for the sweater. In my heart I knew that I would probably never buy the outfit, fantastic as it may be, just due to price. However, I let her go ahead. She came back with some gray jeans, a loose tank, and some simple but killer pumps (that she happened to be wearing as well). Excitedly, I tried on the first look (sweater, tank, jeans, pumps). Gorgeous! She came in and we talked about how we both loved the look. Unfortunately, I can't find the sweater or jeans online, but I did find the tank and the pumps, although they aren't the exact pumps I tried on, as the ones I tried on were a light/medium brown and not patent leather.
MICHAEL Michael Kors Double-Layer Tank – $49.50 – tried on XS
MICHAEL Michael Kors Lesly Pump – $150 – tried on slightly different version, in size 6
Next, I tried on this dress:
MICHAEL Michael Kors Pleated Zipper Sheath Dress – $130 – tried on size 0
This dress is simply gorgeous, with its zippers (I'm a sucker for exposed zippers!) While it fit me like a glove, it just didn't look right on my short frame. This is definitely a dress for the taller ladies out there. Man, it is beautiful though!
So what did I walk out with? Although I wish I could have taken the entire first outfit, I just bought the sweater ($130 for a Michael Kors piece is not half bad!). It comes with a nice brown leather belt, which is nice, considering I can use the belt in other looks too! But back to my original question – why was my experience so special? The customer service. Really, the customer service was supreme. Michael Kors tries to brand itself with exceptional customer service, and my experience certainly delivered. I really cannot wait to go back and hopefully experience this service all over again….customer service may seem like such a given for any company, but when you truly experience a great example of it, it's amazing. It's rare to find such fabulous service.
After my truly amazing experience, I went to a Vera Wang store (fashion, not bridal). Again, with no prices on the clothing, it was all about viewing the clothes. Let me just say that I was dreaming of buying quite a few dresses! Simply beautiful, with a beautiful store design too! (I met Vera Wang this past summer!)
Next, it was time for more eating – dessert! I went to Rice to Riches, a place that specializes in rice pudding. The design of the place is super cool, but what's even cooler is there dishes and spoons that they serve the rice pudding in. My particular flavor didn't thrill me, but I tasted some other flavors that were very good. The portions (apparently serving 1 person) were huge though, and could easily have been split for 2 people.
I then left SoHo and went to Williamsburg in Brooklyn to go to Beacon's Closet and Buffalo Exchange (resale shops). I bought a cute little summer-y dress at Buffalo Exchange for about $30! (I had been to both stores before).
Then, my day of shopping was over. I enjoyed a nice dinner at Isabella's (Upper West Side, 77th St). I've been there before, and it really is a nice place (not the world's best, but nice). I had a salad and Butternut Squash Soup. For dessert, I had a "chocolate bag". It was chocolate in the shape of a square bag filled with raspberry mouse and fresh berries (as well as some other stuff). It was delicious!
On Sunday, I went to Sarabeth's (Upper West Side, Amsterdam and 81st-ish?). I had pumpkin waffles with honey, pumpkin seeds, and sour cream. To drink, I had some fabulous juice that was a mixture of orange, pineapple, and two other juices I can't recall (pomegranate might have been one of them). It was a good meal!
Then, it was off to Urban Outfitters (Upper West Side, 72nd St and Broadway location). I tried on quite a few pieces, and ended up purchasing three items, including this skirt (Light Mauve print; which I plan on wearing with a blue button down I also purchased there, along with a skinny belt I already own over top). I also got this sweater in ivory, which I think will be great for dressing up and down. Actually, I didn't originally purchase this sweater, but I had to come back for it after I couldn't get it out of my mind!
I also went to the J. Crew at Columbus Circle (I went to the J. Crew headquarters this summer!). I wasn't wowed by any of the offerings, but I got a nice tank to replicate the Michael Kors tank (but only costing $18!).
Finally, I went to Gap and got some $30 gray jeans to, once again, replicate the Michael Kors look! Now I will get my designer look, but at a fraction of the cost!
That wraps it up! If you have any questions, let me know (about reviews, visiting NYC, etc.)! If you can't tell, I certainly recommend NYC to anyone who hasn't been before (and if you have been and are like me, you obviously want to return again and again and again!).
And how were all of your weekends?