Tags
anthro, anthropologie, bloggers, clothes, clothing, Crafts, New York City, Pattern, Shopping, style, styling
When creating stylings, I've mentioned "pattern play" literally countless times (if you're so inclined, check out a few examples: here, here, here, and here). In fact, even if I don't directly mention "pattern play," I often still put it into practice.
But what is "pattern play"?
Simply put, it's the careful combining of several patterns within a look.
(And let me just emphasis the word "careful" in that definition…pattern play can definitely go wrong!)
And who does pattern play, commonly also referred to as "pattern mixing" work for? Everyone! Well, at least I believe it can. Some people may just feel it's not their style, but I truly think there's always a way to make it work for everyone. I should also mention that pattern play doesn't necessarily entail a crazy, what-was-she-thinking look. Yes, it can be more out there, but if done masterfully, it can be extremely subtle, and just add interest to a look.
Some very general guidelines:
Stick with a somewhat similar color palette. However, a great way to detract from the pattern mixing, while still making the look elegant is to pair two similarly colored patterned pieces together with a solid color in a different color. This can look crazy though, so use caution!
Use the scale of prints to your advantage! For example, pair a large scale print with a small print.
As always, keep in mind what works for your body – your clothes should fit and flatter.

Keep your eyes peeled for inspiration

constantly

!

 

Maybe, when driving, you'll see a view outside the window that really sparks your creativity, for example. Nature, even with human influence, is a great source of inspiration!

Be inspired by bloggers! Kristine, of Kristine. Or Polly. might as well just be named the pattern play queen! Seriously. She's good. (Check out her blog! A few of my favorite pattern mixing looks she's worn recently can be found here, here, and here – for this last one, scroll down a bit).
Look to store displays for ideas. When I was in NYC last weekend, I was extremely intrigued by a look one mannequin was wearing in Anthro – and you bet I'll be recreating it with items from my own closet: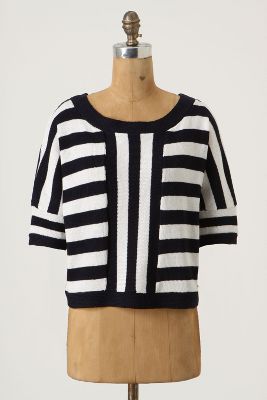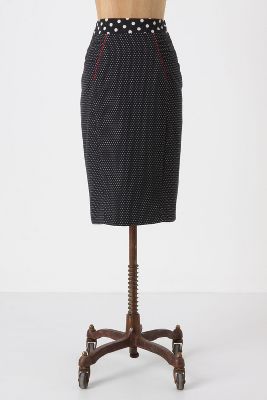 Perpendiculars Sweater – $128
Cultural Heritage Skirt – $128
And lastly: Have fun! Don't take it too seriously…humor is a part of it, in a way!
So now, I ask you, what is pattern play?
And, in unison, you all reply, "Something I will attempt!" (Okay, not really…I totally understand if you don't want to. I do, I do!)
If any of you want help in a way with pattern play (ooh, that rhymed!), feel free to leave a comment, email me, (theanthropologieconnoisseur@gmail.com), or, even, even if it doesn't have to do with pattern play at all, send me a styling request (more info here!)!
———————————————————————————————————————————————
On a separate note, anyone got any fun plans for this weekend? Please tell!