Tags
anthro, anthropologie, clothes, clothing, Entertainment, fashion, Graphics, Holidays, Home, necklace, Saint Patrick, Shopping, St. Patrick's Day, style, styling
EDIT: Oops! I was sure I hit publish on this yesterday, but evidently I didn't. That means another post will be coming later today as well!
It's Necklace Week here! To read a quick summary of what this entails, look for the post titled "Necklace Week"!
Okay, guys, it's Day Five of Necklace Week! Now, as I'm sure you all know, it's St. Patrick's Day. And not to be too, um, shall we say conformist, or anything, but our necklace does in fact have some green. Basically, what I'm saying is that I hope you haven't been overloaded with green already today…and if you have, please forgive me! Anyway, the necklace is probably one of the more elegant depictions of green you'll see today!
And what necklace is it? It's the Homeward Flight Necklace ($428…wow!!!).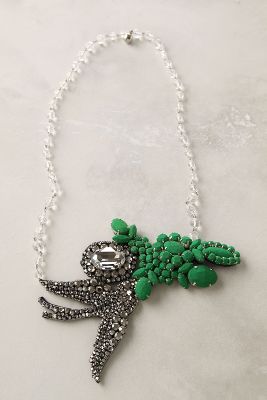 Isn't it beautiful? Supposedly, the silver part is supposed to be a bird, and the green is supposed to represent buds from which the bird is drinking nectar. Maybe it's just me, but I had/still have a little bit of difficulty seeing this. I mean, I see it, but it's not super obvious. But that's not a bad thing either, necessarily.
I love the glamorous feel to this…the clear beads, the silver crystals, and the green silk. Elegance is a must for any outfit inspired by or using this necklace!
First is the look solely inspired by the look…that means that the necklace is not a part of the look.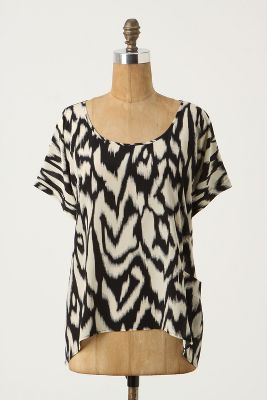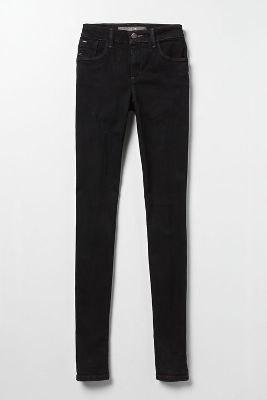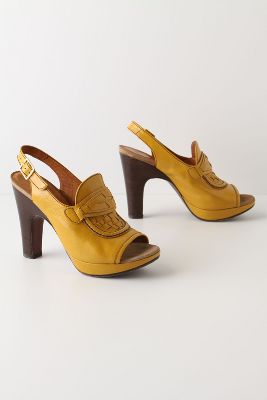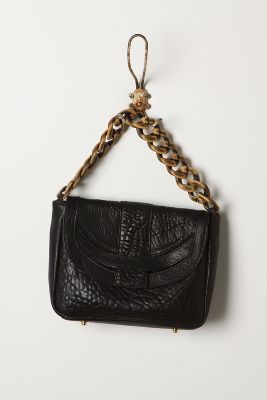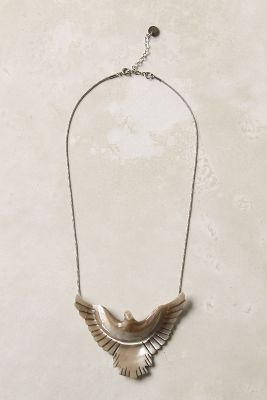 Hermitage Top (black motif) – $98
Joe's Skinny Visionaire – $167
Corn Lane Slingbacks – $388
Collaboration Purse – $368
Quetzal Necklace – $118
I know, I know…you might think jeans + elegance is an oxymoron, but if that's the case, I'm sorry, but I think you're mistaken. Sure, jeans aren't black-tie-elegant, but if done like there are in this look (dark wash, for starters), they sure can still be elegant! This graphic top is elegant but still interesting. The purse is classic, as are the shoes…except for their yellow hue, which is a nice pop in the outfit. The necklace adds that extra bit of quirk, but it still lends itself to the elegant and chic look (and I wasn't trying to be literal with the bird necklace…I just happened to think it worked!).
Now, it's time for the look with the necklace.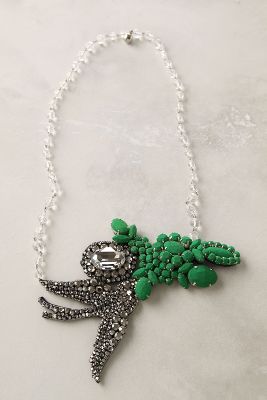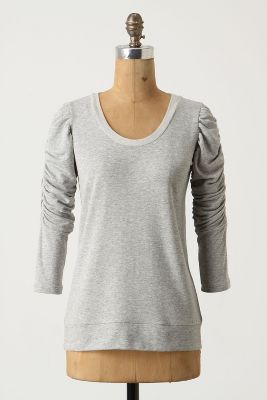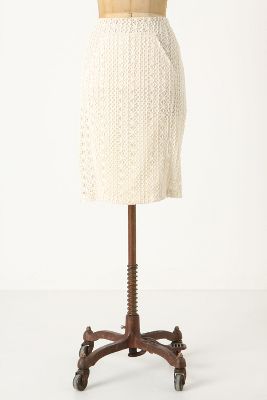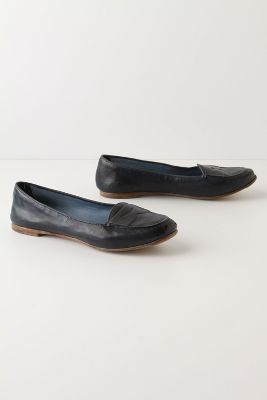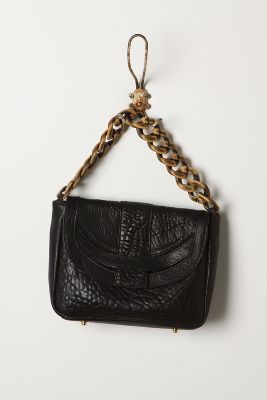 Homeward Flight Necklace
Monthly Meet-Up Pullover (gray) – $78
Latticed Weekend Skirt – $148
Primary Loafers – $378
Collaboration Purse – $368
This…now this is a look with a bit of a humor. Yes, this look is all about contradictions actually working in harmony. I love pairing this seemingly casual top with a lace – lace – skirt. The light gray and ivory is such a pretty combination. Adding the necklace adds pizzazz, and the shoes, a take on classic loafers, add that final bit of wit. (And I know I used the same purse as in the previous look…but I just couldn't resist…it's fits with both ensembles perfectly!) All looks always require good fit and proportions, but when doing a more witty, intentionally a bit humorous – but still elegant (don't get me wrong!) – look, fit and proportion are even more important!
That wraps up Day Five! Stay tuned for Day Six tomorrow…
Happy St. Patrick's Day!