Tags
Accessories, anthro, anthropologie, bridal, Bride, Bridesmaid, clothes, clothing, Dress, fashion, flats, heels, Jewelry, necklace, shoes, style, styling, wedding, wedding dress, Weddings, White wedding
I've got some exciting news…not only do I have a styling request on today's agenda, but I have an exceptionally exciting one at that! You see, the ever lovely Laura, contacted me in regard to one of her friend's sisters, who is going to be a bride this May! A bride! I've done a maid of honor request before, but never did I ever think I'd get to do a styling request for a bride (side note: As you can see, I'm very excited about this request…but don't let it stop you from sending me any of your requests, even if it's not about a wedding! I absolutely love doing requests, no matter how large or small!). What a wonderful opportunity this is!
Anyway, a little bit more about our bride, Heather, and her vision for her big day. Her wedding is going to be on the more informal side, hopefully in a park (how lovely!). She doesn't have a particular color scheme in mind, although she's fine with veering away from the traditional white wedding. She is, however, open to lighter colors still. She is not a fan of eyelet or lace, and generally likes the feel of silks. Heather is tall at 5'11", and so length is a consideration…she prefers the hem to ideally be at her knees. When asked "button-down or flowy top," she picked button down. When asked "cardi or blazer," she chose cardi. She went on to say she's not really into the super Bohemian vibe, and tends to go for more tailored items, although for her wedding, she might picture herself in something a bit more flowy. Heather prefers the more classic, maybe even vintage (1950s?) inspired pieces. Finally, Heather doesn't want to look like a typical bride, and she'd love to be able to wear the pieces again. Heather also let me see her Anthro wish list, which was very helpful.
Overall, with all of the stylings I'm trying to stay somewhat simplistic. Traditional or not, I think that the bride herself should really stand out. You don't want your clothes to ever wear you, but especially not on your wedding day!
Ready to get started? Let's go!
When I started browsing Anthro's website for ideas, I came across the Charcoal Terrace Dress. I then checked back to Heather's wish list and realized that the dress was on her wish list as well! Yay!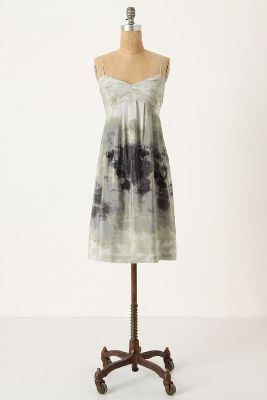 I think this dress would be agreat option because it's soft and pretty, but not crazily so. I think it's shape is classic enough to withstand the test of time, but funky enough to be able to be remixed after the wedding.
Here's how she could possibly wear it for the wedding: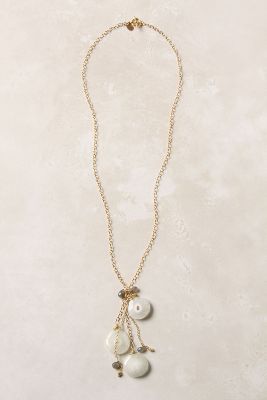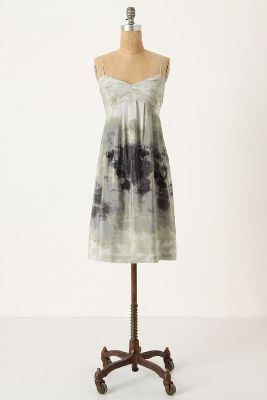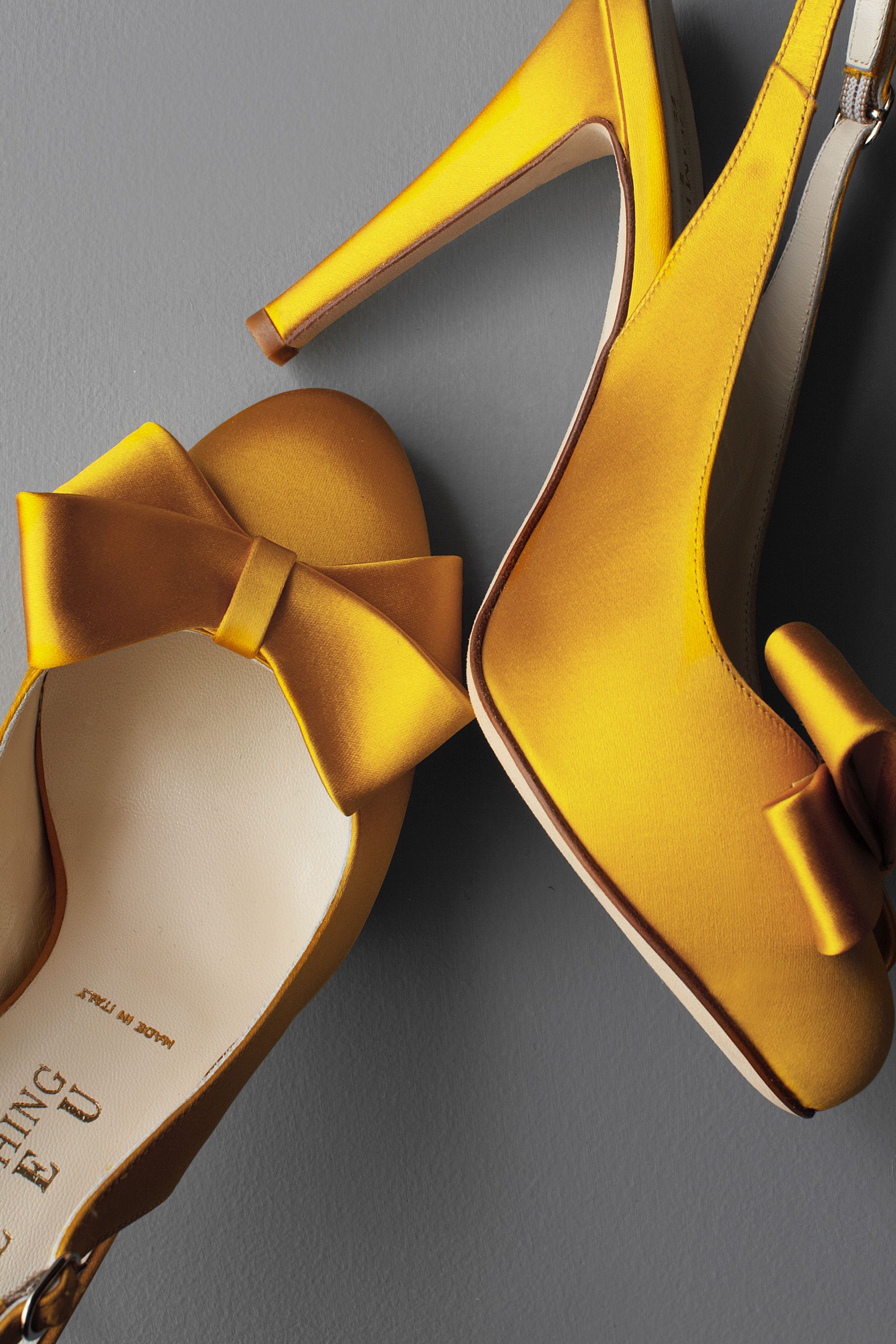 Sunspots Necklace – $198
Charcoal Terrace Dress
Bow-Topped Slingbacks (from BHLDN) – $310
For a more untraditional bride (heck, even a more traditional one too!), such as Heather, I really like the idea of doing a little pop of color with the shoes. Because the colors of the dress/necklace are rather subdued, it's not going to look clown-like at all. Doing a pop of color with jewelry instead of shoes is another option as well.
After the wedding, Heather could easily restyle this dress…in cooler weather, throwing on a cardi would be great…or even a cardi with a skinny belt over it. In warmer months, wearing the dress with some casual flat sandals and accessorizing with few to no jewelry would be great. The necklace could easily be worn in many ways too…even with jeans!
This next dress was also on Heather's wish list. It's definitely on the more untraditional side, but it's still dressy enough that I think Heather could pull it off fabulously! It's the Paraiso Dress!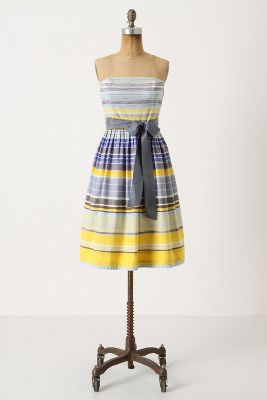 What is great about this dress is that it has detachable straps…for the wedding, if she's comfortable, Heather could leave it strapless. After the wedding though, in a more conservative environment she could attach the straps and even add a simple cardi. She could also even take off the sash and replace it with a more informal wide belt.
Here's how this dress could be styled for her wedding: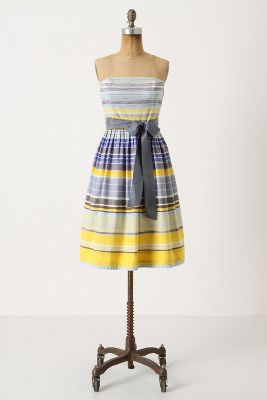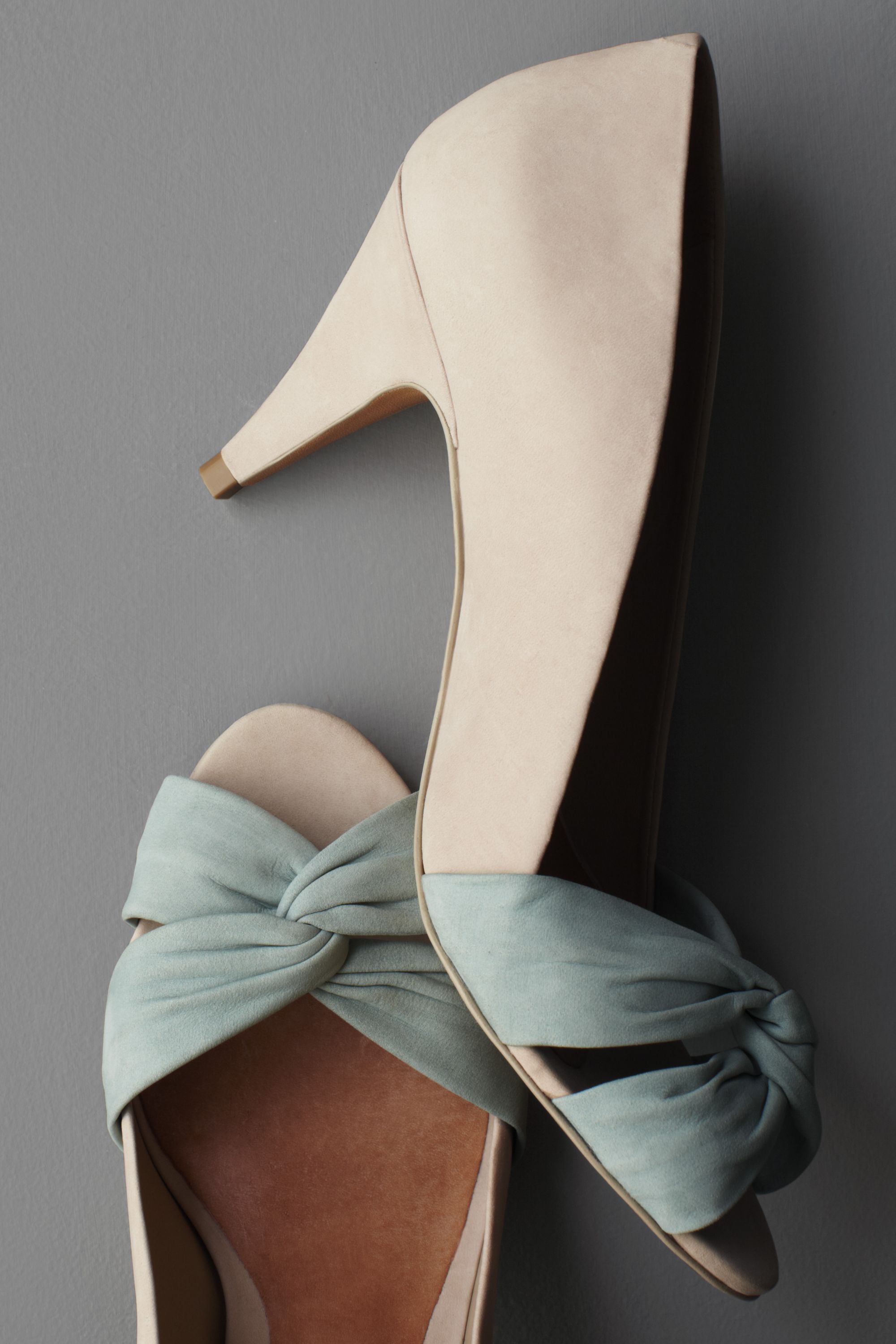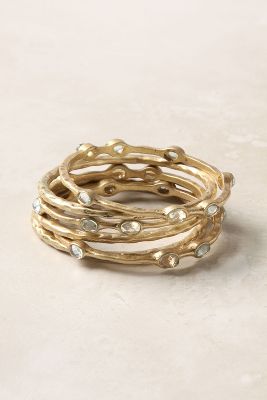 Paraiso Dress
Torsade Peep-Toes (from BHLDN) – $180
Melted Gemstone Bangles – $38
With the full skirt and classically beautiful heels, this would be such a fun, but still timeless look to get married in!
This next dress, the Ceret Park Shift seems a bit conservative at first…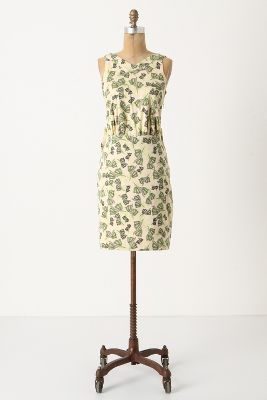 But then….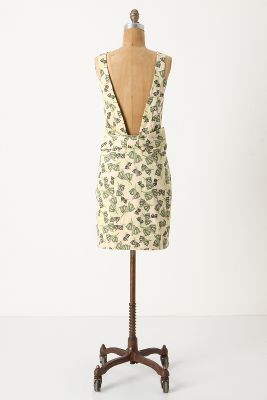 …it's a party in the back! Seriously, how cute is the back of this dress! It could be a great choice because it has crisp clean lines, but is also a bit vintage inspired….hopefully making it a classic dress for years to come!
There's definitely a few ways you could go with styling this dress.
First of all, you could definitely go the more subdued (but still beautiful!) route, such as this: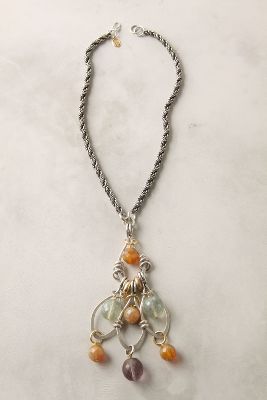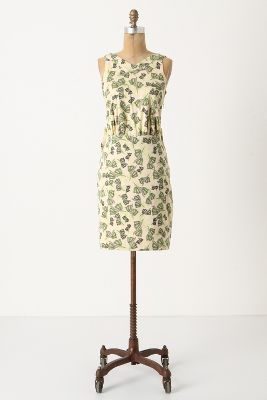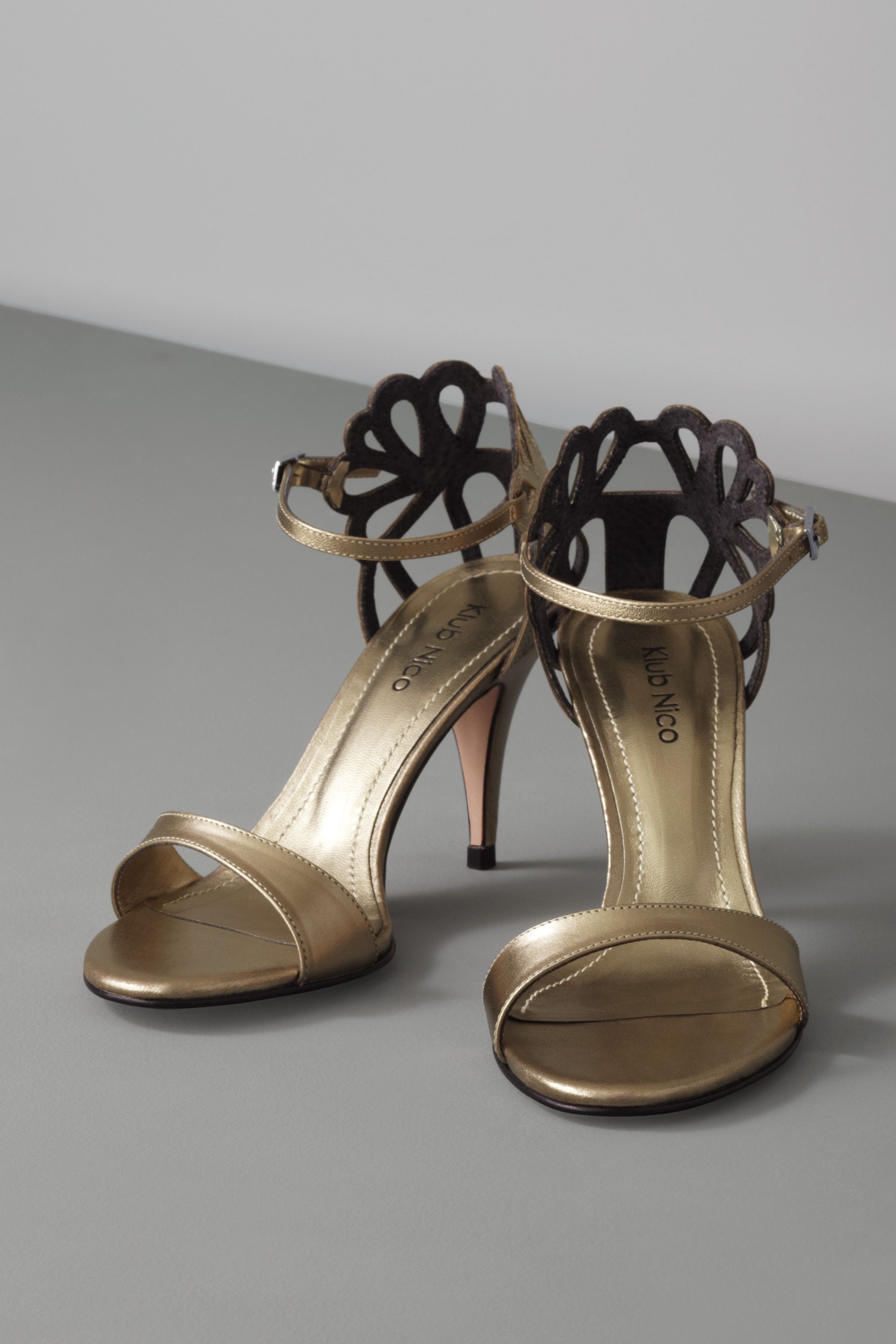 Ornamented Chandalier Necklace – $298
Ceret Park Shift
Clipped Corolla Heels (from BHLDN) – $200
With tones of gold, this is a sophisticated look sure to turn heads! The necklace and heels could definitely be remixed into different looks after the wedding!
Instead, you could also choose to play up the green in the dress, like so: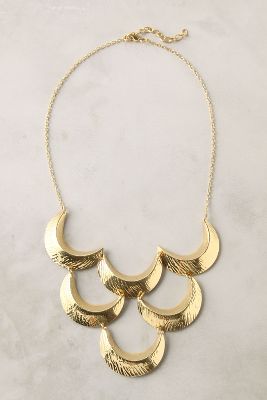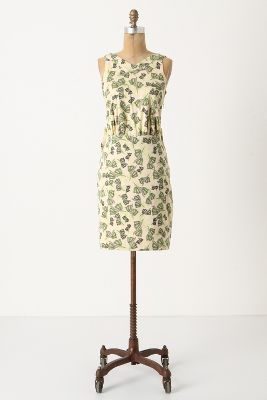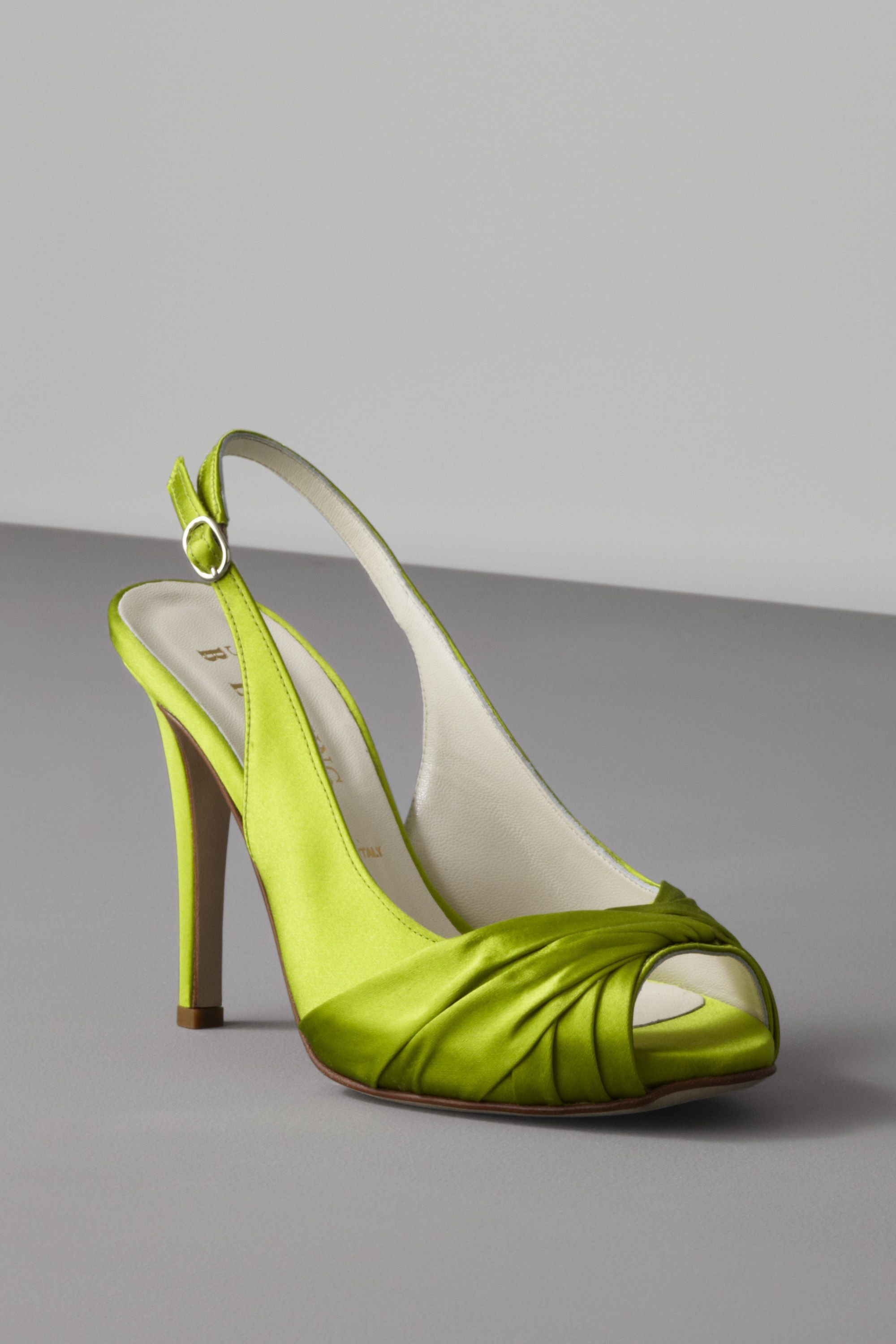 Moon Leaves Necklace – $48
Ceret Park Shift
Threshold Slingbacks (from BHLDN) – $320
I know those shoes look bright, but I think in person, with the dress, they'd look a tad less bright. This is definitely not your typical bridal look, but it's still fun and elegant!
If the necklace is a bit much, you could try either of these options instead: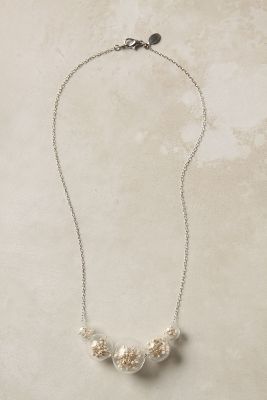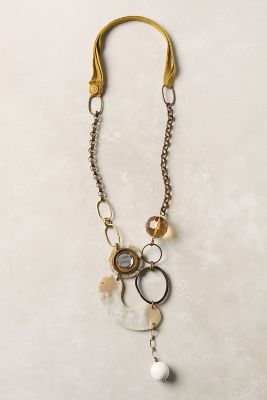 Preserved Gypsophila Necklace – $68 and Arte Moderno Necklace – $298
Yet another option for styling the dress would be another take on making the green of the dress pop a bit…but this time with purple! On the color wheel, purple and green are opposites, so they make each other stand out more.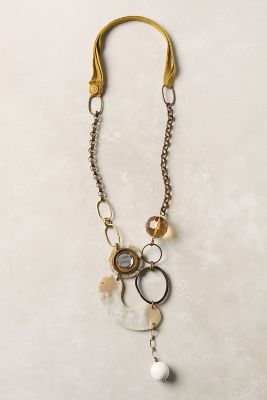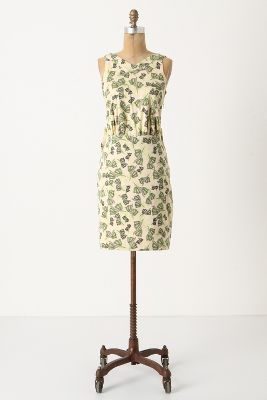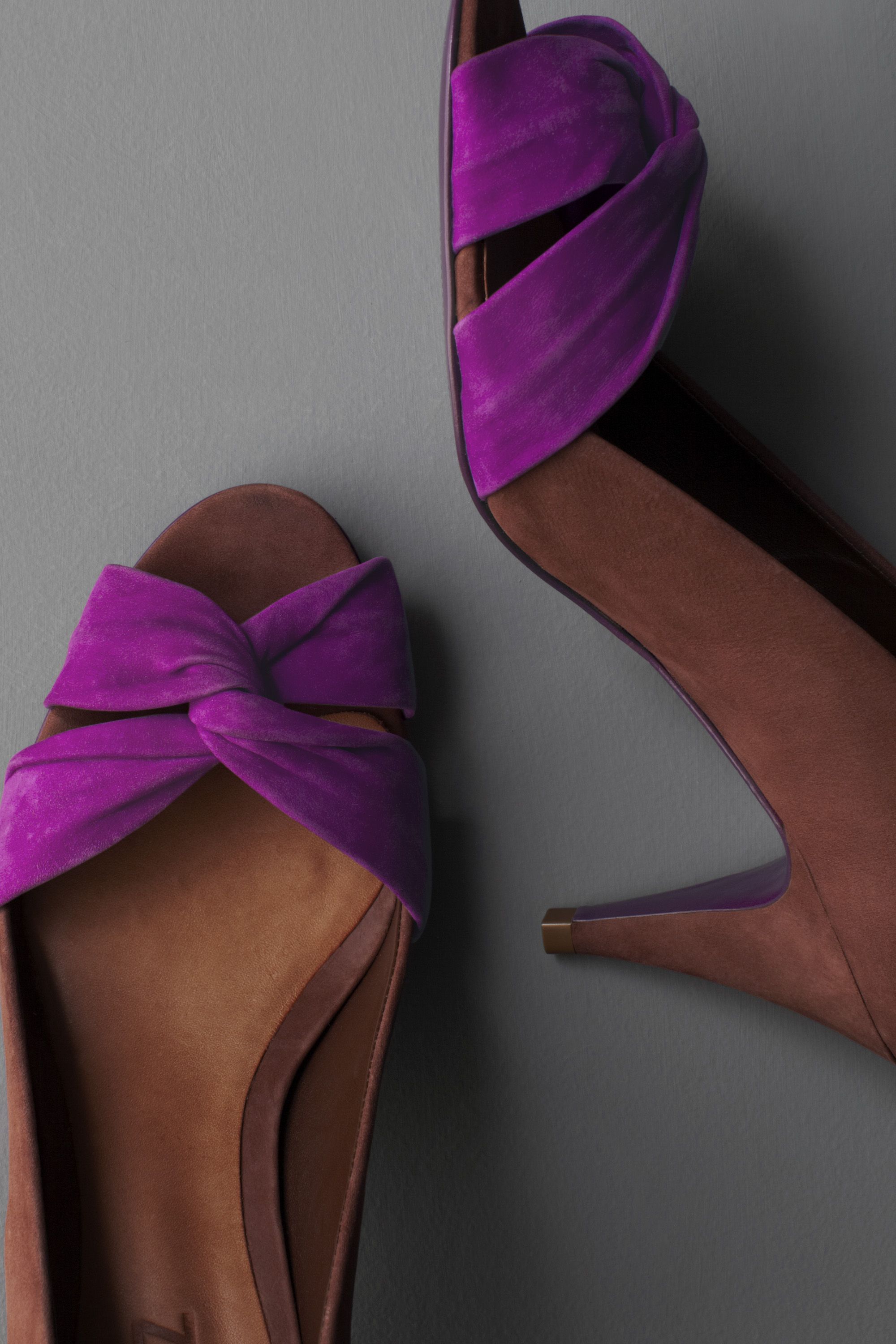 Arte Moderno Necklace – $298
Ceret Park Dress
Torsade Peep-Toes (chocolate color; from BHLDN) – $180
The purple definitely isn't overwhelming here, but enough to add some pizzazz!
I'm not sure whether this next dress, BHLDN's L'Appel Palette Dress, is more feminine than what Heather has in mind, but I thought I'd suggest it anyway!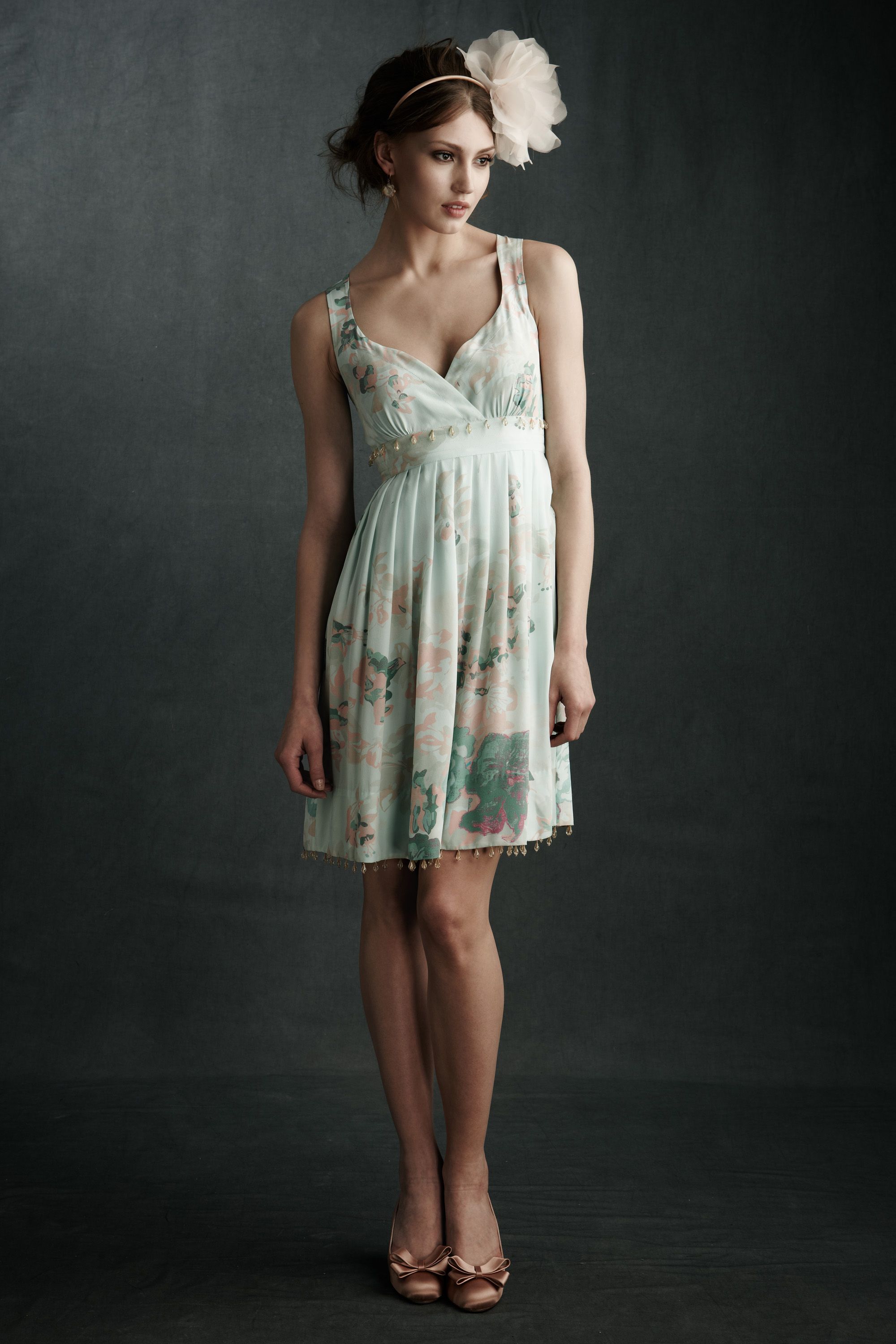 I think this dress would look stunning in a park setting for a wedding! The back of the dress is also really pretty: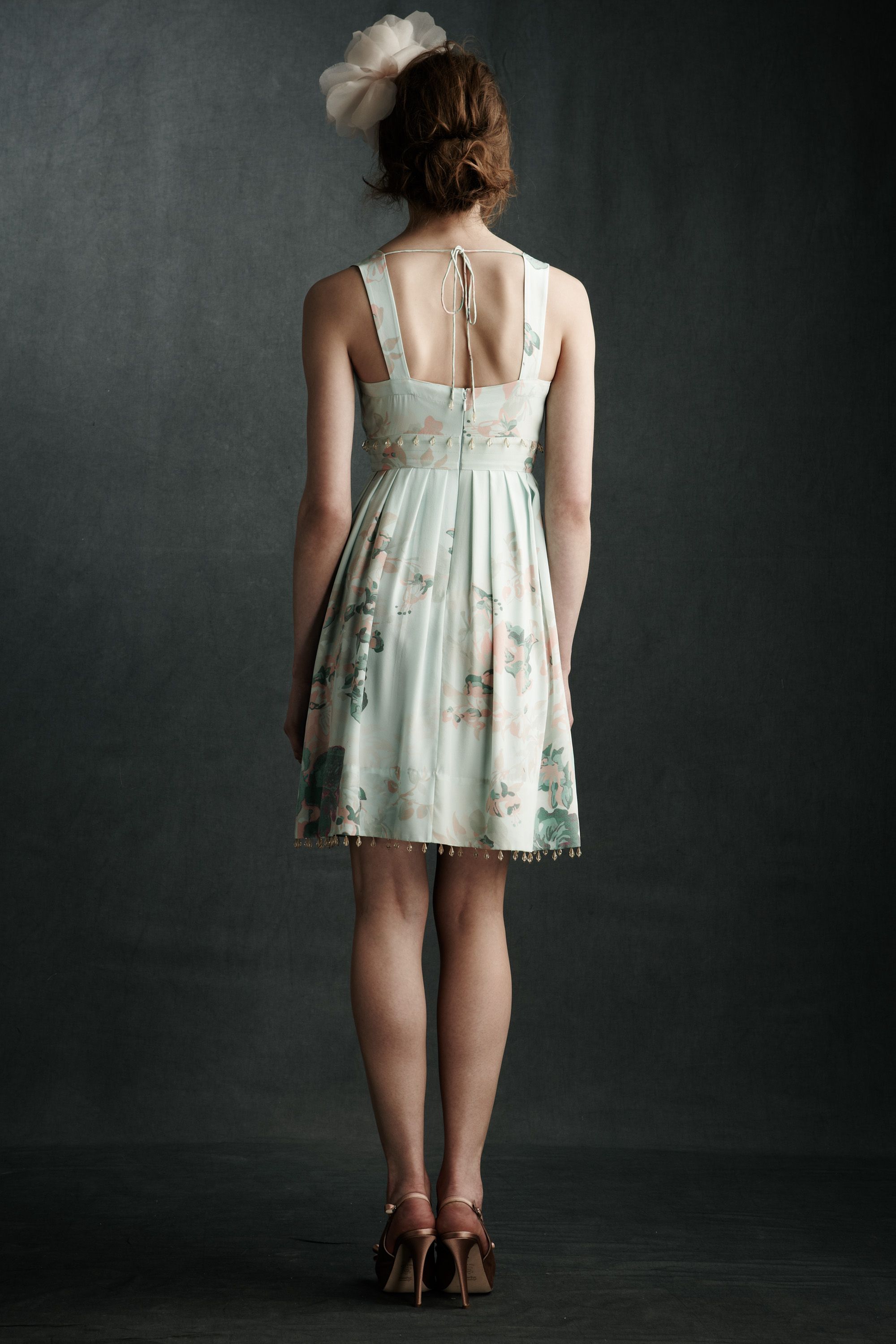 Here's an idea of how this dress could be styled: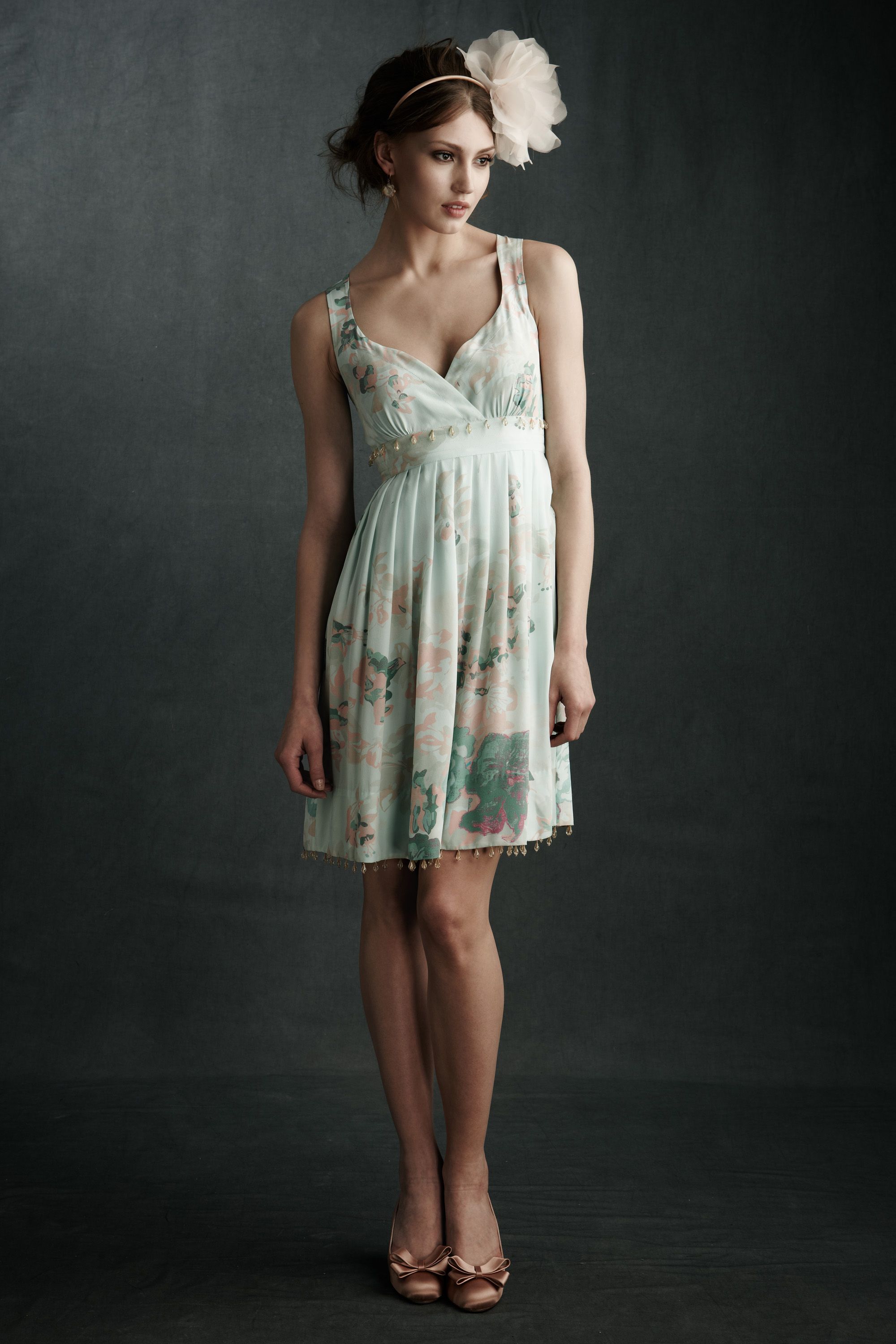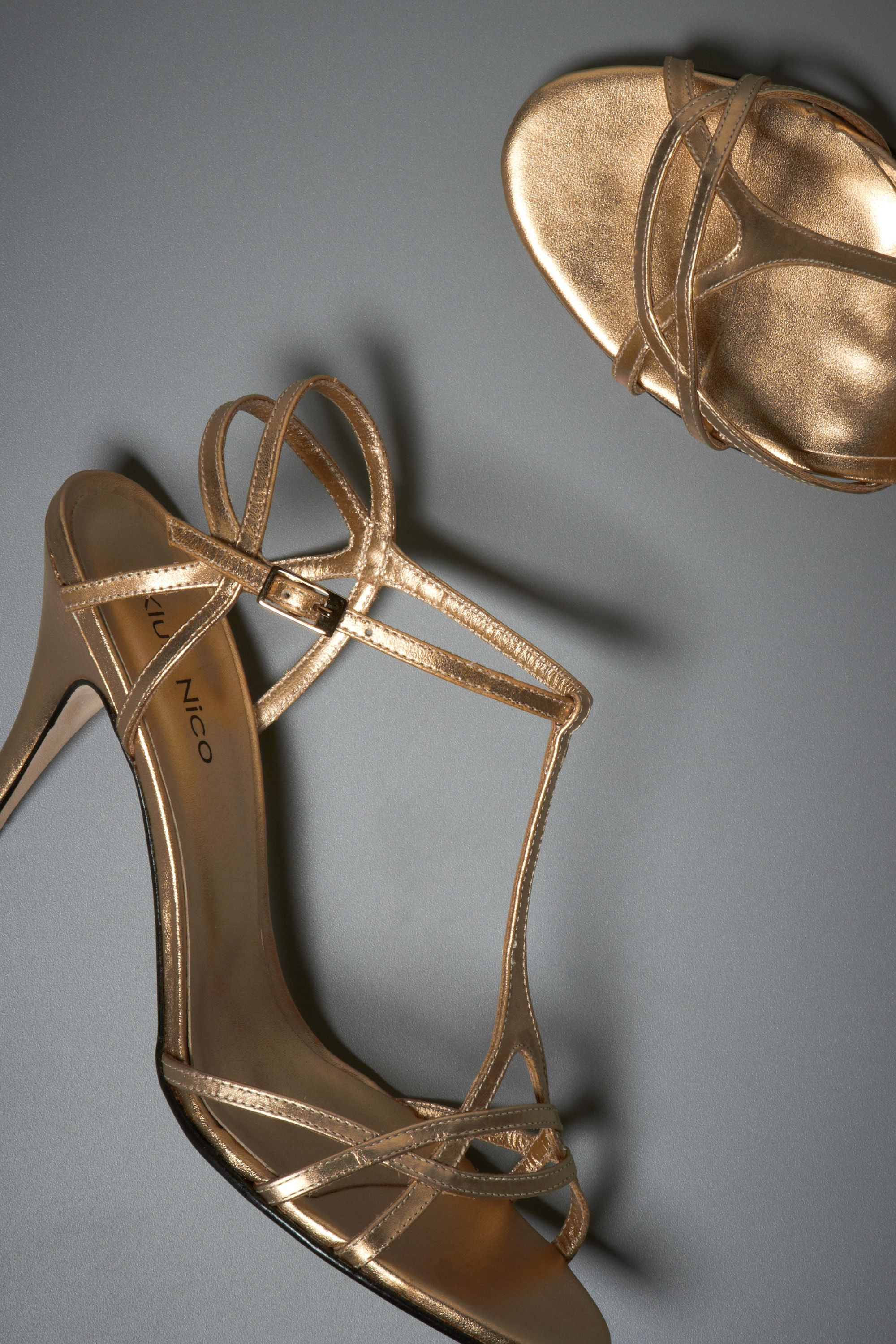 Devi Necklace – $68
L'Appel Palette Dress
Plaited Gold Heels (from BHLDN) – $172
This is a very soft, romantic look. Undoubtedly, the necklace could be used in so many different outfits after the wedding, and the shoes would be a go-to pair of dressy heels.
Another option would be to do something like this: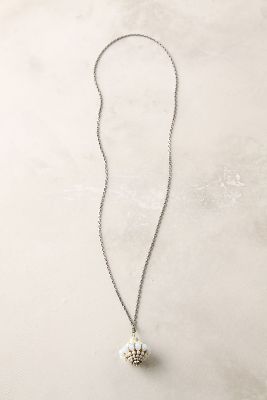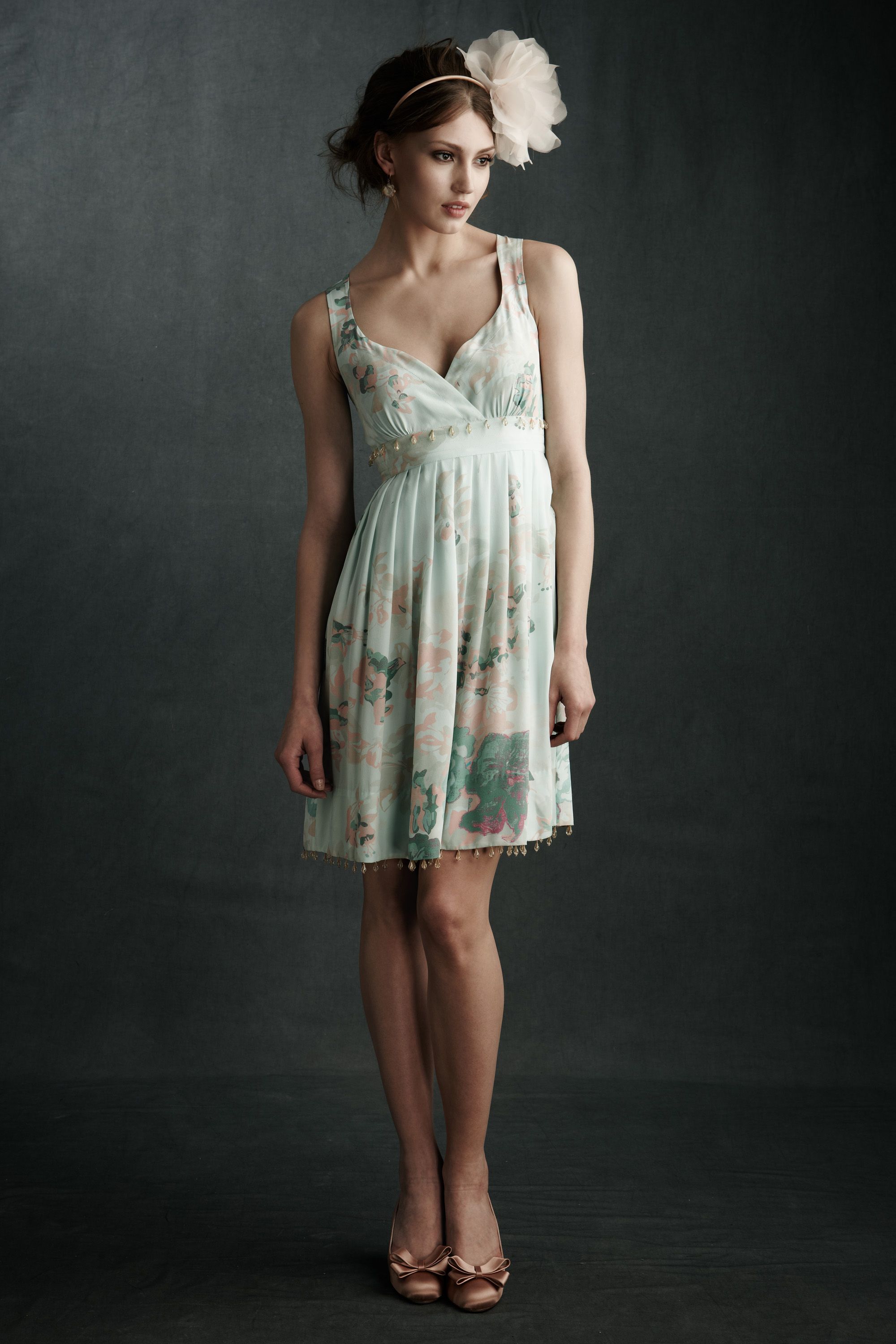 Spinning Top Necklace – $48
L'Appel Palette Dress
On-a-Wing Heels (from BHLDN) – $480
While these shoes would certainly be a splurge, they might be worth it because they have the power to create this fun, flirty vintage inspired look.
With either of the stylings with this dress, any of these bracelets could be a nice addition: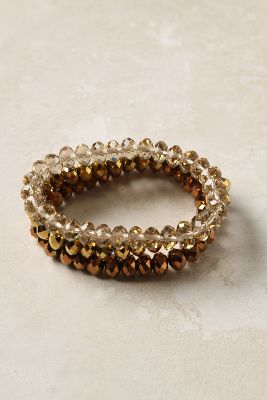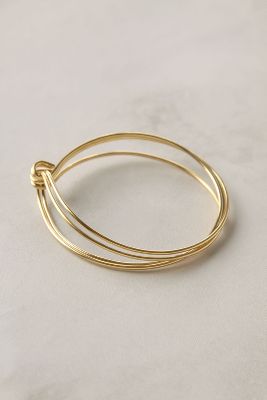 Vela Bracelets  (copper) – $28 (the purple version of these could be great with the Ceret Park Shift and chocolate/purple Torsade Peep-Toes), Hatshepsut Bangle – $38, and the Comet Tail Bracelet – $128
Another great option would be the Quiet Blush Dress. As its name suggests, it has just a hint of color, which could be really nice.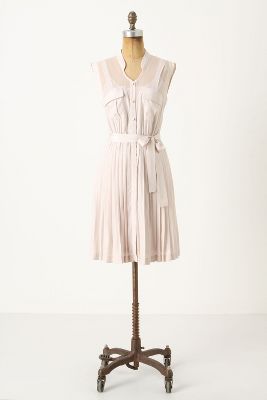 Obviously, a pro for this dress would be the fact that it could transition to more conservative settings quite easily, with or without a cardi. However, it's also soft and ethereal, which is lovely for a wedding.
Here are a few different options: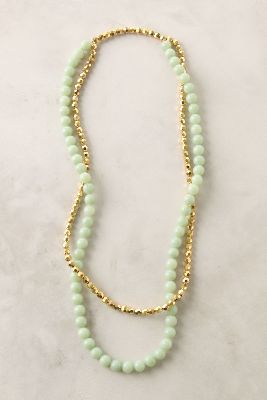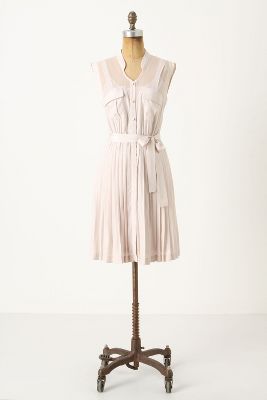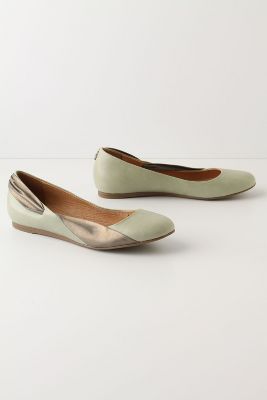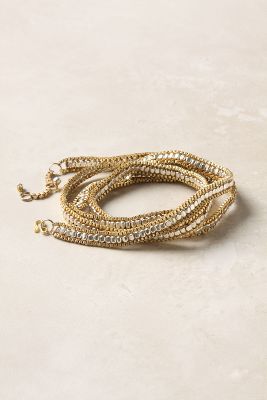 Seafoam Double Strand – $398
Quiet Blush Dress
Pirouette Flats – $128
Marathon Strand Bracelet (silver) – $58
Isn't this lovely?!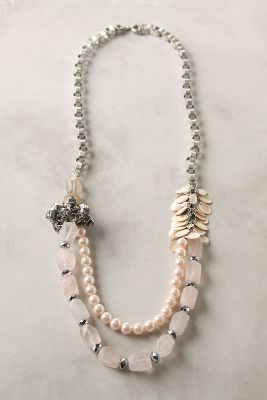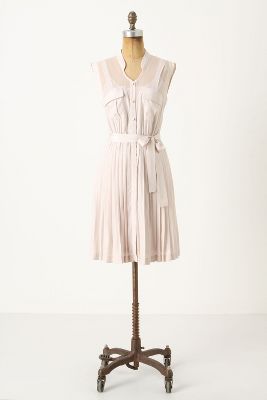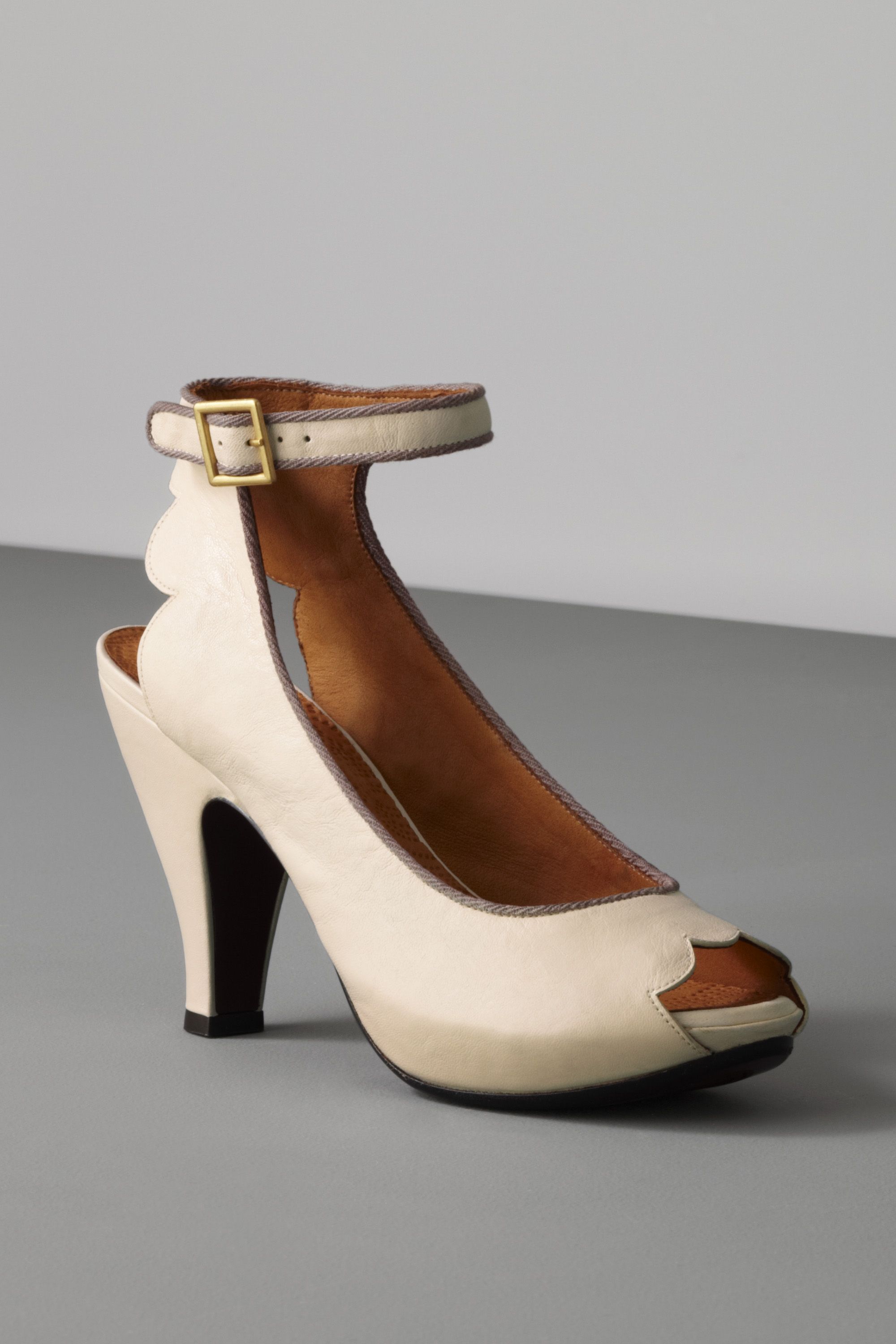 Pernilla Necklace – $198
Soft Blush Necklace
Scalloped Platforms (from BHLDN) – $370
This necklace makes a lovely pairing with this dress, don't you think?! All three of the pieces will transition nicely to non-wedding attire after the big day. For example, the shoes,  would look great with skirts and trousers.
And here is another option, although it is probably more on the Bohemian side…but I'll give it a shot anyway!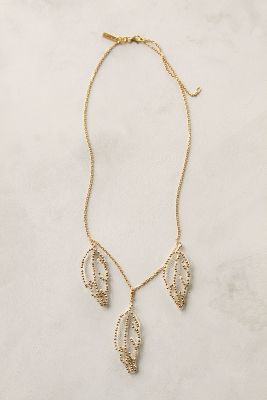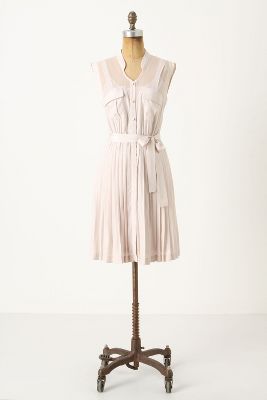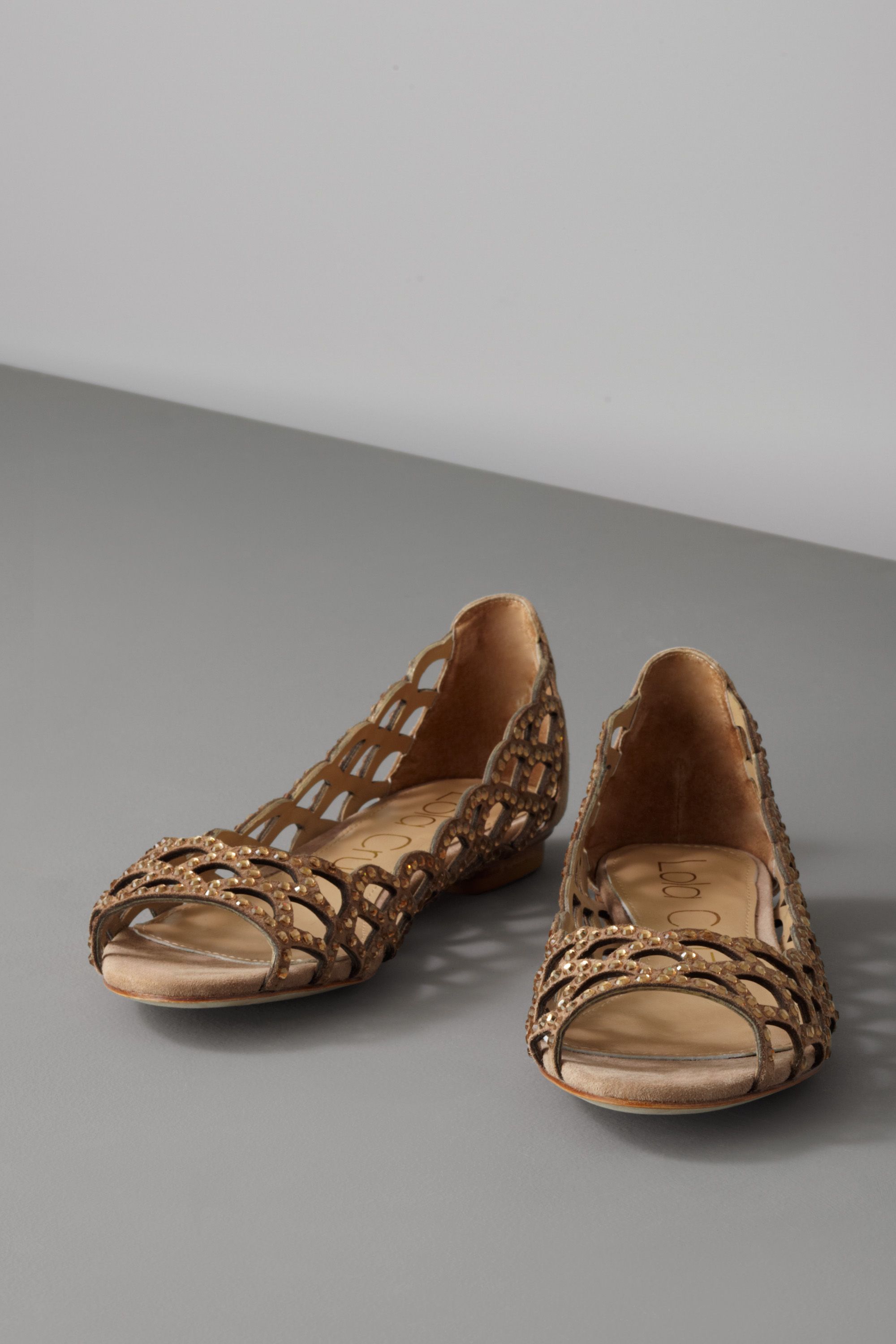 Autumn's Last Dance Necklace – $198
Soft Blush Dress
Shimmering Lattice Skimmers (from BHLDN) – $240
This is such a darling ensemble! The gold pairs really nicely with the barely-there pink!
Another option for a dress would be BHLDN's Beribboned Dress in any of its colors (sunshine is pictured below). It's one of the more formal dresses, but with some fun jewelry/shoes, it could feel a little more informal.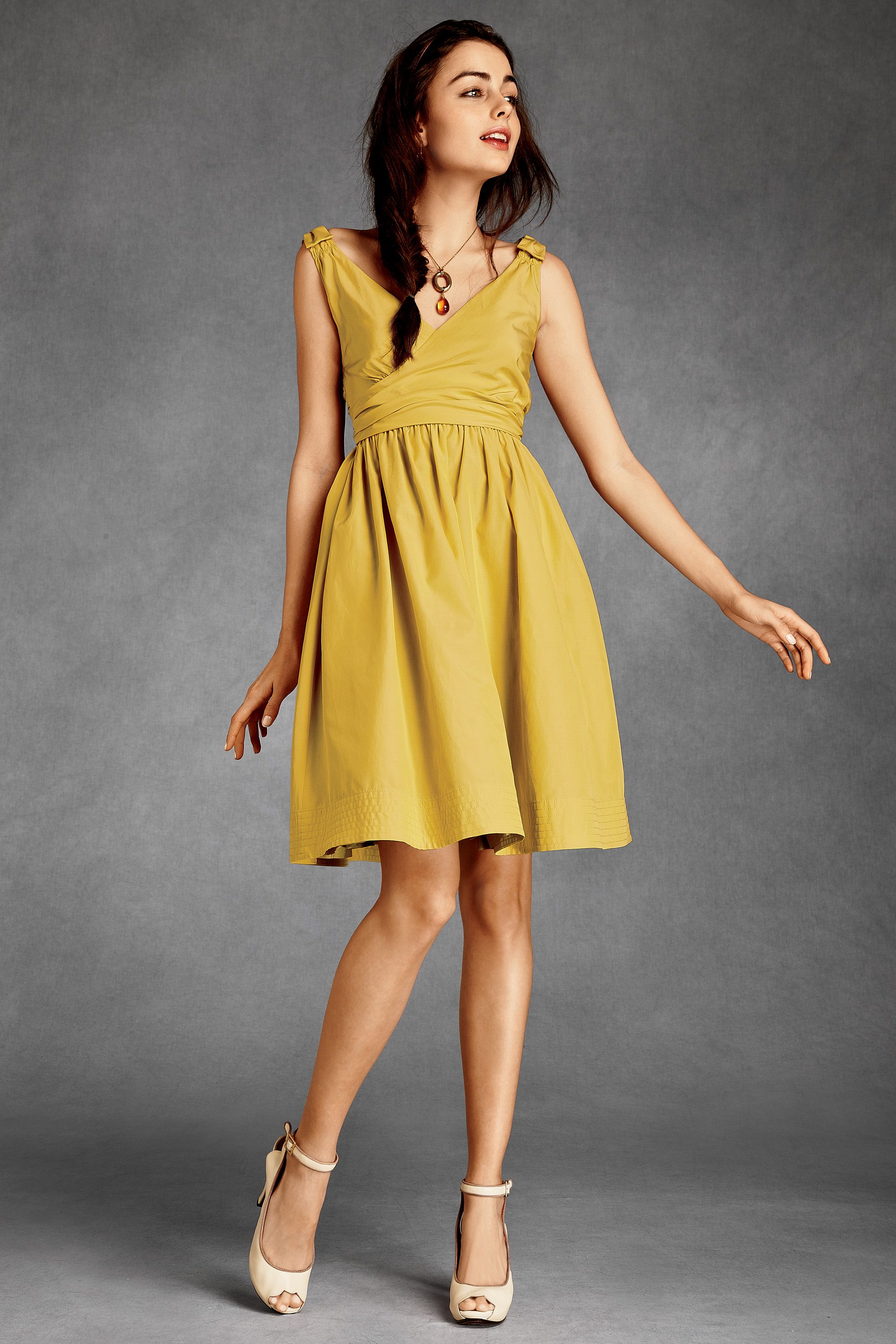 In terms of other non-dress ideas, this cover-up could be a nice addition to a dress.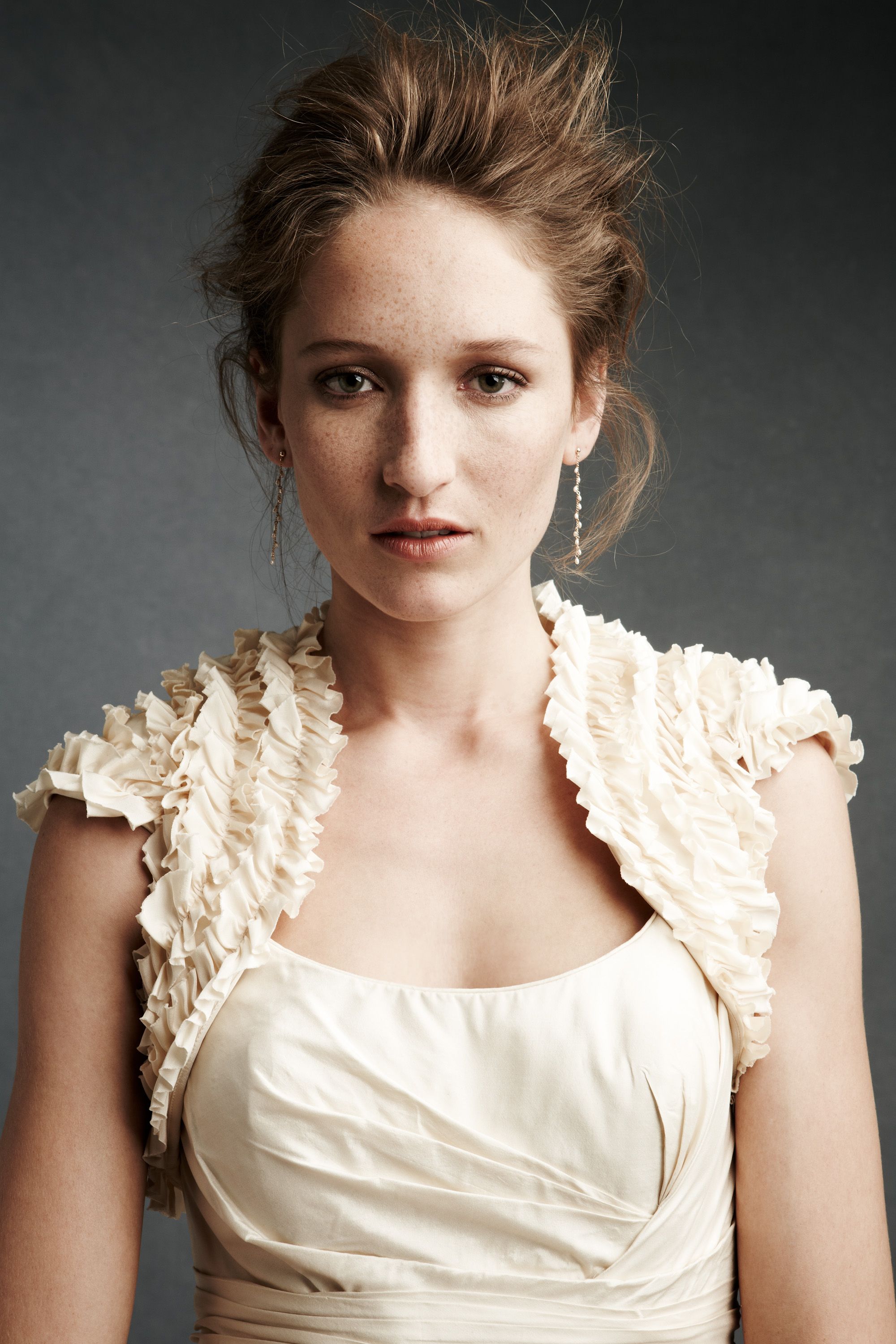 Ribboned Candy Bolero (from BHLDN) – $150
Also, I highly recommend checking out BHLDN's "hair adornment" section. There are some pretty hair pieces that could really add the finishing touch to any of the looks above. Some of them are definitely classic enough to be worn everyday too. In fact, if you like the idea of a simple beaded headband, I'm sure you could find one for a cheaper price elsewhere if you wanted.
Well, I think that about covers this request! If nothing else, I hope Heather has gotten some creative inspiration! I'm sure she'll look lovely in whatever she decides to wear! A big congrats to her!
Please don't hesitate to send your styling requests to theanthropologieconnoisseur@gmail.com! No matter what the occasion – a wedding or weekend wear – I'm glad to help!