I've got another Anthro spotting for you!!!
This time, as I watched the TV show How Do I Look?, I spotted the Shadowbox Skirt (now on sale for $99.95!).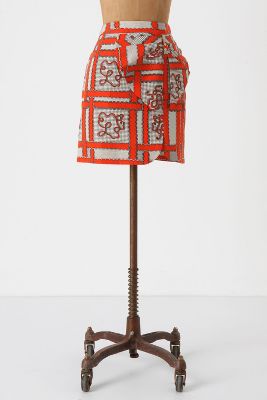 In case you've never seen How Do I Look?, let me tell you a bit about it so you'll get the context of this sighting. Two family members/friends and one "celebrity" stylist each design a "collection" for a fashion challenged woman. The fashion victim then tries on all three collections, without knowing who chose the collection. There are hits and misses in each collection….but hopefully there's more hits than misses. Then, the fashion victim receives a hair makeover, and then reveals her new look to an audience.
Well, I spotted the Shadowbox Skirt in the first collection (the stylist's collection) of the newest episode. I believe the episode aired Friday, although I can't say for sure, as I recorded it. If you want to look for the episode in order to spot the skirt, the fashion victim's problem is that she wears tutus (that's just the tip of the iceberg though; and on an unrelated note, this episode seemed more staged than usual…I mean, How Do I Look? has probably gone downhill in the past year or so, but still!). And I should probably clarify that they don't actually show her trying on the skirt. Nonetheless though, it's still an Anthro sighting!
Do any of you own this skirt? If it goes much further on sale, I might just consider it (assuming it fits/flatters, of course!)!