While I'm on vacation, I'm running a series of posts based on fantasy outfits for an exclusively Anthro outfitted vacation! To read more about this, click here! And please, even though I won't be able to respond immediately, feel free to leave comments! Thanks, and enjoy!
Today is Day One, meaning, I'm not even quite there yet! Therefore, today's look must be an airplane friendly one, and one that will work for both the cold weather I'll be leaving and the warm weather I'll be going to. Sounds a bit tricky, huh?
Here is my airplane appropriate, weather-changing-appropriate look!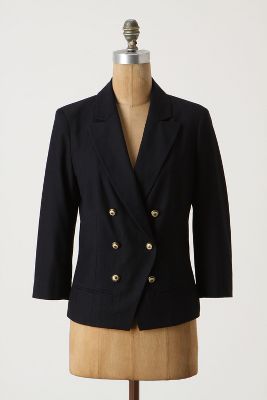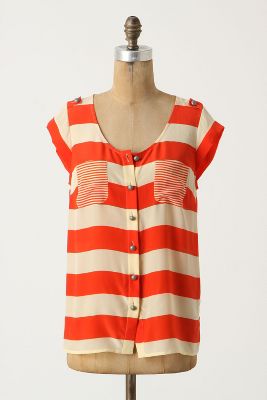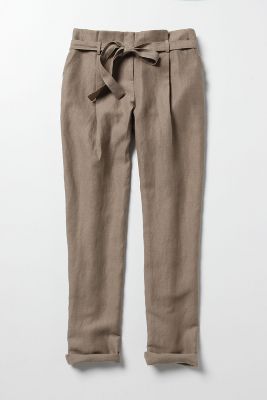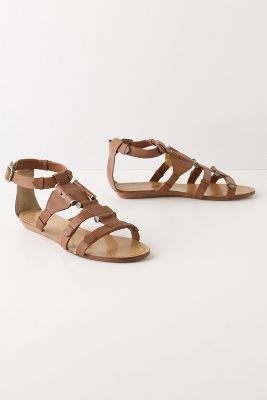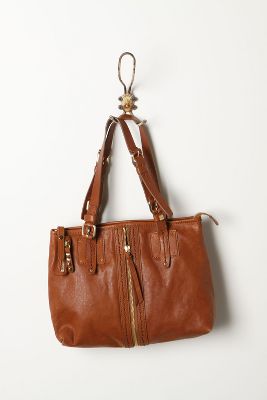 Neoclassical Blazer (navy) – $118
Amplified Stripes Blouse (red motif) – $98
Go With the Flow Trousers – on sale for $69.95
Halteres Gladiators – $148
Outward-And-Onward Tote – $228
This is a great transitioning look…before I leave the cold weather, the open blazer will add some warmth. The pants are not too heavy (I actually own them), so even though they're pants, they will be light and breezy in the warm weather as well. The shirt is loose fitting, which obviously is a good choice for a hot, sticky climate. Finally, the bag is large enough to tote travel documents and goodies for the plane (hello? magazines!).
And once I've arrived, you can bet there's a good chance I'll be hopping right into a swimsuit. This one would be lovely, don't you think?!

Bar None Bikini – $78 each for both the bottoms and top
Its fun, bright print definitely will instantly transfer one to a vacation state of mind!
And that wraps up Day One! What are some of your go-to travel outfits? What about when, like me, you'll be moving from a cold to warm climate (or vice versa)?
See you tomorrow!
And a very Happy Easter to those of you who celebrate!