Tags
anthro, clothes, clothing, Entertainment, fashion, memorial day, New York City, nyc, Recreation, reviews, Shopping, Skirt, travel, Upper West Side, Urban Outfitters
This weekend I spent some time in NYC while on the east coast visiting with some family. My whole trip, short as it was, was unbelievably great. I really do love spending time with family…I never laugh more than when I'm with family (one of my family members actually said something like this, and I couldn't have agreed more).
Anyway, I did do just a bit of shopping while in the city, so I have some reviews for you! No, they're not Anthro reviews, but a sister-brand – Urban Outfitters! Ready to get started?!
Coincidence and Chance Pleated Dress (blue) – $69
tried on: x-small
This was great…it fit wonderfully (perhaps a tiny bit big in the bust – I'm a 32A). This would be great for its versatility…you could certainly layer tops over it (possibly belting) to give it a whole other, skirt look. The red color it comes in is also quite lovely, although it would not have looked good on my pale reddish skin. Highly recommended!
Silence and Noise Doulbe Breasted Chiffon Cardigan (black) – $68
tried on: x-small
As you can probably tell from the photo, this is quite sheer. Nevertheless, it could be a fabulous piece to layer with that won't add too much heat during warmer months. The only problem? Much too big for my small frame (height probably had a large something to do with it – I'm just shy of 5 feet). Recommended if it fits you!
Ecote Chiffon Tee (neutral) – $42
tried on: x-small
I spotted this just before I went to the fitting rooms..and good thing, too, because I adored it! Yes, it is a relaxed, loose top, so the bagginess of it on me didn't matter. This would look great tucked in or out…it's just a beautiful piece! Recommended!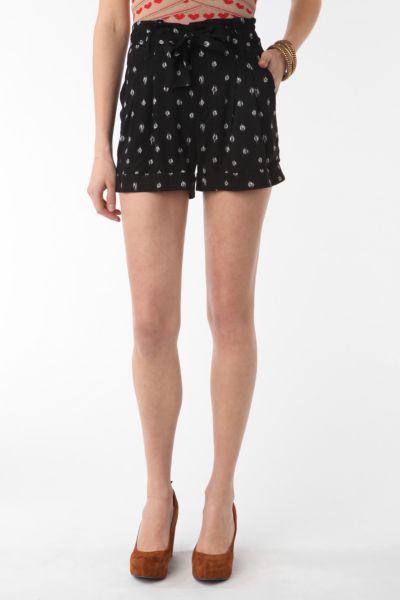 Sparkle & Fade Printed Paperbag Short (black) – $48
tried on: 0
I don't think the picture nearly does justice to these shorts…they fit me to perfection! Sitting at the natural waist, they're perfect for tucking tops into (the top above is gorgeous  tucked into them!). Recommended!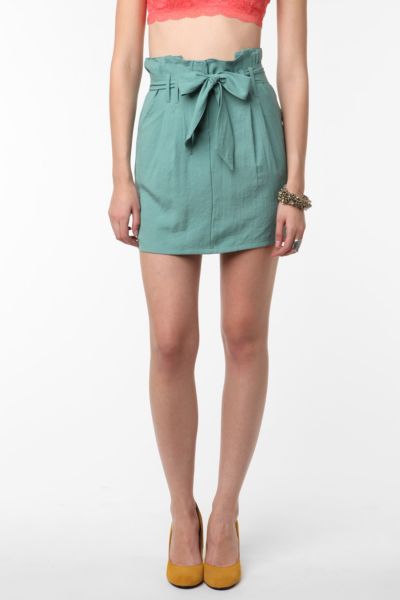 (sorry for the tiny picture!)
Kimchi Blue Paperbag Skirt (green) – $49
tried on: 0
This is a lovely turquoise color in person…it fit me perfectly and would be a great summer staple, transitioning well to the cooler months as well with some tights! Recommended!
Unfortunately, while I tried on some other items, I can't find them online! One of the items was a gorgeous dress…if I see it pop up online in the next few days, I'll be sure to tell you!
Now here was my problem: Nothing, except for the sheer cardigan, looked bad. Therefore, I fell in love with many, many pieces…too many for my wallet to handle. In the end, I narrowed it down to the Ecote Chiffon Tee and the Sparkle & Fade Printed Paperbag Short. I'm going to watch for the first dress and the dress I can't find online to hit sale, as those are my next two picks, but I don't know if I'll be able to get them!
So, my question is: what do you do when faced with the issue of having to narrow down pieces to be bought? Any hints?! Thanks!
Hope everyone had a great, hopefully extended, weekend!