Tags
anthro, anthropologie, boat, clothes, clothing, denim, fashion, heels, Jewelry, necklace, platforms, poll, reader, reader request, request, Sailboat, shoes, style, styling, styling request, vote
I've got some exciting news…today I have a styling request!
Shermineh contacted me the other day in regard to the Sailboat Skirt ($78). Her boyfriend recently got it for her (how sweet!), but she's a bit stumped as to how to style it. She's worn it with simple tanks so far, but in her words, is ready to "spice it up!" Sounds good to me! I mean…look at what a gorgeous piece I have to work with today:
Shermineh also is concerned with making the skirt work for some chilly spring weather, but as the weather changes to hot summer heat as well. She's tall, skinny, and up for anything. Naturally, I'm quite excited for the task.
My main advice for this skirt is that, for the most part, you want to pair more modern pieces with it to keep it from looking too vintage-y. At the same time though, you don't want to lose its vintage appeal either, so it's a balancing act. I'll deliver some more tips as I go through some styling ideas. Ready?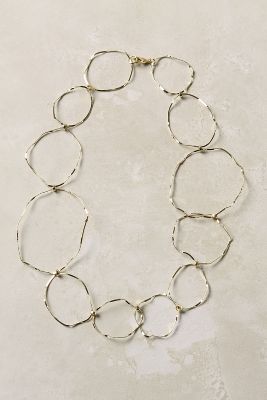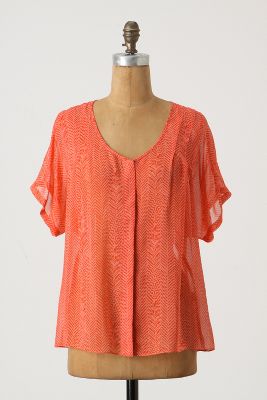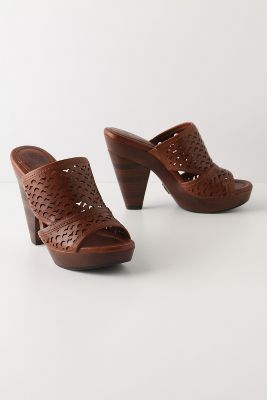 Tinsel Necklace (gold) – $38
Tiburon Blouse (orange) – $98
Sailboat Skirt
Piazza Platform Mules – $168
Loosely tuck this subtely patterned top into the skirt. This way, the button detailing of the skirt is still clearly visible, and the waist is also defined. Pair with this these modern yet still slightly throwback-esque pair of shoes, as well as the not-quite-statement-size necklace. The complete look is soft and feminine, and very elegant – not in a stuffy kind of way though.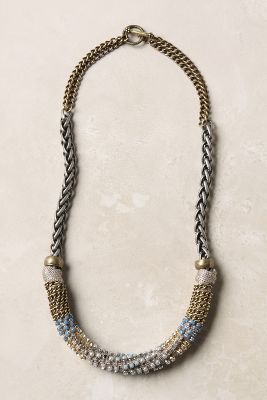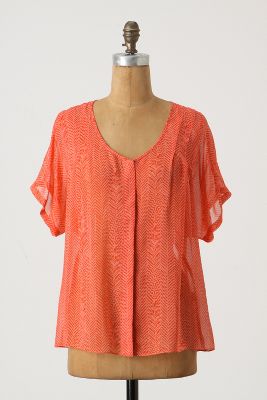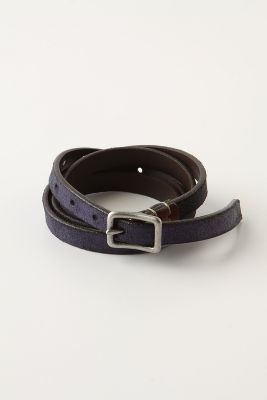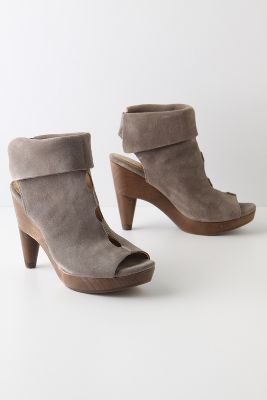 Kusari Necklace – $38
Tiburon Blouse (orange) – $98
Slim Shine Belt (blue) – $28
Sailboat Skirt
Lacuna Booties – $418
While this is a similar base as the last outfit, we're going to do something different: this time, don't tuck in the shirt. Instead, let the shirt hang over the skirt and belt around the top just below the natural waist. As is, this look is perfect for warmer months (you could always go for a more sandal-type shoe if you'd prefer, too).
Now, let's look at a cooler weather version of this: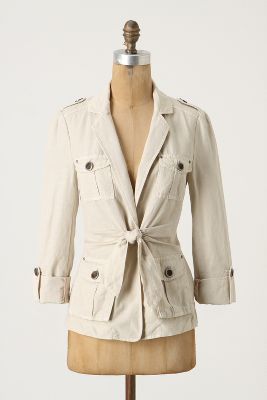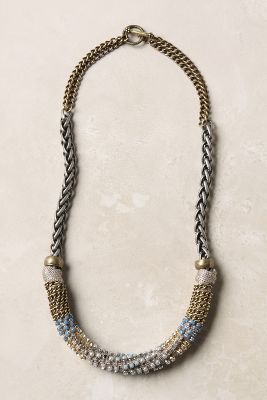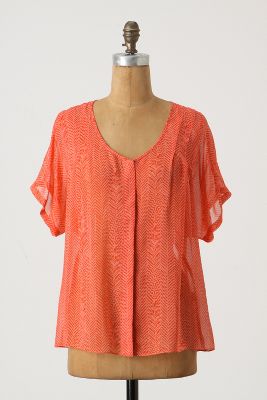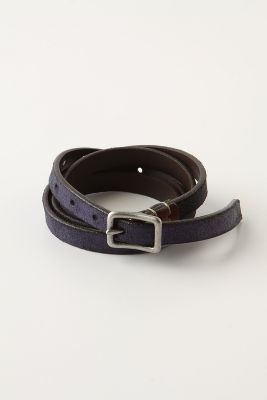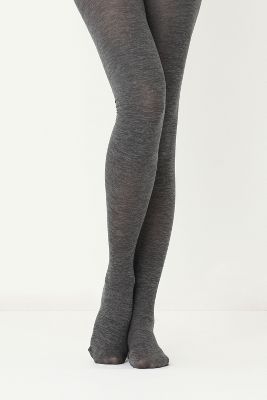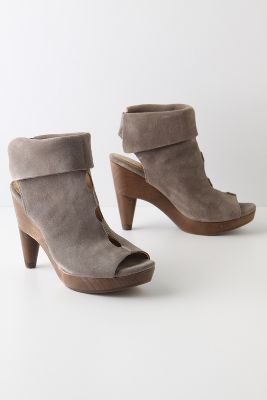 Nepal Jacket (cream) – $118
Kusari Necklace – $38
Tiburon Blouse (orange) – $98
Slim Shine Belt (blue) – $28
Sailboat Skirt
Opaque Tights (from Anthro earlier this year; at the moment, Anthro has no tights!)
Lacuna Booties – $418
This truly transforms the look to cooler-temperature-appropriate. You could certainly keep the belt around the top, but you could alternatively instead replace the jacket's belt with the belt I have pictured. Leave the jacket open – not closed – and you've got yourself one beautiful look! And, of course, you could always ditch the tights if it's not quite that cold!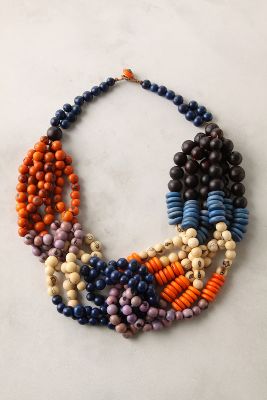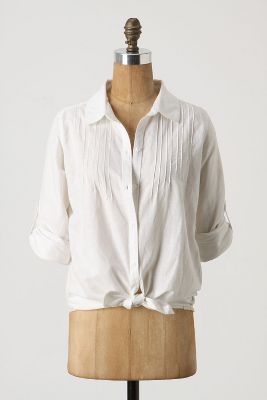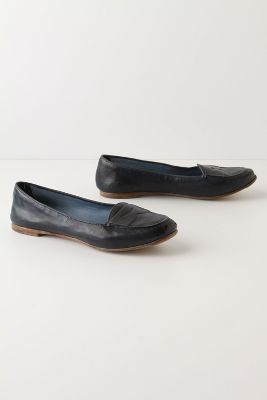 Mayoria Necklace – $128
Tied & Tabbed Blouse – $88
Sailboat Skirt
Primary Loafers – on sale for $199.95
Now this is a pretty vintage-committed way to go with the skirt, but it's still pretty modern. The shirt could easily look too nautical, but by pairing it with the right accessories, it works. The necklace adds a nice statement, while the shoes really help tie together the top and skirt. If you own this look, surely you'll receive tons of compliments!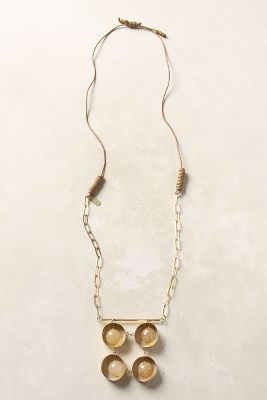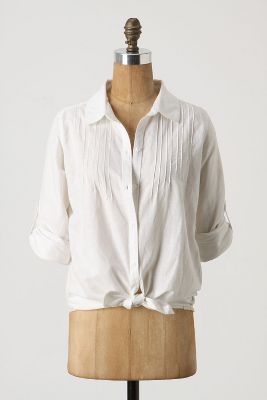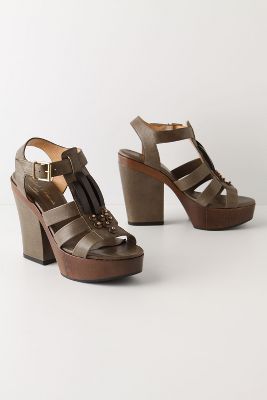 Sphere & Bar Necklace – $398 (yes, expensive, but really any delicate necklace would do just perfectly)
Tied & Tabbed Blouse – $88
Sailboat Skirt
Penon Platforms – on sale for $449.95 (yes, again, pricey – an alternative would be any other pair of chunky, modern heels)
This is definitely a more toned down version of the previous look – there's nothing wrong with going this route as opposed to the other! Again, by pairing modern shoes and a delicate necklace with the top and skirt, you're helping to modernize the latter two items. The complete look is very polished.  Throwing on a tote bag and then swapping out for a clutch would easily transform this to a work-to-errands-to-dinner kind of look!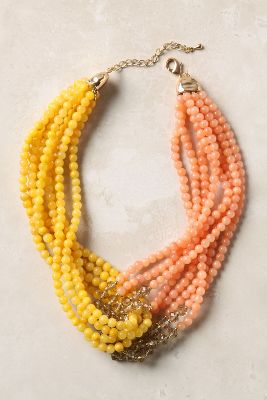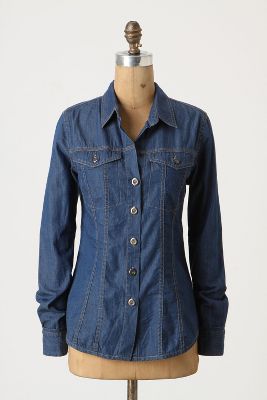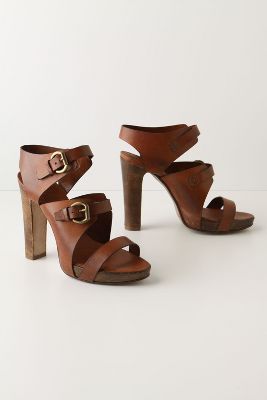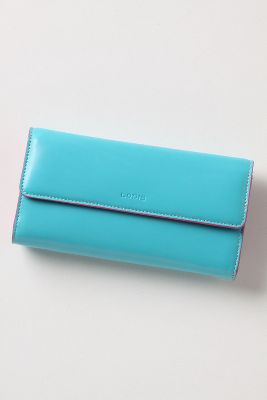 Citrus Twist Necklace – $38
West of the Mississippi Blouse – $98
Sailboat Skirt
Tack Room Platforms – $498
Hue Pop Wallet (sky) -$98
This is a riskier look to pull off – the almost denim-on-denim appearance, but if done well, it looks good. I'll be 100% honest though and admit this isn't my ideal choice of a denim top for the skirt just because the buttons of the top and skirt are almost a bit too similar, and perhaps a slightly lighter shade would be better. It still works though, but just use your imagination a bit! 🙂 The key to the denim-on-denim with this skirt is pairing more modern accessories with it – again, ideally the necklace would be either a bold color or a very modern/chunky shape. In this look, I love the brightness of the necklace and clutch. The shoes add some clean lines that really pull the look together. This could easily transform for cooler weather as well – throw on a wrap sweater and/or tights and you're good to go!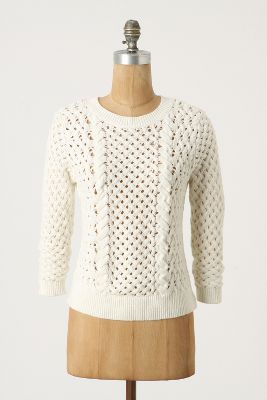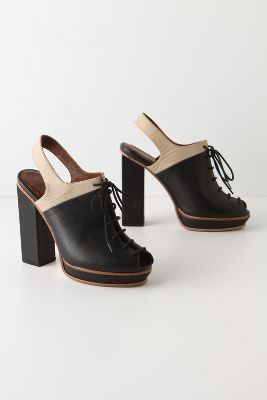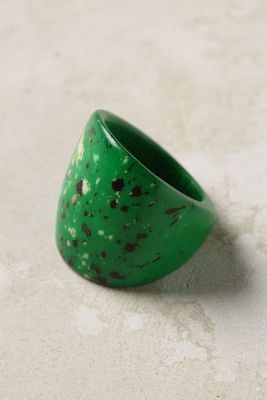 NOTE: From here throughout the rest of the post, WordPress stopped letting me link to Anthro's product page! 😦 That means you'll unfortunately have to search for any of the items you like. Sorry for the inconvenience!
Evening Chill Pullover (ivory) – $88
Lungo Platforms – $428
Sari Wood Ring (green) – $38
This is probably one of the most committed vintage ways to go with the look. The real key to pulling it off is a good amount of both confidence and some attitude (play with different hairstyles to help with the latter). Gorgeous though if pulled off, no?
And now some other top ideas: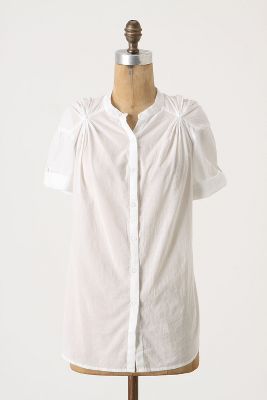 Gathered Lines Shirt (white) – $78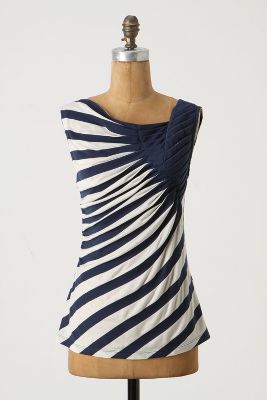 Expanding Universe Tank – $58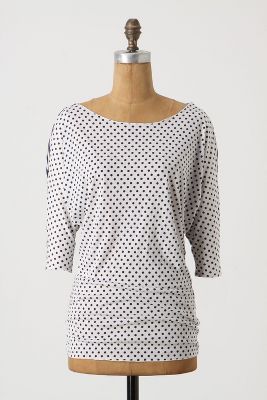 Atomical Tee (blue) – $68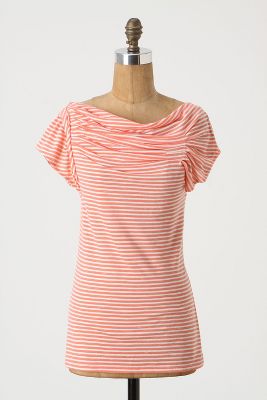 Pleated Yoke Tee (pink) – $48
Any of the above would look great tucked in, with necklaces, perhaps.
So, to recap:
There are many, many colors I think could work with the skirt. White, red, yellow, blue (even denim), etc. Accents of green work well too.

To add some interest, the power of adding a necklace should not be underestimated! Even if you wear a simple solid colored tank, adding a necklace will take the look to a whole new level.

Balance the vintage feel of the skirt with some modern aspects.
There you have it! I hope Shermineh has some great ideas for wearing her beautiful skirt!
Which look is your favorite?
Do you have a styling request?! Email me at theanthropologieconnoisseur@gmail.com! Thanks! (To read more about styling requests, click the link at the top of the page that says "Styling – What Do You Want Styled?")!