Tags
'70s, 1970, anthro, anthropologie, belt, Blouse, bohemian, Casual, catalog, clothes, clothing, denim, Entertainment, fashion, float above blouse, hippy, Jeans, poll, reader, Shopping, shorts, skinny jeans, style, styling, styling request, vote
Having tried styling the Float Above Blouse on her own, but without much success (the tags are still on the  top!), Kristie contacted me for some help. I was glad to be of service – and, obviously, this is a gorgeous top with lots of potential that I have to work with: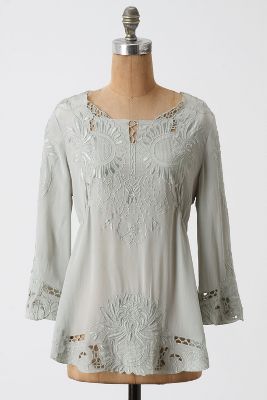 There is a very bohemian feel to this top with its embroidery, lace, and overall silhouette. Kristie wants the top to look "fresh," so I'm thinking adding some modernity to it will be key in achieving this.
Let's dive right into some stylings, shall we?
With summer heat, shorts are a great way to go with this top. The key is making sure the proportions work – the shorts must be longer than the top…must!…so super short short shorts won't work! In terms of style, something clean cut, without much embellishment is ideal. This way, the intricacy of the top stands out without competition. This most definitely will provide a clean, fresh look.
Keep in mind with these stylings using shorts that I'm assuming the proportions work…these actual shorts may or may not work, depending on the individual.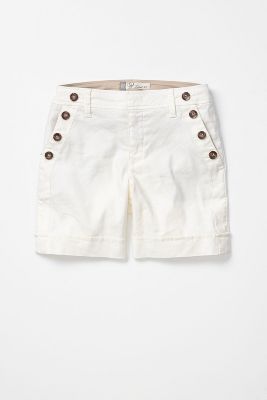 Compass Points Shorts (white) – $68
Crisp white is a great color to wear with the top – instantly, the top feels all the more fresh and all the more modern. At the same time though, the white will still act as a backdrop to highlight the lovely blouse.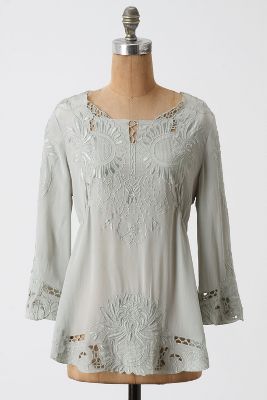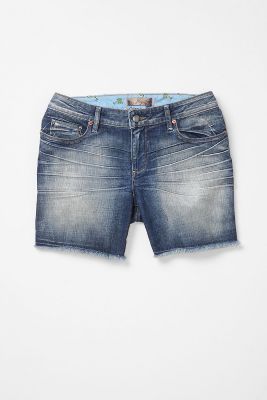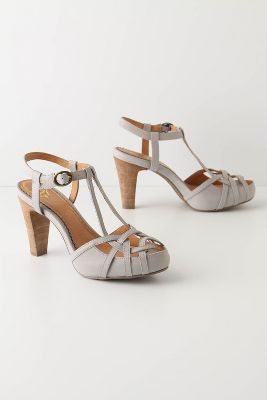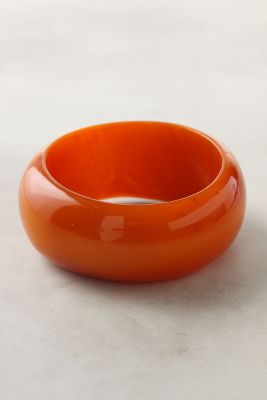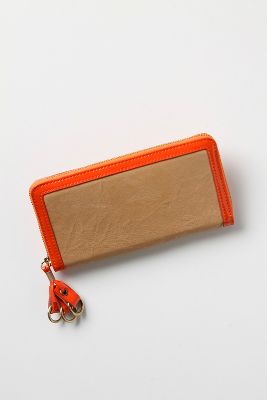 Float Above Blouse
Paige Denim Jimmy Jimmy Shorts – $149
Parabola Heels – $158
Sun-Shaped Bangle – on sale for $29.95
Color Frame Wallet (orange) – $98
If you want to take the top in a more committed Bohemian/almost hippie way, consider wearing jean shorts, such as these. To help keep the look feeling new, consider adding these bold pops of orange in the form of a clean-lined bangle and clean-lined clutch (why not a purse, you ask?: a clutch such as this, as opposed to a purse-purse, feels a bit more modern). And no, I don't think the orange bangle with the clutch will seem matchy-matchy at all in this case!
Now, moving on from shorts…
One of the absolute best ways to go with this top – as in, you're pretty much guaranteed a successful look – is pairing it with skinny jeans. This is because the skinny jean is tailored and stream-lined – the tunic-type top will look great (proportions wise) and the pants won't take away from the top's beauty. Any color could work nicely too.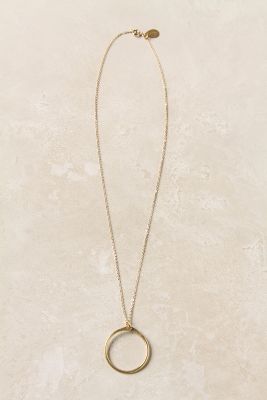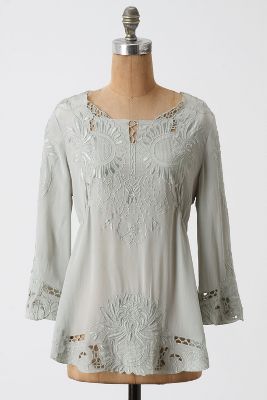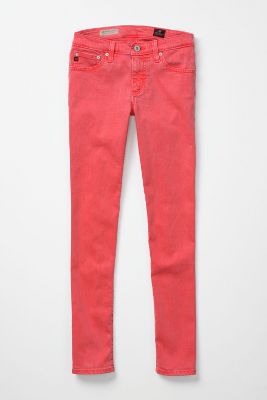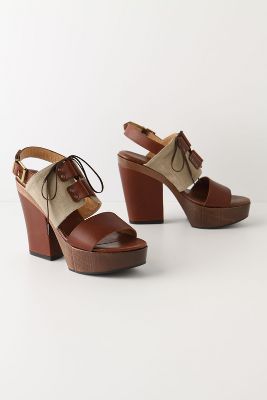 Endless Necklace – $48
Float Above Blouse
AG Stevie Ankle (red) – $158
New View Platforms – on sale for $449.95
Using skinny jeans in a fun, bright color, such as these pink-red ones, is a great way to modernize the top. The shoes and necklace are great – they are simple enough to complement the other pieces, but also add a great deal of modernity to the look, while still being classic.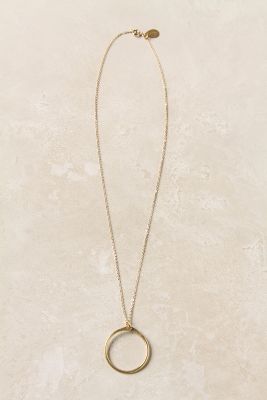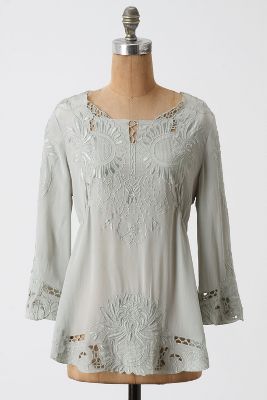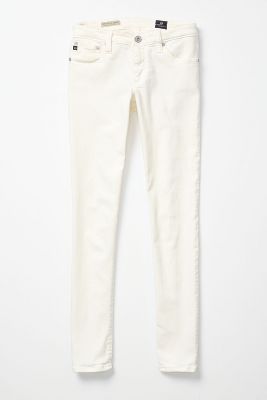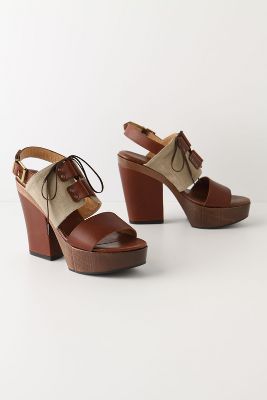 Endless Necklace – $48
Float Above Blouse
AG Stevie Ankle (bone) – $158
New View Platforms – on sale for $449.95
If the colored denim wasn't quite your thing in the last look, this is a great alternative – the exact same look, but with crisp white jeans instead. This is a chic and polished look, for sure!
The addition of a bold pop of color in the form of a purse would help to add a little zing to the outfit, if you wanted: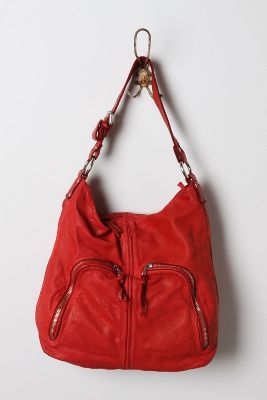 Crepuscular Bag – $288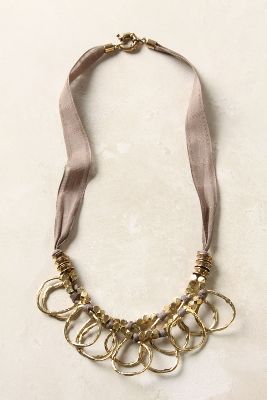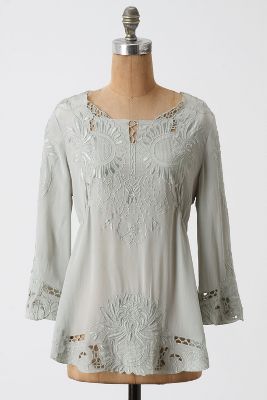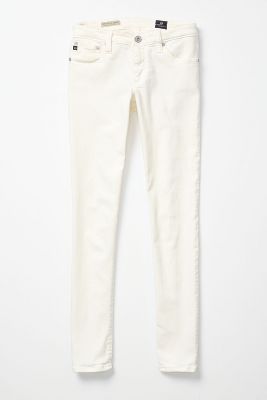 Gregarious Rings Necklace – $48
Float Above Blouse
AG Stevie Ankle (bone) – $158
Trinket Flats (yellow) – $98
This is a classic look with a hint of vintage feeling too, while still appearing very current. With only four pieces, you might feel the need to add more to it, but I think it's great just as is – this top really doesn't need a whole lot to make it feel complete.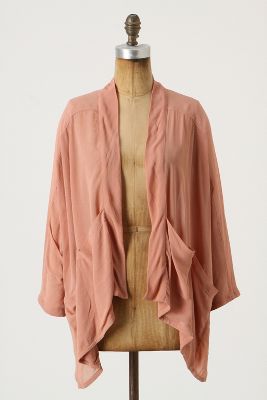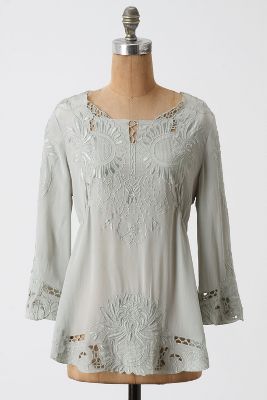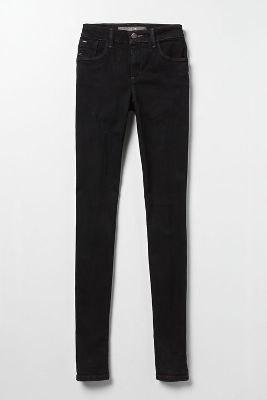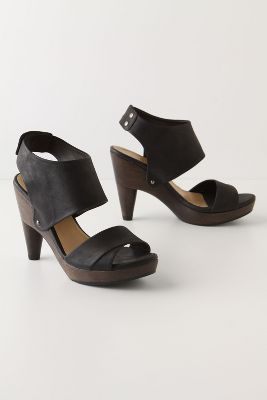 Bold Braided Belt (coral) – $28
Gliding Georgette Jacket – $148
Float Above Blouse
Joe's Skinny Visionaire – $167
Oxer Heel – $398
Comet Tail Bracelet – $128
Wear this cardigan over the top, and then belt around both to get a defined waist. The simple skinny jeans, bracelet, and shoes complete the look! Don't you love the pretty pink colors with the blue-green of the shirt?!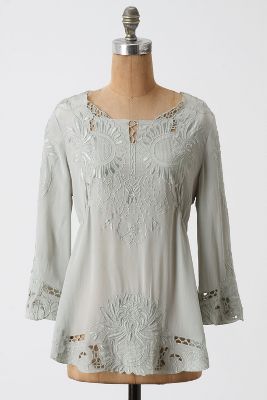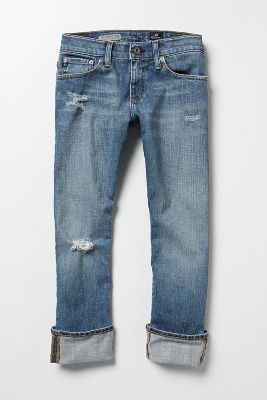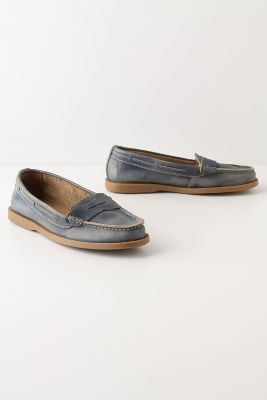 Float Above Blouse
AG Tomboy Crops (sedaris) – $168
Muted Shades Loafers (blue) – $70
Excursionist Tote (black) – $398
Header & Stretcher Bangles (green) – $28
This is a unique look considering the fact that it has both a funky, yet equally chic, feel to it. This funky feel is in large due to the distressed, rolled hem crops and the loafers. The chic feel is in large part due to the sophisticated blue-gray-green color scheme and the sublime bag.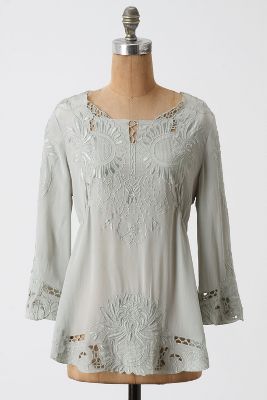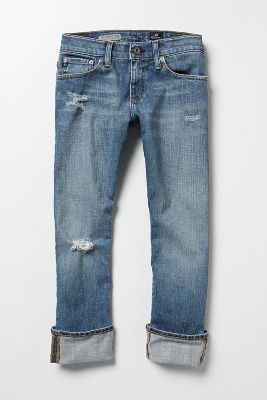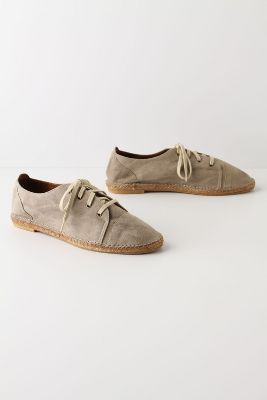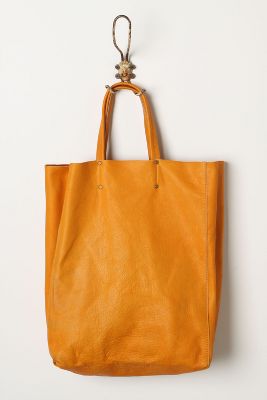 Float Above Blouse
AG Tomboy Crops (sedaris) – $168
Cross-Continent Sneakers – on sale for $19.95 (wow!!!)
Bright Eyes Tote (orange) – $198
Beaded Tapestry Bracelet – $288
This too has a funky vibe, but it feels a bit more casual with its fun orange accents. I really seem to be liking pairing the top with orange! 🙂
I'm going to go ahead now and take the time to caution you about wearing wide-leg pants with the top – while it can absolutely look lovely and very 7os inspired, it can also just look plain bad. The key in pulling the look off is wearing high heels to really, really lengthen your legs. The shoes should ideally also be pretty simple in shape.
If you want to wear the top with skirts, I think pencil skirts will be your best bet. First of all, they'll allow for the proper silhouette with the top tucked in, but they'll also work for the proper silhouette with the top tucked out with a belt around the waist. (Speaking of belts, you could successfully belt most of the above stylings around the natural waist, if you wish.)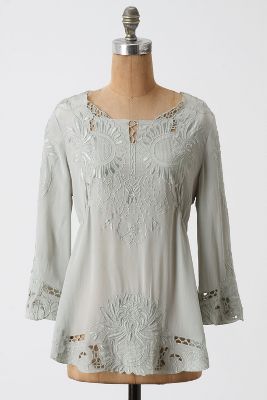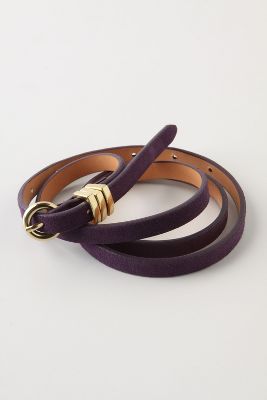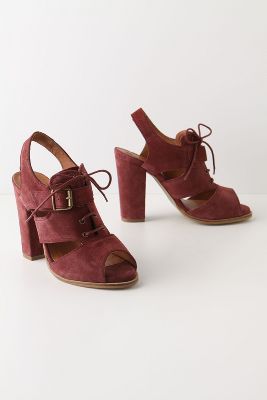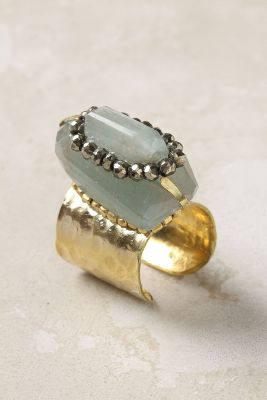 Float Above Blouse
Triple Bar Belt (purple) – $38
Foundational Pencil Skirt (pink) – $98
Floridian Oasis Heels (plum) – $148
Hyperbole Ring – $158
This is a gorgeous combination of pinks, blues, and purples, if I do say so myself! Anyways, this is a great styling because it can be worn TWO ways. First, you could tuck in the top to the skirt, and then belt over the skirt (close to the natural waist). Or, you could leave the top tucked out and belt around the blouse around the natural waist. Either way, this is a gorgeous look!
Another styling idea would be to wear the top over a dress, belting around the waist. Other great ideas include playing with cardigans, jackets, and belts.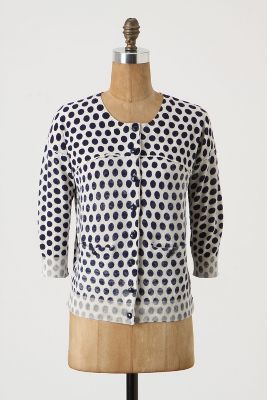 This could be fun – leave the it unbuttoned and then belt around the waist. The polka dots will play nicely with the pattern of the top!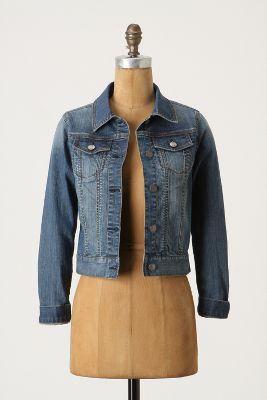 Concise Denim Jacket – $128
This would work with the top and a skirt, pants, or shorts! So versatile! You could even belt the top underneath the jacket!
Before officially wrapping up, let's talk a bit more about color regarding the blouse.
With this blue-green color, so many colors are going to work – blues, greens, purples, pinks, oranges, neutrals (grays, blacks, browns, khakis, whites, etc). The key is to not use too many dark, washed-out colors with it though, because it can start to look drab.
If, by chance, you own this top in its more pinky-coral color….
….I would still suggest blues (most shades), as well as many of the other colors mentioned above. You may want to avoid some of the darker colors, as well as some pastels, although you can still give them a try. Navy, used as a neutral, would be gorgeous, as would a light-medium-dark gray.
And now, my dear readers, we're done. Hopefully Kristie has gotten some useful ideas. I wish you all the best of luck, Kristie!
Which look was your favorite?
As always, feel free to send your own styling requests to me at theanthropologieconnoisseur@gmail.com! Thanks!