Styling request time! Alli emailed me in regards to the Tupelo Dress (Anthro). She said that she'd love some suggestions for styling the dress more casually, as she wants to get some great mileage out of the dress. She also gave me the green light to look at pretty much any store I wanted to compile the stylings, so needless to say, I was ready to get started immediately!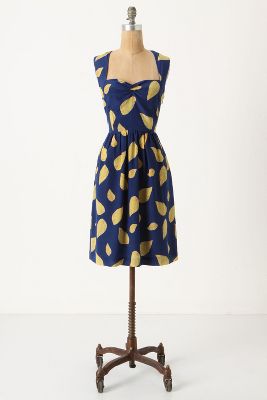 First, let's talk color palette. The dress is composed primarily of blue with a considerable quantity of yellow added in. It's important to note that blue and yellow are nearly opposite on the wheel, meaning that when paired together, the two colors will really intensify each other. This obviously makes for some great contrast!
(image)
If you pair green with the dress, you'll notice that you'll be using the bottom third or so of the color wheel above. Because blue, yellow, and green are all together, you'll lessen the contrast of the blue and the yellow on the dress. This will probably make for a soothing color palette.
Another direction you could go is pairing red with the dress. This will make for a nice evenly spaced triad on the color wheel. In turn, this will create an interesting sort of visual harmony, although that harmony will consist of contrasting colors.
Believe it or not, going with a purple or orange will create two similar (but different) effects. Consider this: purple is next to blue, a color of the dress, on the color wheel, and orange is next to yellow, a color of the dress, on the color wheel. Purple and yellow are complementary (meaning exact opposites), so by adding purple you'll theoretically be intensifying both the purple and yellow. But, because blue is still next to purple on the color wheel, the purple will get toned down a bit, and so, the yellow will actually be the more predominant color of the three (although the purple and blue will not completely fade away!). Likewise, if you pair orange to the dress, theoretically the orange and blue will be intensified. However, because the orange is next to yellow on the color wheel, the yellow will tone the orange down a bit, resulting in the blue standing out. But, the blue is not an electric/neon blue, but instead a navy blue – a color I and many others consider a neutral, so it's hard to say whether the blue would really stand out that much (it may very well just depend on the person).
Have I lost you? I hope not! But anyway, to recap, basically any color will work with the dress. It really comes down to personal preference.
Now, let's move onto some stylings.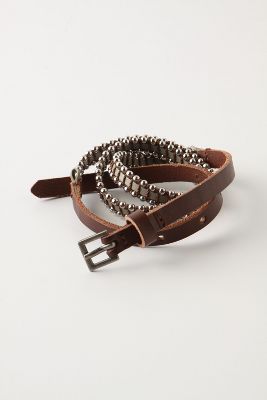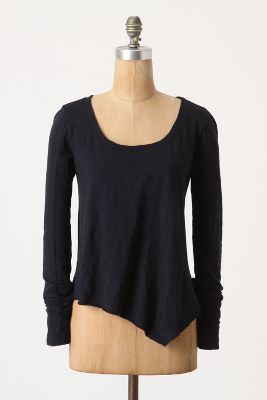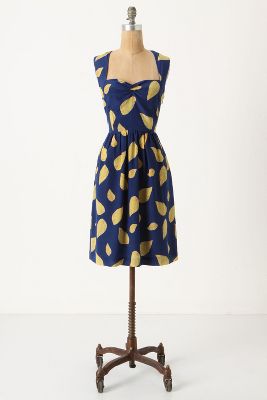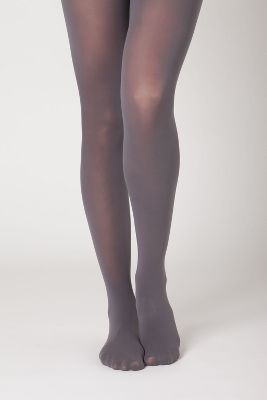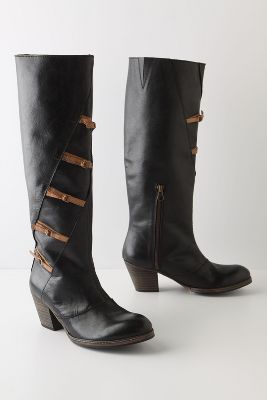 Pin Gleam Belt (gray; Anthro) – $38
Elusive Ease Top (navy; Anthro) – $68
Tupelo Dress
Opaque Tights (gray; Anthro) – $15
Inkwood Boots (Anthro) – $268
Because the neckline of the dress isn't too high, you can easily layer tops on in order to make the dress function more as a skirt! My general advice for this technique is to go for something looser on top (so it doesn't show the lines of the dress underneath it), but then belt at the waist to give more shape, considering the skirt is fuller (if the skirt was more of a pencil skirt, belting wouldn't necessarily be as needed). In this case, I love the asymmetrical bottom of the top, as well as this great belt. Every piece is understated, but definitely not boring. If you wanted, you could amp up the look more, if it so suits your tastes, with a different pair of tights…yellow, perhaps, or a not-too-busy patterned pair (or even these green ones!?)?
Here are some other great tops for layering for the dress to morph the dress into a skirt: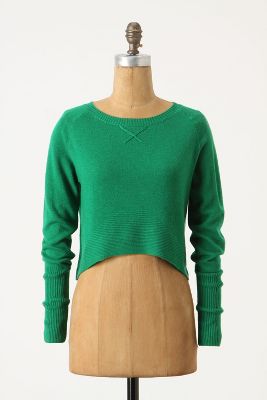 Contoured Crewneck (green, Anthro) – $118
*with this one, a belt would be more distracting than complementary, and it's not too baggy…so you could get away without the cinched in waist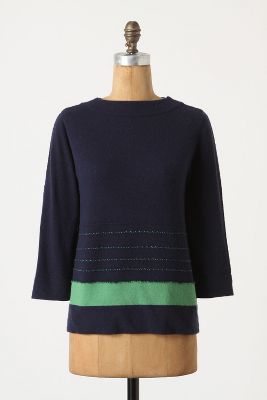 Preppy Pleats Pullover (Anthro) – $88
Women's Chunky Cable-Knit Sweaters (oatmeal; Old Navy) – $36.94
Kimchi Blue Open Stitch Cable Poncho Sweater (Urban Outfitters) – $69
*This one is nice because you can still just barely see the print of the dress underneath. You may even wish to leave this unbelted.
Of course, you could always go with the tried-and-true method of layering on a jacket/sweater/cardi. That's an (almost) never-fail method!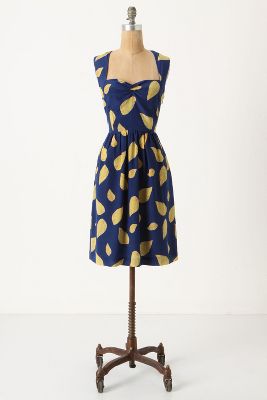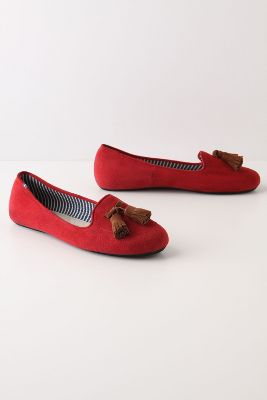 Concise Denim Jacket (Anthro) – $128
Tupelo Dress
Color Pair Loafers (red; Anthro) – $150
This is the perfect no-fuss look that can be easily altered for the changing weather and/or personal tastes. As is, it's perfect for those days with just a bit of chill in the air. But as the temperatures cool, throwing on a pair of tights will keep you warm and only add further opportunity for fun pattern mixing (or you could just stick with a solid pair of tights too!). Also, as the look is now, the red pop from the shoes really adds some pizzazz. Not your thing? Switch out the shoes…for something more neutral, for boots, for wedges, etc! The possibilities are endless!
Here are some more possible cardis/jackets/sweaters: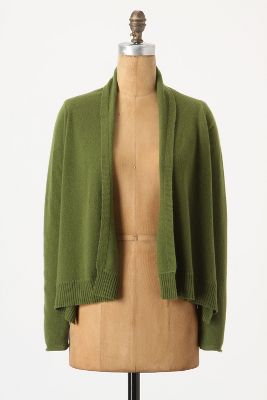 Cashmere Swing Cardigan (green; Anthro) – $178
*tip: You can always belt a cardi/jacket/sweater too!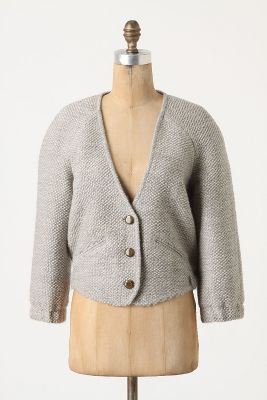 Woodland Path Jacket (Anthro) – $128
Womn's Shawl-Collar Cardigans (Into the Deep color…some of its other color options would work too!; Old Navy) – $39.94
And guess what? There is always the possibility of combining these two aforementioned strategies! For example: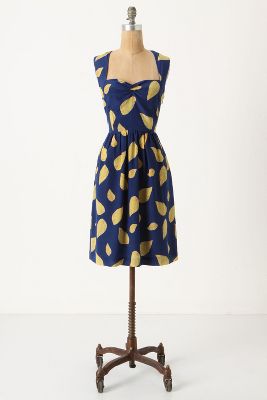 Hacking jacket in tipped double-serge wool (J. Crew) – $298
New York City Graphic T (Gap) – $22.95
Tupelo Dress
Leo Velvet Slipper Shoes (ASOS) – $61.11
I love the idea of layering on a graphic tee and then throwing on a cardigan or jacket. It makes for such an effortless yet polished, yet still somewhat casual look. The key is to not let the tee get too, too busy…after all, the "skirt" (the dress) is patterned too!
Just a note: yes, the jacket listed above is pricey…I really like the graphicness of the black/white contrast, but I'm sure you could find a great alternative for much less money…maybe on ASOS?
Here is another graphic tee that might be lovely with the dress: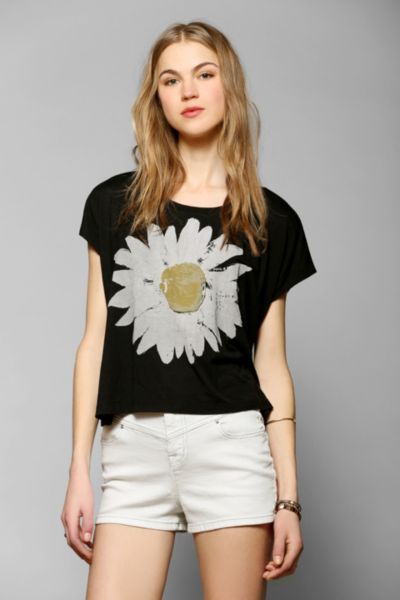 (sorry for the small picture size!)
Truly Madly Deeply Sunny Daisy Box Crop Tee (Urban Outfitters) – $29
Another route to go would be with a button-down, but tied into a knot in the bottom (buttons left unbuttoned). This way, the top of the dress still peaks through. The tying of the shirt is still quite casual too. You could always throw on a jacket/sweater on top of the button down too though, for extra warmth and even more visual interest through layering.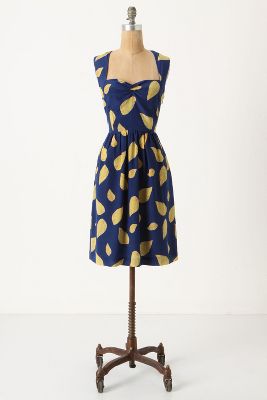 The Perfect Plaid Shirt (red…other color options may work; Gap) – $49.95
Tupelo Dress
Aldo Bacher Pointed Wedge Shoeboot (ASOS) – $192.06
This is definitely a slightly funkier look, considering that I chose a plaid button-down. If you choose to go with a plaid like this, I'd actually suggest you steer clear of boots in general, because you run this risk of looking a bit too country-dress-up. By pairing the look with wedges, the look feels modern and youthful.
Of course, you could always do a solid button-down too. It's up to you!
Well, that wraps up this request! Hopefully Alli has gotten a few ideas, and hey…I know this was a popular dress, so perhaps others of you who own the dress got some ideas too!
Do you have a styling request? Email me at thestyleconnoisseur@gmail.com! Go here to read more about styling requests too, if you so wish! Bonus – do not forget about the Get the Look feature! Send those requests to thestyleconnoisseur@gmail.com too, please! Thanks!