Tags
anthro, anthropologie, baking, chic, Cooking, diy, Do it yourself, Industrial Goods and Services, notepad, Paper, Shopping, style
Today's the day! That is, I'm going to share with you my completed baking notes project, complete with a how-to so that you can make your own version (they don't have to be baking notes…they could be anything…even a plain pad of paper!). Let's start at the beginning though, shall we?
A few days ago I fell for some "baking notes" on Anthro's website: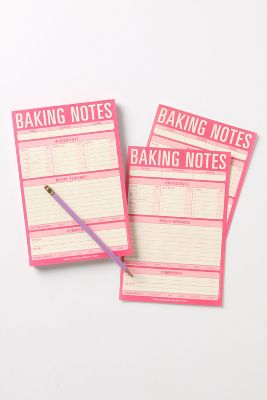 At $7.50, while they weren't crazy expensive – especially for Anthro(!) – I decided I'd rather create my own so I could tweak the content. Plus, this way I could have a never-ending supply, always able to print some more out! And who doesn't like a little DIY fun too (with NO trips to the store!)?!
I then shared with you the design for the sheets:
(length=about a computer paper sheet's length; width=just under four inches)
Next, I gave you a sneak peak of the finished product:
Well, are you ready to see how to I got to that finished state (and see some more pictures of the end result)?! Let's get started!
*note: some pictures have their color altered (darkened/dulled in all cases) to best allow the text to be readable*
Create your design for your baking notes, or whatever you wish your pad of paper to be. You can make the design any shape you wish.
Gather your materials:
Staple sheets in sets of 5, so as to not make them too thick for cutting later on (the staples themselves will hold the sheets together while you cut, with the purpose of getting equal sized sheets, without having to cut them all individually):
Measure out and draw cutting lines to create the size of the baking notes you want:
Cut on lines:
Note: By cutting in stacks of 5, you will hopefully get clean lines on all sheets. You should get about equal size too. You can always trim some too, if need be.
Measure how wide you need your folder to be. I had mine cut to about 5 1/2 inches (so 11 inches in width when the folder is not folded), 1 1/2 inches wider than the baking notes. Cut.
Cut off the "folder" part of the folder:
Glue the left long edge of the baking notes with the hot glue, as shown (glue all of the sets of 5 together, so you're left with one complete stack):
Laying out the fabric on your folder for guidance, cut to size (there should be about 1/4 inch-1/2 inch on the top and bottom of the folder):
optional step: With a zig zag stitch, sew the raw edges on the bottom of the top so that the two layers become one. This will make for a neater finished edge in the next step.
Glue the raw edges neatly inwards to the inside of the folder. You could leave as is, or, to make it a bit more pretty, cover the seam with some sort of trim, ribbon, or buttons:
Glue in the notes in the center fold of the inside of the folder.
You're done!
Not including the time it took me to create the design for the baking notes, this project took under 1 1/2 hours (and that was with me figuring out what I was going to do along the way). That means that for not much time, you get a great result!
The above photo is of my first entry in the journal! In the case you can see that the "heavenly" box is checked for taste and the "yes! (and often!!)" box is checked in response to the question "make again?", I'm guessing you're wondering what it  is that I made and had such rave reviews for…Salt-N-Pepper Cookies from one of my beloved Baked cookbooks! Seriously, these sandwich cookies were divine, with just the right amount of kick, and a filling resembling an Oreo's filling, but better! If you are looking for a cookbook – heck, even if you're not! – I truly recommend these two books (huge recommendation!!!!)! They're Amazon links are here and here (the dark cookies on the cover of the second cookbook link are the Salt-N-Pepper Cookies). And no, I was not paid to write this…I seriously adore these cookbooks with all of my heart. Everything I've made from them has been to die for. Okay, side tangent over.
Anyway, I really am quite pleased with how my baking notes came out – they're personalized to my taste/needs and I can't wait to continue using them!
Should you have any questions about the process of making them, please feel free to ask me in the comments or by email (theanthropologieconnoisseur@gmail.com). And if, by chance, you make your own version, please tell me about them! I'd love to hear (and see pictures if you feel like it!)!