Happy Friday Everyone! Today I'm wearing my newly acquired Spitalfields Skirt with a piece I've had for about eight or nine months that I love (like all my Anthro pieces of course!)…it's the Waltzing Daphne Blouse (picture below; I have the bow tied in back, and I'm wearing the skirt at my natural waist with the top tucked in). I raved about the skirt when I reviewed it, but seriously…it's great! The quality is there and then some, and the pockets are actually a great size too (I left this out of my first review)! The outfit is reminding me of fall, but it's still positively summer-y. I really encourage you to pick up the skirt!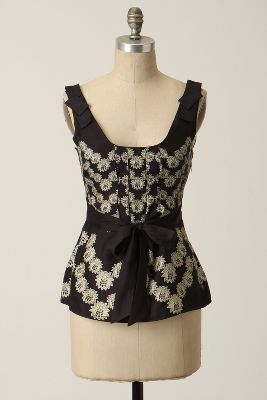 Anyway, as you all probably know, Anthro has some lovely new arrivals. Let's take a look at a few of my favorites.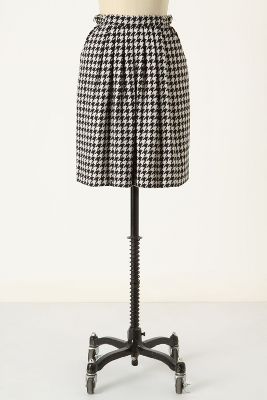 High Society Skirt – $128 – I should start off by saying houndstooth never fails to lure me into something…so the print of this skirt is absolutely why I'm loving it! I should say that I do like the cut of it too though! The price though? Not so attractive…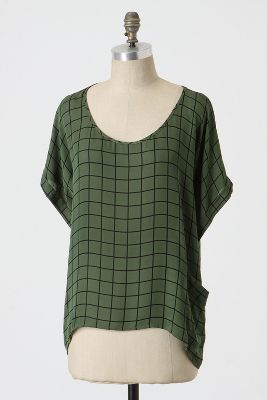 Look About Blouse – $98 – I'm not 100% this is totally me, but I'm still loving it! I can see Anh from 9to5 Chic doing some lovely things with it!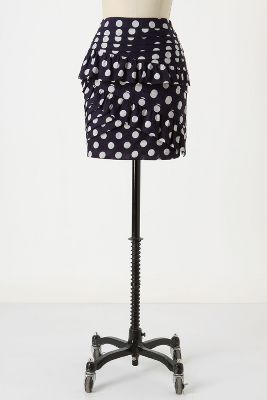 Coming & Going Skirt – $198 – This isn't exactly a totally new arrival, but it's still adorable. HOWEVER, when on my vacation, I went to Beacon's Closet and found a similar (not look-alike) skirt from H&M for $9.95! It needs alterations to fit me, but what a steal nonetheless! If you can find it for yourself (maybe not at the bargain I found, but still a bargain compared to Anthro), do it! To see the skirt on a fellow blogger, go here!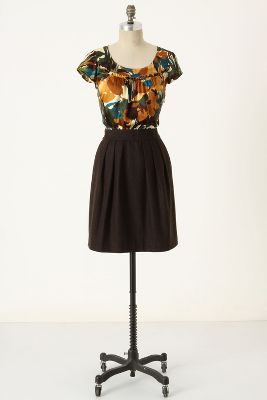 Tweedy Leaves Dress– $158 – This looks like a fall version of the Doubly Dapper Dress, which I own. I personally like the Doubly Dapper's color scheme better, because I think it's a bit more me, but this is a nice fall version for sure!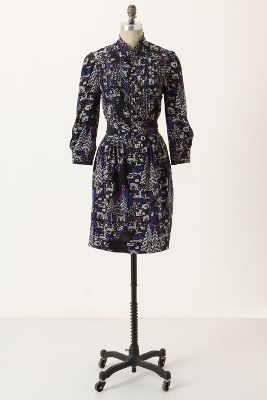 Myths & Legends Dress – $268 – I really am not a fan of this one on the mannequin, but K from Vurbanity looks absolutely great in it! Maybe it's just one of those dresses that is better in person!?
Lastly, if you haven't picked up the Climbing Cowlneck yet, or just want another and you're a size medium or large, you can get one for $9.95! Not to be too pushy or anything, but just being the blogger looking out for you, order now if either of those are your size!
And don't forget to send your styling requests to theanthropologieconnoisseur@gmail.com! Thanks!
UPDATE: Mullany Dress…celebrity…need I say more?!! Another Anthro sighting here!