Tags
anthro, anthropologie, asos, Cinco de Mayo, clothes, clothing, endless, fashion, Jewelry, Mexico, Shopping, Skirt, wedding, zappos
I have another exciting styling request to share with you today! Venessa emailed me with a predicament of sorts: she purchased the Bent Stripes Assymetric Skirt (on sale now!), but wants some ideas for styling it, other than with a tucked in loose white top, nude wedges, and a gold statement necklace. Oh, and this outfit is not for just any old day – it will be worn to a wedding in Mexico on Cinco de Mayo!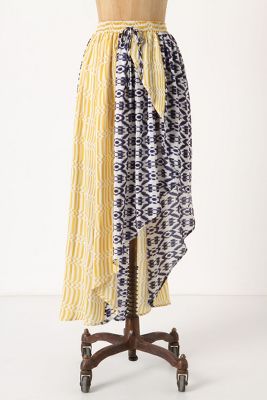 I'll start by saying I think Venessa picked the perfect starting point for this type of occassion…the skirt is festive, yet not completely in-your-face-look-at-me, and the assymetric cut of it really is stunning. I imagine walking in it looks magnificent!
Although Venessa called her styling ideas "kind of boooring," I don't think she had a bad idea at all! Yes, it may seem simple, but that may just be the beauty of it! Understated simplicity is definitely sometimes for the best – maybe even more so at a wedding. In fact, I will not be going as "out-there" with these stylings of the skirt, say, as I might if I was styling the skirt purely for everyday wear. 
Shall we get started?
Let's talk color first. The skirt is primarily yellow and navy blue, with a white background of sorts behind the print. On the color wheel, yellow and blue are almost complementary, meaning they really do intensify each other. That is most certainly why the skirt feels bright and vivid, not to mention fresh, with the addition of the white.
(source)
Pairing the skirt with whites will maintain the freshness and will really put the focus on the skirt. The same goes for dark blues. Brighter blues would be a great option; they add some pizzazz yet don't feel too out there (in the context of wedding, remember), considering that they're just a shade of the blue on the skirt. Some light-medium purples could also work, as could some tones of orange. Honestly, most colors could work; it is just a matter of picking the right shade and what you feel comfortable with.
In terms of the silhouette of a potential top, I recommend generally picking something a little more tailored, something a little closer to the body. This type of silhouette will definitely create the most pleasing proportions. If you want something with more volume, generally going sleeveless will be key. I'm also going to recommend that you tuck the top in.
Ready for some ideas?
Template Tank – $188
Anthro Skirt
Calvin Klein Vivian (via Zappos) – $119
Enameled Tab Cuff (peach) – $168
House of Harlow Triquetra Ring (via Designs by Stephene) – $50
Sterling Silver Round Ring Band (via Etsy) – $40
Tuck in this sky blue top and then accessorize with cleanly-cut, modern pieces. The shoes, and multiple jewelry pieces in tones of silver and gold keeps the look visually interesting from head-to-toe.
Jovial Rounds Shell – $88
Anthro Skirt
Kors Michael Kors Albury (via Zappos) – $225
A.L.C. All Metal Thin Hand Cuff Bracelet in Brass (via Forward by Elyse Walker) – $285
I'm loving the pattern play in this look; even though I cautioned to stick with more simplicity for a wedding, this print is subtle enough, but most importantly, the top being a tank means there is not an overwhelming visual sensory between the skirt and tucked in top. I kept the rest of the accessories pretty minimal too – these strappy sandals are delicate enough yet still graphic, and the bracelet is just that as well. Throw on a jean jacket, and this is a great look for day-to-day too! Bonus! 🙂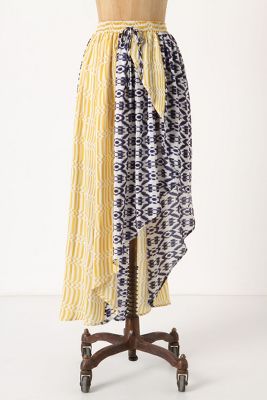 Theory Sleeveless Blouse, Purple (via Bergdorf Goodman) – $190
Anthro Skirt
Nine West Women's Goinstead T-Strap Sandal (via Endless) – $79
Kris Nations Sedona Bar Necklace (via Designs by Stephene) – $80
This beautifully purple hued top will look unexpected yet lovely tucked into the skirt. A delightfully simple necklace and nude heels finish off the look.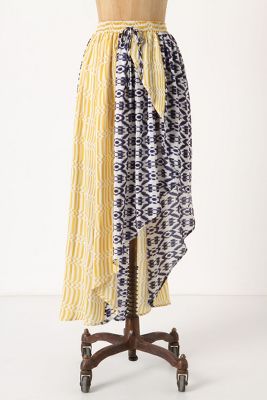 ASOS Woven Pocket Front Top – $36.36
Anthro Skirt
KORS Michael Kors Ruby Wedges (via Bergdorf Goodman) – $225
ASOS Multi Chain Long Necklace – $16.36 (on sale!; note: this is listed under men's, but don't let that scare you!!)
Soft, buttery yellow is the perfect pairing for the skirt. A simple, yet layered necklace and great wedges finish off the look.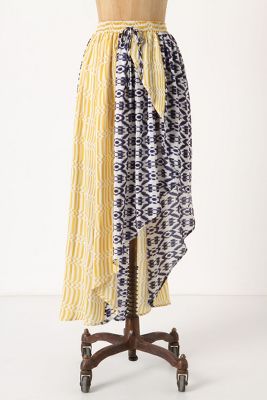 ASOS Woven Pocket Front Top – $36.36
Anthro Skirt
Ann Taylor Strappy Metalic Sandals – $178
Trina Turk Sunburst Gold And Hot Pink Necklace (via Endless) – $133
No, your eyes did not deceive you – this look uses the same top as the previous styling! Note, however,  that by using more of statement necklace with the surprising addition of pink, the look has a different feel.
That wraps up this request! I hope Venessa has gotten some helpful ideas. I'm sure she'll have a blast in whatever she ends up wearing with the skirt to the wedding!
Which look was your favorite?