Tags
Alli, anthro, anthropologie, asos, Audrey Hepburn, belt, booties, Cardigan, clothes, clothing, color wheel, fashion, flats, jcrew, levi, Oscar Wilde, poll, pullover, readers, shoes, Shopping, styling, styling request, Tupelo Dress, Urban Outfitters, vote
Remember the lovely Alli who requested I style the Tupelo Dress? Well, I'm happy to report she has another great request, this time in regards to the beautiful beige/"dark gray" version of the Veiled Alder Dress ($298).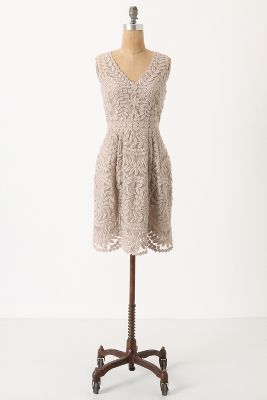 Isn't it exquisite?! The detailing is beautiful and the silhouette is classic; surely this will be a dress which can be worn year after year after year.
Although Alli bought the dress for the purpose of wearing it to a rehearsal dinner, naturally, she'd love to get more mileage out of it. She fears it may be a one trick pony, so it is my mission with this request to prove it can be "casualized" (yay for made up words! :)! Therefore, I will be focused on the more dressed-down ways to wear this dress, as opposed to the dressed-up ways. If by chance there is anyone out there who would like some ideas for dressing it up, let me know, and I'll do a post!
Anyway, in regards to the general "casualizing" of this dress or any garment in general, let me say one thing first: Wear your looks with confidence (obviously this advice transcends the said pretense, but hear me out…). What I mean to say is, oftentimes when people have an item that appears more dressy, they disregard it as having the potential to be worn casually. Many fear they will look overdressed and out of place. Let me tell you something…in my opinion, being "overdressed", if that's what you want to call it, is perfectly fine! As Oscar Wilde once said, "You can never be overdressed or overeducated." Audrey Hepburn once even also said, "I believe in overdressing." Moral of the story? Be confident! Don't worry about overdressing! (Bonus points: I know I've heard other great quotes before like the two aforementioned…can anyone think of any?!)
And onto the styling…
Right off the bat, I immediately thought of pairing a pullover with the dress. This technique allows the dress to function as a skirt, and let's also be honest…it makes for a super comfy yet totally stylish ensemble! Following are a few examples using this technique:
*please note: throughout any of these stylings, adding tights would be great…dress for the weather!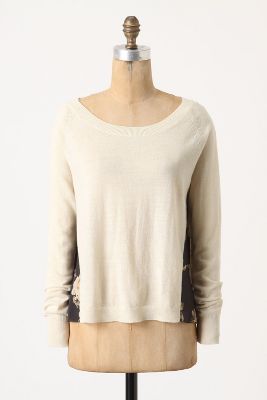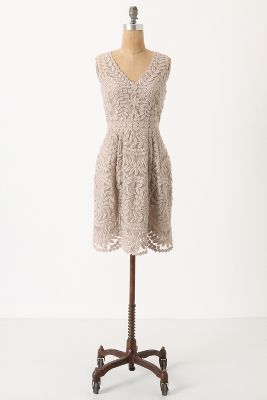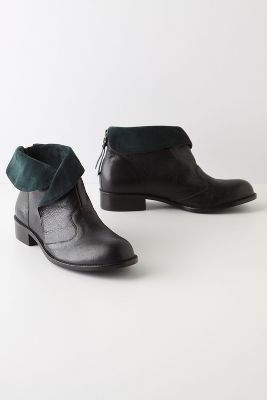 Two Harbors Pullover (black motif) – $98
Veiled Alder Dress
Contrast Cuff Booties (navy) – $168
I like how this pullover has an unexpected pattern on the back…it makes the piece interesting and unique! The booties add a bit more edge and balance out the femininity of the lace of the "skirt" with the floral pattern on the back of the pullover. Of course, you could also add a belt to cinch in the waist if you wanted.
Notice, too, how pairing this cream colored pullover brings out more of the ivory tones of the dress.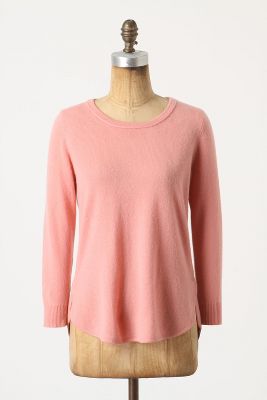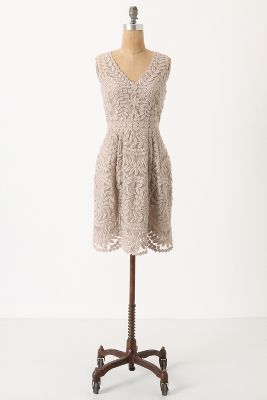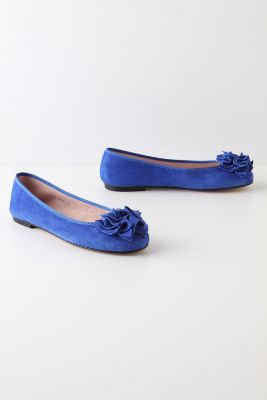 Bonica Cashmere Sweater – $148
Veiled Alder Dress
Paean Flats (blue) – $228
This time, notice how pairing the dress with this pink pullover brings out the blush tones of the dress. Interesting, how color works, right?!
I love pairing this look with the vibrant blue shoes, as I think the blue and pink make for a very interesting pairing – not one you see repeatedly daily. The complete look has a nice ladylike yet young and slightly funky feel to it.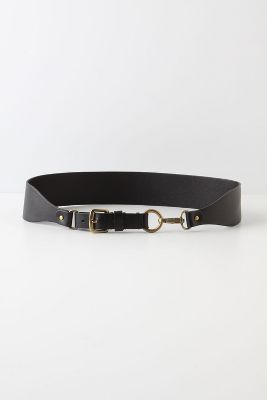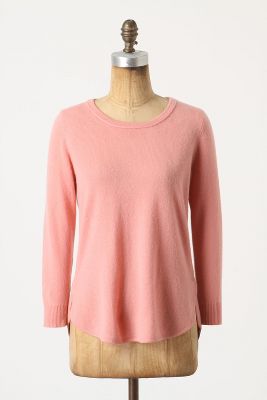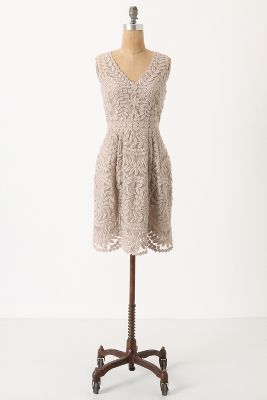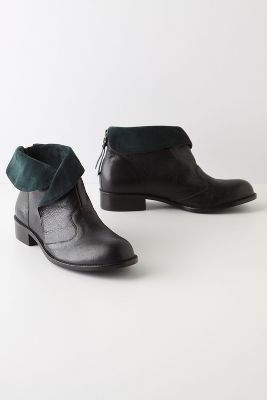 Double-Clasped Belt – $58
Bonica Cashmere Sweater – $148
Veiled Alder Dress
Contrast Cuff Booties (navy) – $168
Yes, this look is a combination of the previous two looks! Just thought I'd give you an idea of how some of these items could be remixed! 🙂 In this case, I like how the girly pink top and "skirt" are juxtaposed with the rougher belt and booties.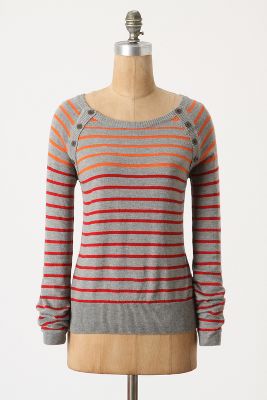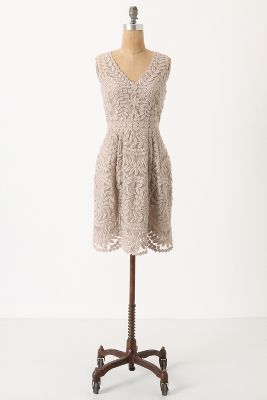 *sorry for wonky picture sizes!
Gradated Stripes Pullover – $88
Veiled Alder Dress
Urban Outfitters BDG Basic Suede Skimmer (black) – $34
Urban Outfitters Deena & Ozzy Snap Clutch (black) – $39
This is a great effortless look that is very high on style. The pairing of the stripes of the sweater with the detailing of the skirt is probably unexpected for most, which is exactly what makes the look so interesting and intriguing.
My next tip for styling the dress is to pair it with a great cardigan/sweater/jacket. While this might seem predictable, it's a tried-and-true method because it almost always looks great. To evoke a more casual feeling, look for cardigans/sweaters/jackets that have a large knit or an unexpected print. Going oversized is always a great option too!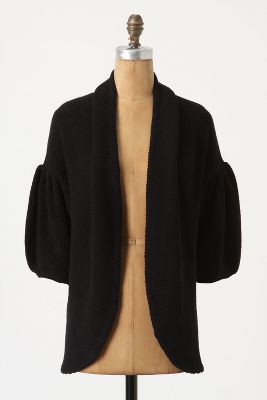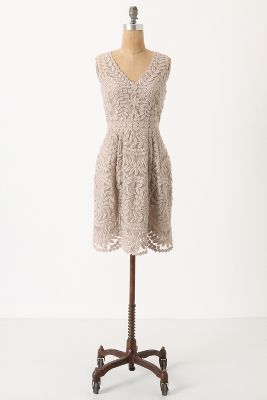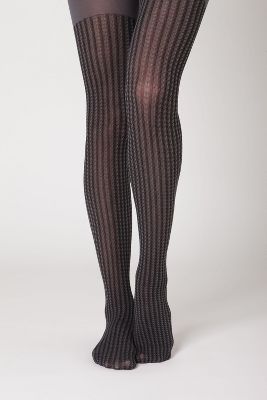 Veiled Alder Dress
Herringbone Tights – $22
J. Crew Miller Motorcycle Boots (chocolate) – $325
This chunky sweater automatically adds a cozy feeling. Add the patterned tights and the boots, and this is the perfect outfit for a cold day. The textures of the pattern of the dress, the knit of the sweater, the pattern of the tights, and the leather material of the boots make for a dynamic outfit.
As always, you could add a belt over the sweater if you so choose!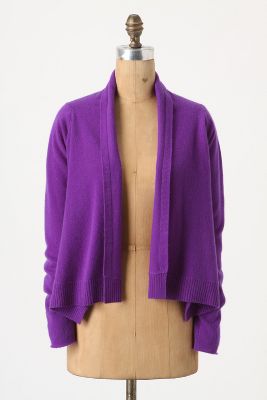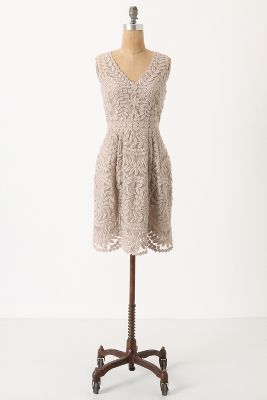 J. Crew Wide Calf Hair Belt – $79.50
Veiled Alder Dress
The pairing of this leopard print belt over the sharp purple cardigan adds a fun feel, while the wedge boots help keep the look more casual. You could easily transition out the wedges for pumps if you needed to make this more dressy for work in a flash.
Here is another great jacket – the color would look fabulous with the dress and I think it would do a great job to "casualize" the look!
Banana Republic Heritage Linen Jacket
– $150
Finally, don't discount blouses either. They are similar to the technique of wearing a pullover over the dress. The one thing to be cautious of is that the top is not too clingy, because if it is, it won't lend for a very attractive appearance overall.
Belt this blouse to give it a little shape, and then layer on the jean jacket. The simple flats complete the look! Please note that the jacket certainly is not necessary, although it certainly brings a more casual vibe to the look. You could also leave the top unbelted if you so choose.
Clearly, I strongly believe the Veiled Alder Dress to be far from a one trick pony! Remember…be creative and have confidence! 
Hopefully Alli has gotten some great ideas! Does anyone else own this dress? If so, have you worn it more casually before?! Do tell!
I'm curious…which look is your favorite?