Tags
anthro, anthropologie, baking, Business, cookbook, Cooking, diy, Do it yourself, journal, project, Shopping, writing
Remember how the other day I was gushing over how great an idea these were?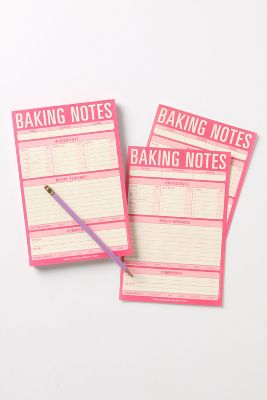 In fact, right then and there, I declared, "These would be perfect for any baker!…While the price of these aren't too, too bad, I've just decided I'm going to customize/create my own version of these! Yay! So excited!"
Well, dear readers, I followed through with that idea! While mine are slightly different, I'm quite pleased with how they came out! I'm not completely finished with them yet…I'm still brainstorming the perfect way to bind them together. But don't you worry…I have some DIY (i.e. cheap!) ideas up my sleeve, and once I'm completely done, I'll be sure to show you a picture! In the meantime, here is a picture of the note sheet itself:
(please ignore the vertical stripe on the left…it's not actually a part of the design!)
There are a couple things I should mention:
On the inspiration, there was a large area devoted to ingredients…I didn't feel this was necessary, as I plan to use these sheets as a journal and not a cookbook (make sense?). Besides, there is a place for the source of the recipe so that I can be sure to find it again!
While I've stuck with a clean, modern, yet slightly vintage look, I did decide to omit the use of color. Originally I had a blue-green that matched the color of my kitchen mixed in, but then I decided I liked the gray and white (it's not black, it's gray!). This will also keep the cost of printing these very low. Bonus!
Yay for quick, cheap, totally fun, and useful DIY projects!