Tags
anthro, anthropologie, asos, clothes, clothing, Color, color wheel, fashion, Navy blue, Orange, red, shorts, Skirt, wonder woman
Remember Amanda? She was the reader who requested I style the Duo-Patterned Skirt. Well, from my correspondence with her I've gathered her to be such a sweet person…honestly! Therefore, I couldn't be more thrilled to try my best at helping her again with a different request!
She recently purchased the Who's-Got-the-Button Top (on sale now!) and the Seeing Spots Shorts, with the hopes of wearing the two together.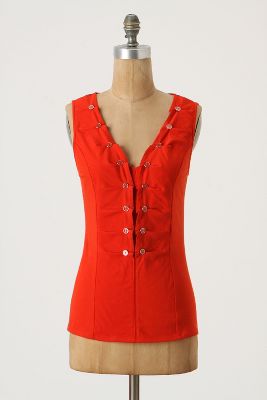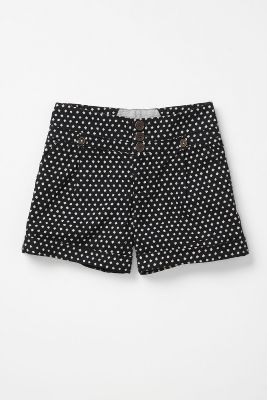 Well, as it turns out, as good an idea as that seemed, Amanda is not thrilled with the results. She wrote, "I've always wanted to be Wonder Woman, but I'm not so sure an adult should go around dressed like her when it's not Halloween." First off, I think this goes down as the best line I've ever received in a styling request – too funny, Amanda! 🙂 But anyway, I can definitely see where this Wonder Woman-like appearance could come from, considering the top is a powerful, strong tone of red.
Rather than scrap Amanda's idea of wearing the two pieces together, we'll first look at how we can remedy the Wonder Woman problem a bit first. To do this, let's take at look at our trusty color wheel!
(image)
The color of the top is probably approximately around the 6-7 on the wheel. The color of the shorts is a very deep, true navy blue, so probably around the 20-21 on the wheel, but in the center of the wheel. This means that the two colors are not quite complementary, but almost so. To balance this out, I would suggest adding a third color, but an analogous color to either the navy or red. Conversely, if you went with a kelly green, the color wheel would almost be split in three…consequently, this would intensify the green, red, and navy. Obviously, I don't think this is quite the way to go, if you're looking to tone down the look and de-Wonder-Woman it.
However, now, let's look at what adding an analogous color, as mentioned before, would transform the look. We'll try orange first, as the red of the top has some orange in it.
Notice how that feels so much more harmonious? It seems more calming than the green color palette looked, don't you think? It might not have been what you were expecting either, because if someone told you to pick the more calming color – green or orange – most would have probably said green. However, it's really all about what you pair with a color – that's what defines the mood.
Let's take a look at another analogous color – purple.
Amazing, right?! This purple totally takes the Wonder Woman out of the equation, so to speak.
Taking this color lesson into account, let's look at some styling options!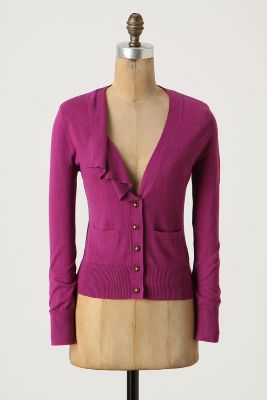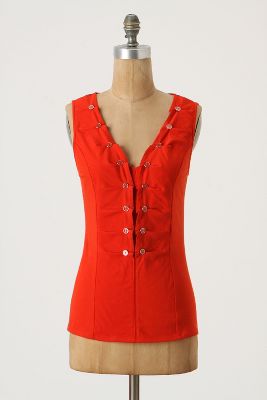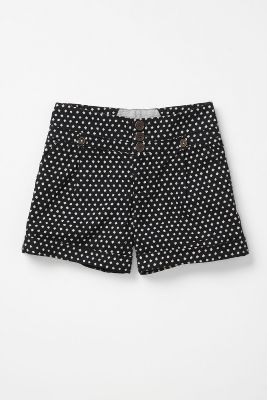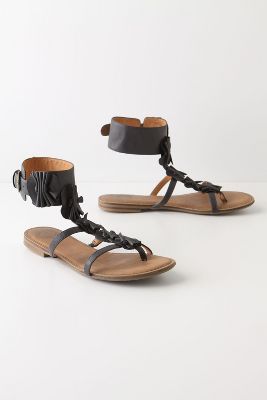 Climate Control Cardi (pink) – on sale for $39.95
Who's-Got-The-Button Top
Seeing Spots Shorts
Puckered Petals Sandals – on sale for $59.95
Pairing this purple-y pink cardi with the top and shorts mellows out the look a bit for sure, while still keeping a bold color palette. As you may have noticed, I haven't put any colored accessories with the look (no jewelry even!). That, my friends, was on purpose. I wanted you to see the difference accessories can make in this case…so, have a look at this look again, with a different set of accessories: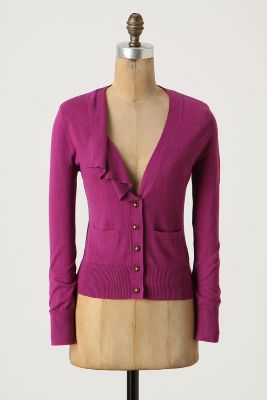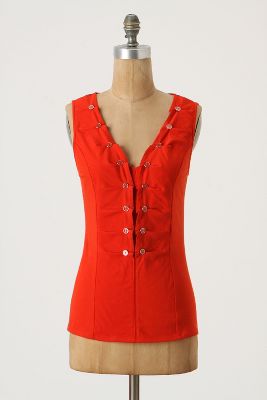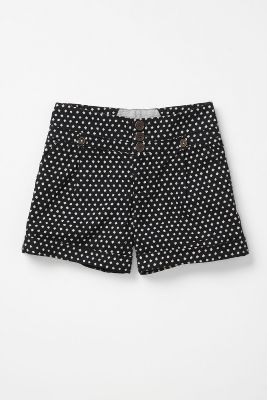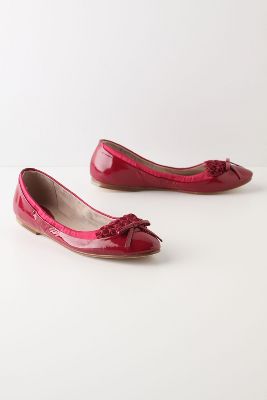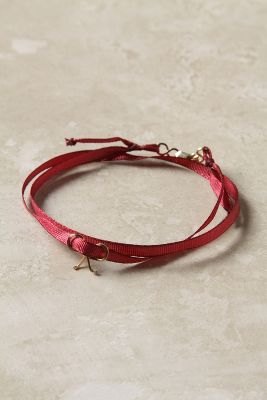 Climate Control Cardi (pink) – on sale for $39.95
Who's-Got-The-Button Top
Seeing Spots Shorts
Rum Cherry Flats – $168 (I'm sure you could find a similarly colored pair for much less.)
Icon Wrap Bracelet (wine) – $38
Notice how the added color from the cardigan feels more intentional? Basically, what I've done is take the look from this:
…to this:
While this probably seems extremely subtle, and in fact is subtle, it makes a world of difference. Then again, there's absolutely nothing wrong with the first look, but I think it's important to note how much softer the second look is.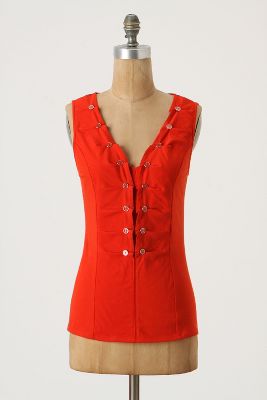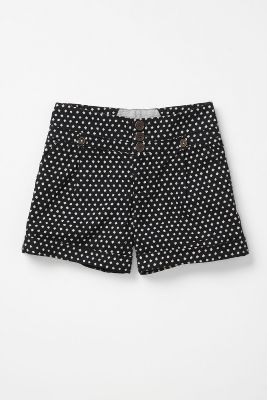 ASOS Vila Waterfall Cardigan – on sale for $34.48
Who's-Got-The-Button Top
Seeing Spots Shorts
ASOS Lace Ballet Shoes with Bows – $43.10
ASOS Oasis Surround Stone Ring – $17.24
Starting with a feminine soft orange cardi as the base, I added nude lace ballet flats and a gorgeous ring. The overall color palette is softened up with these additions, as are the angular lines of the top.
The color scheme of that outfit looks something like this: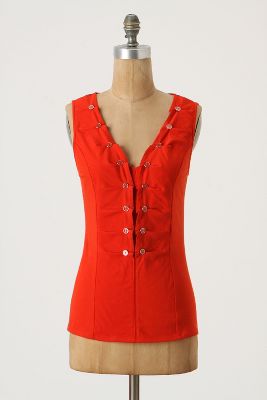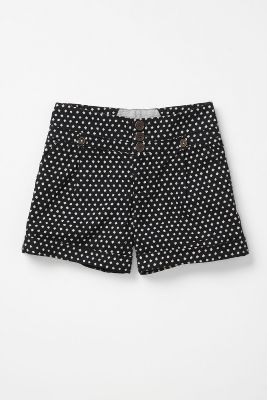 ASOS Premium Angora Sweater (gray) – $103.43
Who's-Got-The-Button Top
Seeing Spots Shorts
Zappos Fitzwell Kae (pewter pearlized pu) – $53.10
ASOS And Mary Bright Leather Bow Purse – on sale for $20.69
ASOS Round Marbled Resin Ring – $10.34
This time, by putting this pullover over the top, you allow the bold red color to stick out, but only somewhat. This means that the red becomes an accent color, as opposed to the main focus. Taking a cue from the gray pullover, the gray loafers add pizzazz, while the marbled ring adds texture. The clutch finishes off the look.
The color palette for this look appears like so:
And now, for some other pieces that could work with the top and shorts:
ASOS Oversized Blazer – on sale for $77.58
ASOS A|wear Angora Disc Sequin Cardigan – on sale for $39.68
ASOS Fine Knit Sweater – on sale for $17.24
ASOS Vero Moda Cropped Cardigan – on sale for $25.86
Also, I should note that any of these looks would look great if you swapped out the shorts for pants this fall. For example, here is the third look with the AG Stevie jeans: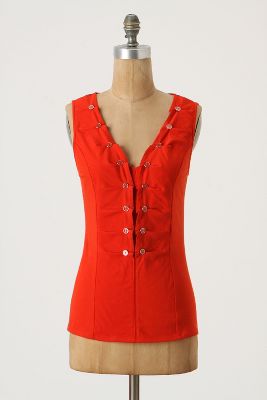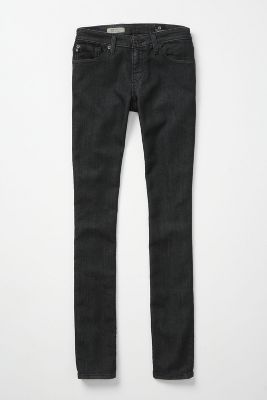 See?! Gorgeous!
I think we've successfully eliminated any possibility you'll be mistaken for Wonder Woman when wearing this top and shorts together! And remember, an aire of confidence goes a long way! Good luck, Amanda!
I promise I'll be back with more styling ideas for the top and shorts, but I fear if I continued on today this post would get unmanageably long. So for now, digest this, and look forward for more!
Which look is your favorite?