Tags
accessory, anthro, anthropologie, bracelet, clothes, clothing, Color, color wheel, fashion, flats, gap. shoes, jacket, Navy blue, necklace, pattern mixing, Polka dot, poll, reader, Skirt, style, styling, styling request, vote
Happy Wednesday, everyone! I know I've still got a lot to share with you all about the newfound direction of The Style Connoisseur, but I have something else exciting (and important!) to share with you today…a styling request! Hooray!
Amanda is thinking of purchasing the Duo-Patterned Skirt in its green motif (on sale now!). Obviously, it's a beautiful piece, so what's holding her back? The styling of it! She's a bit stumped. No worries though…I'll do my best to inspire her!
I really like the combination of the polka dot waistband and striped skirt. Amanda mentioned that she's short, so I think the vertical stripes will be great for lengthening her silhouette.
Let's take a look at the colors:
As you can see, there seems to be some green, blue, yellow-y-green, off-white, and navy blue. What does all of this mean?
(image)
Well, if you look at the color wheel, you'll notice that those colors are on one half of the wheel (on the above picture, the left side). It's cool color palette, as opposed to warm. If you want to make the colors in the skirt pop, choose any color on the opposite side of the wheel. If, say, you wanted to make one particular color in the skirt pop, look at the color directly opposite the color you've chosen. For example, if you love the green in the skirt, choose a purple or pink to make it pop. If, on the other hand, you love the navy blue, go with a rich orange color. You could forget this color popping all together though, and pick to repeat a color from the skirt, or use any neutral (gray, for example).
Let's get into the styling of it now. Amanda is primarily interested in how to style it more casually, so that's what I'll focus on. Most definitely, you could pair a simple, stream-lined t-shirt with the skirt, tucking it in. However, in Amanda's particular case, she said her tummy is her problem area, so this may not be the best idea for her (it could work, but it might make her feel somewhat self-conscious). The one thing to keep in mind is that (from what I can tell online) the skirt is a tad voluminous…therefore, you don't want to go too voluminous on top, especially when you're on the shorter side, as Amanda and I both are.
I'm going to be using a lot of sale items in the following stylings, with hopes of keeping costs down. Keep in mind, however, that if you like the idea of a piece but just think it's too expensive, perhaps a little sleuthing will lead you to a similar, yet cheaper piece. Or, perhaps you already have a similar piece in your closet!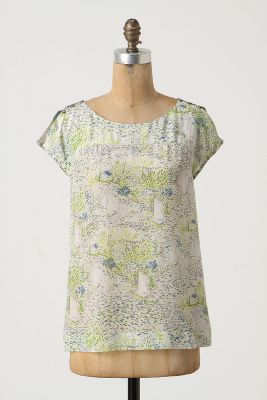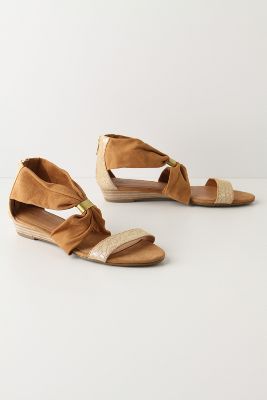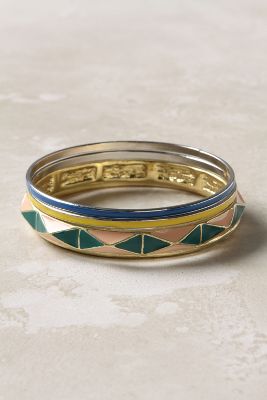 Pointillist Pond Blouse – on sale for $49.95
Duo-Patterned Skirt
Mellifluous Cinch Sandals – on sale for $69.95
Uxmal Bangles – $48
I adore pairing this subtly patterned top with the skirt. Although I'd recommend tucking it in, I think its print will distract from any worries you might have of drawing attention to your tummy. Simple sandals and some pretty bracelets finish off this look that is polished, but most definitely not too dressy either.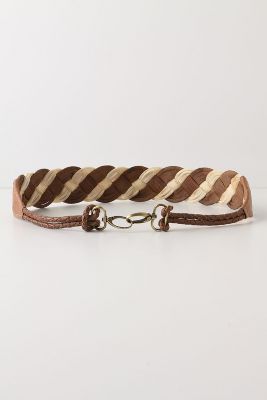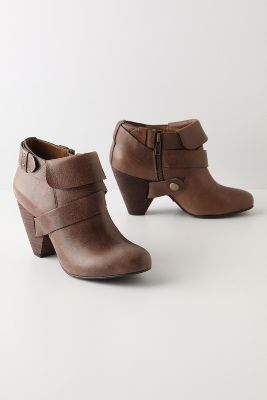 Half & Half Belt – on sale for $29.95
Pointelle Pullover (turquoise) – on sale for $39.95
Dup-Patterned Skirt
Anshan Booties – $198 (although you could probably find another great pair of booties for less)
This time, leave the boldly colored pullover untucked, but to cinch in the waist a tad, loosely belt around the pullover. You can play around with exactly where to belt – closer to the hips, more around the natural waist, etc – all depending on what flatters your shape the most. I like that the pullover won't be too clingy, but you still get a gorgeous silhouette. Come fall, adding a pair of tights to this look will only enhance it! Besides booties, flats would also look great. Obviously, I think this is a great base of an outfit, with all its versatility.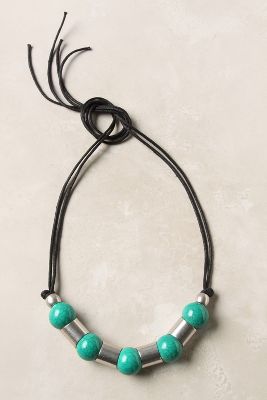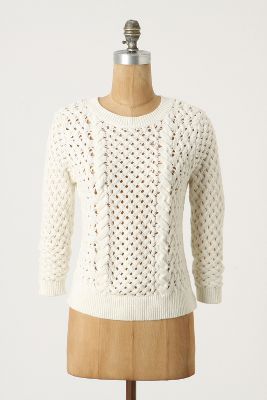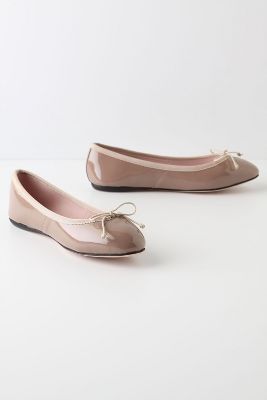 Tight Squeeze Necklace – on sale for $19.95
Evening Chill Pullover – on sale for $49.95
Duo-Patterned Skirt
Aplomb Flats (pink) – $208 (pricey, I know! really, any pair of simple, classic ballet flats will do!)
Again, leave this pullover untucked, although this time you won't need a belt. The necklace not only adds extra color, but also draws the eye up and away from any insecurities you have with your tummy. This is a great tip in general for this skirt…if you have a rather plain top (even a basic t-shirt), adding a bolder statement necklace will do wonders!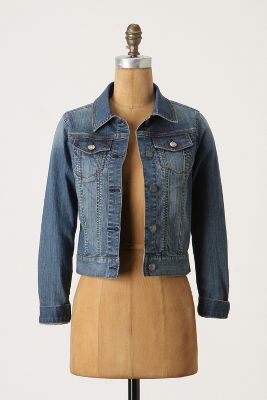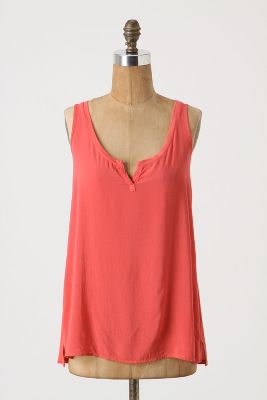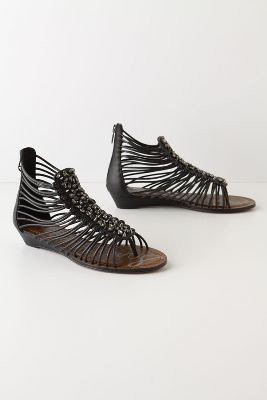 Concise Denim Jacket – $128 (any denim jacket will do…or another type of jacket too!)
Highs & Lows Tank (orange) – on sale for $19.95
Duo-Patterned Skirt
Point & Glimmer Gladiators – on sale for $99.95
Loosely tuck this orange-y-pink top – which will really bring out the blues and greens in the skirt – into the skirt. Layer on this jacket, which will not only add style but also move the silhouette away from the body (and any problem areas). The complete look is simple, but sure to get compliments galore!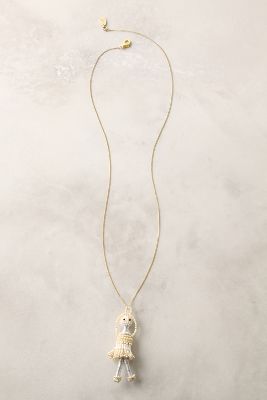 Pirouetting Necklace – on sale for $79.95 (any simple necklace will do the trick!)
Gap Seamed Cowelneck T (hibiscus) – $29.95
Duo-Patterned Skirt
Gap Elastic Espadrilles (natural) – on sale for $49.95
This stunning pink hibiscus colored top will draw attention to the face while simultaneously flattering any body shape. Tuck it into the skirt, and then accessorize with nude wedges and a simple necklace. Ta-da!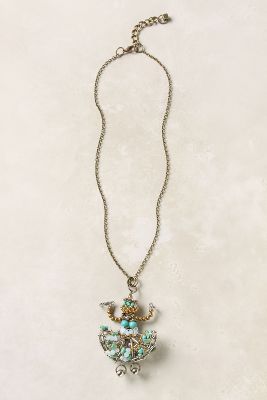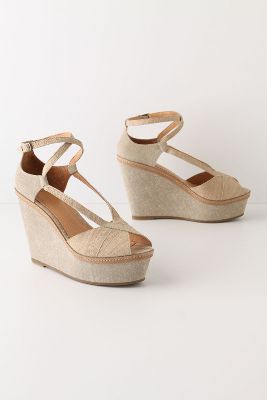 Pangalay Necklace – on sale for $19.95
Gap 1969 Ruffle Back-Tie Top – $54.95
Duo-Patterned Skirt
Cream-of-the-Crop Wedges – on sale for $79.95
Tuck in this simple in shape, but over-the-top in cuteness top into the skirt. Simple wedges and a necklace complete this darling look!
Other tops to consider: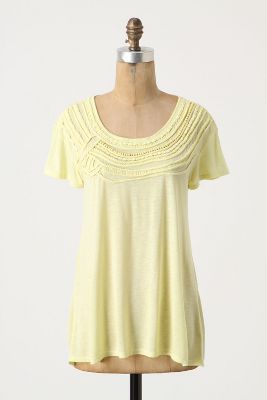 Aeolian Tee (yellow) – on sale for $39.95
This would work in any of its other colors too!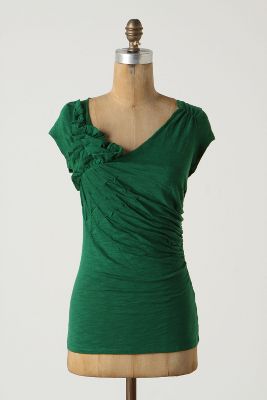 The Gathering Tank (green) – on sale for $29.95
Again, any of this one's colors would work!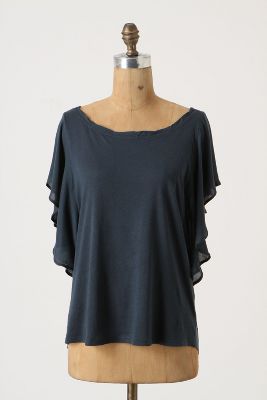 Cape Tee – on sale for $19.95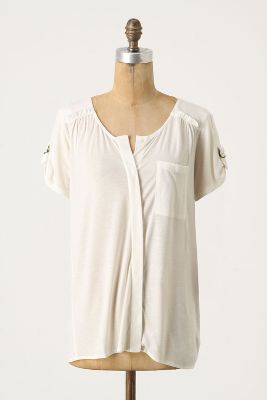 Jump Seat Shirt (ivory) – on sale for $19.95
Any color this one comes in works too!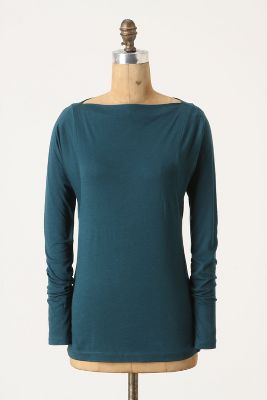 Paradigm Pullover (turquoise) – $68
That wraps up this request! As you have probably gathered, I think this skirt would be a great buy…there really are tons of great options in styling it and so many colors would look great with it! Hopefully Amanda has gotten some workable ideas!
Do any of you have this skirt? Are any of you still thinking of getting it?! And, of course, which of the above is your favorite look?