Tags
anthro, anthropologie, asos, clothes, clothing, Color, Color scheme, Color theory, color wheel, Complementary color, Easter, fashion, jcrew, Pastel, Purple, shop, Shopping, style, styling, styling request, stylist, zappos
Spring is in the air. Flowers are blooming. The worst of winter is (hopefully, fingers-crossed) over. With spring time, comes fresh wardrobe options.
When Preetha contacted me in search of ideas for styling some beautiful lilac pants she got from Madewell, I naturally became quite excited. You see, these pants just might be the piece that can make your look the epitome of spring, and eventually, summer, chic.
The soft color really is just gorgeous. Even though colored pants seem compltely the antithesis of a neutral in many people's minds, I think these pants really are nearly a neutral.
Let's take a look at the trusty color wheel to examine this thought more closely. Before we look at a typical one though, let's look at this special "pastel" color wheel:
Preetha's pants appear to be a shade right in between those purples or pinks, though I do think they have more white in them. Naturally, it is always a good idea to look at the color complementary (directly across on the wheel) to the color of an item you are styling. Yellow is opposite purple.  
Now, immediately this pairing, as shown on the above wheel, might freak you out…Easter anyone? Pairing a pastel with these pastel lilac pants, thus, is not your best bet (or, not really my personal style, although it can work).
Instead, think of pairing bolder, richer colors with the pants. Here's a typical color wheel:
The color of the pants on this wheel appears to be somewhere around the very outer edge of where the label "15" appears. Coincidentally, this color wheel also shifts the apparent complementary color to be green.
Do you notice how using these deeper colors really makes the overall color scheme more modern, and less Easter? Let's keep that in mind.
Besides pastels, the other color to be a bit wary of would be pink. Pink and purple are classically colors associated with love, and they often, thus, take up a bit juvenile an appearance. Since the pants are lilac, this color pairing can especially take on this persona, in my opinion. Some people love that, but I personally am not a huge fan. *Red, too, can have this same "issue."
And before I officially start with the stylings, I should probably touch on black and brown. Both, obviously, as true neutrals, will work with the pants. The difference is the feeling they have. Black is going to give more contrast, and thus a sharper look. Browns, on the other hand, are going to feel a bit more spring- and summer-like with the lilac. Both colors are great options; their differences are just important to keep in mind when putting together a look.
On to the looks….
Anthropologie Ochres Vines Peplum Blouse – $68
Madewell Pants
DV by Dolce Vita Jude (via Zappos) – $89
Diane von Furstenberg Tonda Polka Dot Haircalf Clutch – $495 (expensive; used more for visual example…I'm sure you could find similar design, minus calf hair for much cheaper)
To me, this looks is effortless in putting together, yet packs much visual punch. The pattern play between the top and the oversized clutch is to-die-for, and the overall feel is modern, quirky, and fun, yet completely polished.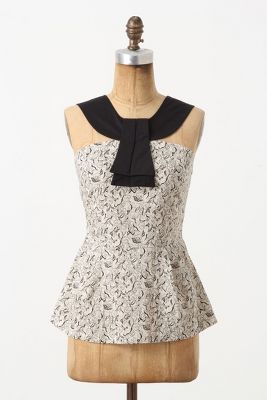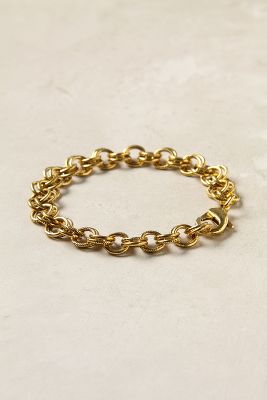 Anthropologie Neo Halter Tank – $88
Madewell Pants
Elizabeth and James Selby (via Zappos) – $259.99
Michael Kors Skinny Stackable Bangle (via Nordstrom) – $85
Anthropologie The Collector's Bracelet – $28
This look is a great going-out look. It feels very sculptural with the neckline of the top and the pointed shoes. Wearing the two types of metals together feels plain cool. Throw on a simple cardigan (black, perhaps), and this look is completely ready for work.
Anthropologie Morse Code Necklace – $58
Anthropologie Muted Stripes Buttondown – $88
Madewell Pants
J. Crew Cecilia Buckle Sandals (burnished sand) – $118
J. Crew Brompton Mini-Hobo – $258
This is the quintessential weekend look, perfect for lots of errand-running. You'll notice that there is red in this look, which I cautioned you of, but I think it really works here.
Anthropologie Pressed Leaf Bib Necklace – $68
J. Crew Raindrop Lace Tank (apricot mist) – $110
Madewell Pants
Tahari Colette Pump (via DSW) – $59.95
Beautiful and feminine, this look is just gorgeous. The nude pumps and hints of purple, green, and orange in the necklace are just what make the look.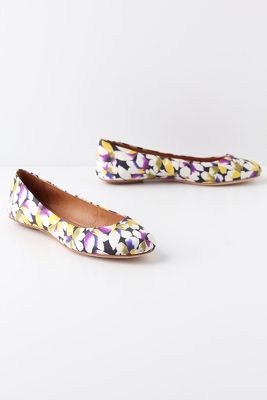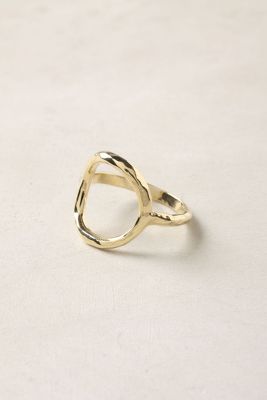 J. Crew Raindrop Lace Tank (apricot mist) – $110
Madewell Pants
Anthropologie Hanako Flats – $118
Aureole Ring – $32
Yes, this top is the same on used in the previous look, but this time, it's dressed down a bit. Simple, yet pretty, this look will make you the effortless girl you want to be.
ASOS Utility Blouse (yellow) – $62.67
Madewell Pants
Jones New York Trinity Leather Sandals (via Lord & Taylor; brown leather)) – $99
Pairing this great industrial silhouette yellow top definitely adds a great, unexpected edge to the lilac pants. Keep it simple with the rest of the look in order to let the intensity of the colors and pairing of the colors shine. Note too that by pairing brown shoes, as opposed to black, you keep the contrast focused just between the top and pants.
It goes without saying that there are countless more ways to style these pants. Don't forget the always-loved basic tee, dressed up with a great statement necklace!
And lastly, a few more wonderful top options:
ASOS Blouse with Diagonal Pleats – $53.72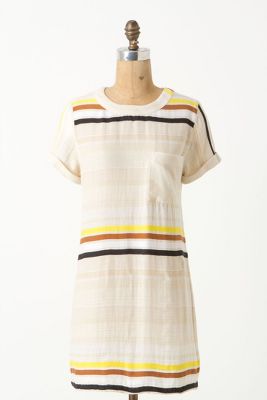 Anthropologie Dual Stripes Top – $178
Great if you're taller and can pull of the silhouette of this longer top.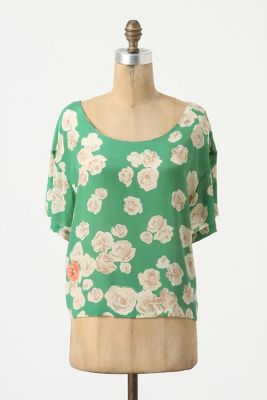 Anthropologie Carolinae Top – $98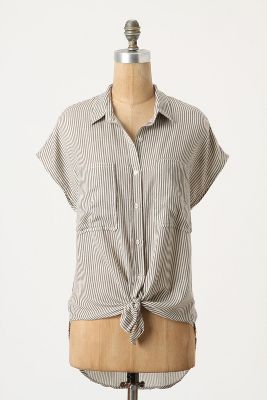 Anthropologie Tie-Front Buttondown – $78
Love the stripes…would be especially good with a pop of color (maybe an orange-y-coral?)
That officially wraps up this styling request. I sincerely hope Preetha has gotten some ideas she can make work!
Which look is your favorite?! Do tell! 🙂
And as always, if you have a styling request, feel free to send it to thestyleconnoisseur@gmail.com.