Tags
anthro, anthropologie, Arts, clothes, clothing, Dress, fashion, Jeans, New York City, reader, reader request, shirt, Skirt, style, styling, Tights, top, Trousers, vest
Time for anther styling request! Laura, of Anthro Closet Chaos, emailed me this time. She's in the process of creating an awesome outfit composed of Anthro's Sevilla Heels (originally $385, she got them for a mere $142!!!!), Falling In Love Vest (originally $118, she got it for $45!!), and the Water Edge Skirt. The deals Laura got on two of these pieces are just amazing…so don't you think the total outfit should be too?! Here's the three pieces in pictures:
Looking good, huh?! Laura requested that I suggest some tops that could work under the vest. She is thinking, color wise, something lavender or light gray. She worries white wouldn't suit her and would be too predictable, and that black would create an imbalance in the look. Also, she doesn't want anything with too much warmth. Laura did have one idea….but one that she would have to wait for a sale to snatch up. She loves the
Winged Blouson
, but at $228, she and I can both agree that the price is too high.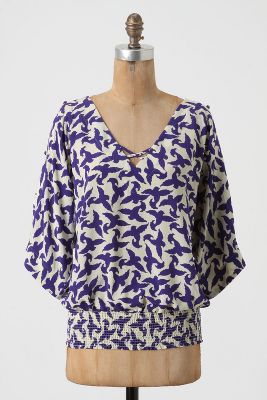 So, what to do? I'm going to try to find some affordable options!
Here we go!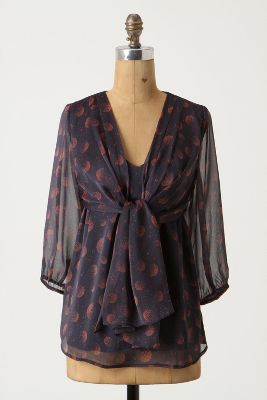 Caprice Blouse (navy…remember navy=neutral, so it could work!) – $88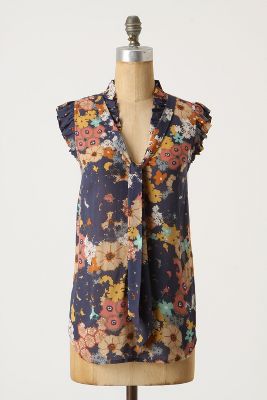 Eastpointe Garden Top – $58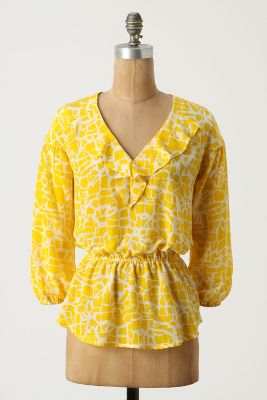 Sunny Safari Blouse – $118 – Perhaps this wouldn't be the best color (black and yellow can be tricky), but if it in fact you tried it and it worked, it could be great.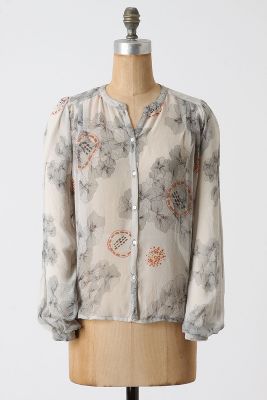 Linnea Blouse – $158 – This might seem like it has the potential to be dull, but if you correctly accessorize with a simple but stunning orange ring, it could really work!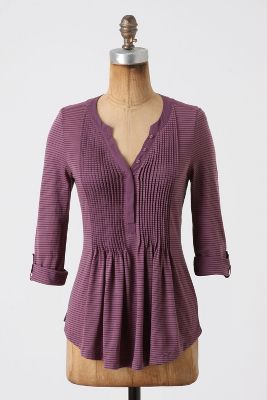 Narrow Ruled Henley (purple motif) – $68 – The subtle stripes would add nice interest!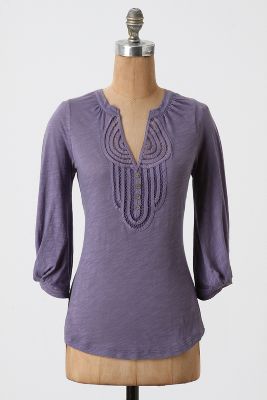 Loop De Loop Henley (purple) – $58
Masterpiece Swatch Henley (blue) – $58 – This would bring in the gray and purple hues!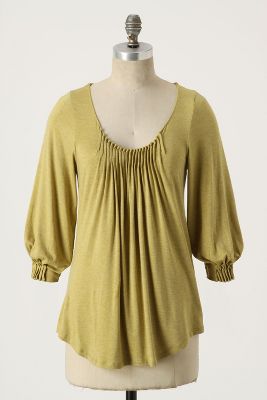 Mellifluous Gathers Tee (green) – $58
In order to try to find the best array of options, I headed over to Mod Cloth, too (inspired by our duel yesterday!).
Roam the Sky Top – $32.99 – This is cropped, but if, when worn with the outfit Laura has come up with so far, this was unnoticeable, it could work. I know Laura also didn't really want black, but I think black with a print could work. After all, to balance out the black on top, you could add a more colorful necklace.
Recipe Searching Top – $44.99 – Again, with the right simple accessory(s), this could be the perfect minimalist look.
Aubergine Dream Top – $34.99
Looking Vine Top – $32.99 – Provided this isn't too long, it could work! (In terms of length, something that is longer than the vest by about 1-2-ish inches is ideal).
Office Party Top – $84.99 – Yes, this is black, but once again it could work. I'd leave the knot undone to open up the neck.
Call It a Char-truce Shirt – $62.99 – Green and purple (the shoes) can be a great combination!
Wooh! Hope Laura will be able to find a top out of these options she likes – or at least be sparked with an idea! Now, I'll show the head-to-toe styling of just a couple of the options.
Falling In Love Vest, Linnea Blouse, Water Edge Skirt, Sevilla Heels, Fortune-Teller Ring (bronze; $88)
The subtle and soft pattern of the shirt add just a bit of interest, but still showcase the vest and shoes, as well as allowing the skirt to not be competed with. The ring is the perfect finishing touch!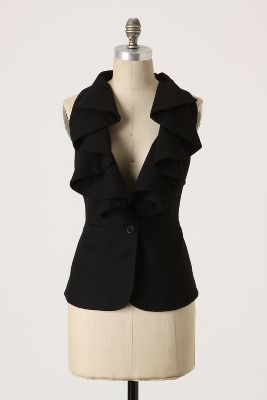 Falling In Love Vest, Aubergine Dream Top (Mod Cloth), Water Edge Skirt, Sevilla Heels, Labrador Lode Necklace ($80)
You will find, as is illustrated here, that any look Laura comes up with will not require a ton of jewelry. This is because all of the other pieces have enough voice to speak (if that makes sense). In this particular case, the necklace with a touch of purple completes the outfit!
There you have it! I wish Laura luck in completing her outfit, and I can't wait to see it! But – we're not done yet! Laura also had a few other questions in her request.
The first of those other requests was the question of what else she could pair with her vest, skirt, or heels. I'll start with the heels. I think pairing them with a great pair of jeans could also be great…the heels would really pop! They could also look great with Laura's Peppercorn Dress that she owns already: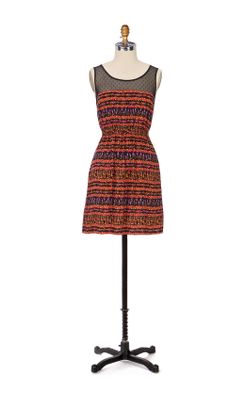 They could possibly also work with the Scarf Scene Dress, which Laura also already owns:
Really, after looking through Laura's virtual closet, I'm convinced they could go with a lot of what Laura owns! And, again, there are so many items I think would go with the skirt, and vest!
Finally, Laura asked me my opinion about the Shoelace Collar Coat, originally $228, now $149.95.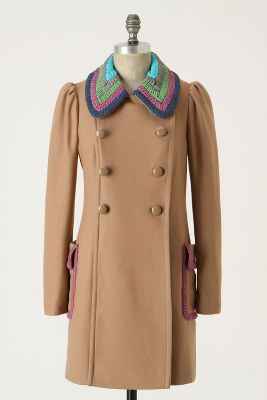 Laura mentioned that she's in need of a brown coat, but isn't so sure whether to buy it due to the reviews. Well, in my opinion, I think she should go for it! It's lovely and the sale price is great. Honestly, I think it has Laura's name written on it. And have you seen the beautiful catalog shot of it?!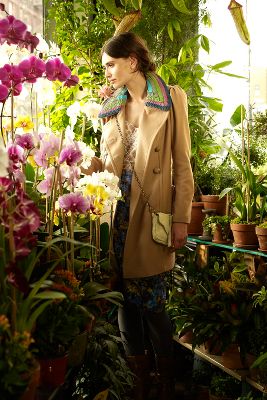 Well, there you have it! Once again, I wish Laura best of luck!
Which top do you like best to pair with Laura's base of an outfit? And which styled look do you like best (I tried to create poll, but something is wrong with the system and no matter what I tried, it won't let me create one – sorry!)?
Also, please do not hesitate to send any and all of your styling requests to theanthropologieconnoisseur@gmail.com (to learn more about styling requests, head on over here!).